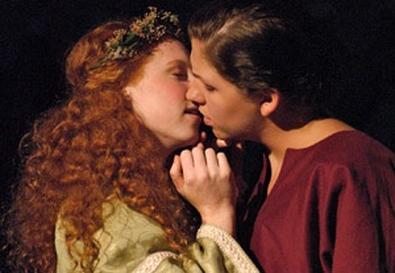 Instead of berating an audience with political and social ideologies, Jan O'Connor's world premiere uses humor and charm in a fairy-tale setting to get across its opinions about gender roles and same-sex relationships. Playfully and sharply directed by Richard Tatum, with a captivating lead performance by Riley Rose Critchlow, this two-act, two-hour piece, inspired by Mark Twain's short story "A Medieval Romance," contains loads of laughs and no dull moments. There may not be any mind-blowing revelations, but O'Connor makes a solid argument that people are truly happy when they follow their hearts.
In classic fairy-tale style, there's a Storyteller (Shelley Delayne, alternating the role with Tracy Eliott), who sits stage right in a comfy chair beneath a chandelier, reading the story, which the characters—who can hear her—perform. The settings are the Kingdom of Flugelhorn and the Duchy of Lesser Flugel. The protagonist is Basil (Critchlow), a girl whose father, the evil Duke of Lesser Flugel (Warren Davis), has raised her as a boy so she can replace the Duke's brother, the kindly King Heimlich (Ross Gottstein). Women can't be king, so Basil must keep a secret known only to the Duke and the Duchess (Adriana Bate). But a problem arises when Basil falls for the King's daughter, Princess Clotilda (Whitton Frank). Remaining cast members portray a variety of roles; most notable among these actors is J. Blakemore, whose contortions and goofy accents earn plenty of laughs.
Tatum and O'Connor seem on the same page, keeping the tone light and irreverent. Tennis shoes are worn under medieval costumes (designed by Beth Arford). Delayne's set, highlighted by trunks and crates, looks like it was ripped from a picture book. And the cast performs with a knowing wink to the audience about the absurdity of the proceedings. But Critchlow provides the heart. Her seamless blending of macho and feminine mannerisms provides plenty of humor, as does her comic timing. The earnestness of the entire cast pulls in the viewers, who may see the end coming but might be surprised at how moving and memorable it is.
Presented by Absolute Theatre and Full Circle Theatrics at the El Centro Theatre, 804 N. El Centro, L.A. June 25–Aug. 1. Fri.–Sat., 8 p.m.; Sun., 2 p.m. (Dark July 4.) (323) 230-7261.