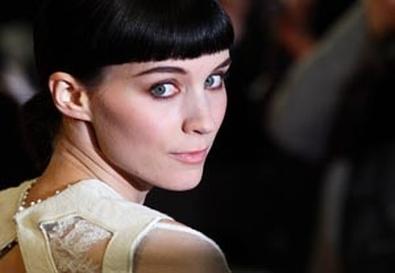 Rooney Mara isn't just the girl with the dragon tattoo.
She's the girl who reportedly beat out every A-list (and B- and C-list) actor in Hollywood who wanted the coveted role of punk computer hacker Lisbeth Salander, the female protagonist of Stieg Larsson's wildly popular novels and Swedish film adaptations. She's the girl who shaved her long, beautiful locks into a Mohawk; dyed it jet-black; got eyebrow, lip, and nipple piercings; and learned to ride a skateboard and a motorcycle. She's the girl nobody knew who put Jesse Eisenberg's Mark Zuckerberg in his place in "The Social Network."
David Fincher's "The Girl With the Dragon Tattoo" is engrossing and has many great actors (Daniel Craig, Stellan Skarsgård, Christopher Plummer), but it's Mara's film. She is brilliant, immersed in her character to the point that one wonders where Mara ends and Salander begins. Her performance is intense, brash, and dangerous, yet her expressions are subtle, almost deadpan. She even brings comedy to the role. It's an exciting performance that everyone is talking about.
The soft-spoken and surprisingly introverted actor talked to Back Stage about how director David Fincher encouraged her to have a voice, how her role in "The Social Network" almost hindered rather than helped her chances of getting the part of Salander, and how she prepared to play the role of a lifetime.
What got you into acting?
Rooney Mara: I grew up going to Broadway plays. My mom would take me and my sister [
actor Kate Mara
], and we always loved that. She would show us old movies, and [we took] kids' acting classes, and we always were putting on little plays. I loved acting, but I was a very shy child, so it was just like a fun thing for me to do. My sister's been acting since she was 12. I didn't want to do that. I wanted to go to school first and see if there was anything else that would interest me. So I didn't start actually pursuing acting work until I was, like, 20, when I was at NYU.
Did you take classes?
Mara: No, not really. I never really was properly trained. I took some classes with [acting coach]
Bob Krakower
, and he's great. But I was never really part of an acting troupe or anything like that.
Was Kate helpful?
Mara: Of course. It was helpful to see her go through the process, definitely. But it was kind of scary. My sister's incredibly talented, so it was also very intimidating.
What was the first role you booked?
Mara: My first part ever was in a "Law & Order" episode. Then, things were very slow. I moved to Los Angeles, and I was auditioning constantly and not getting any work. Finally, I got a part in an independent film called "Tanner Hall," which was my first real part in a feature film. That was a great experience. I did a bunch of independent films from there on and a few TV things, and it all just kind of came. But it was a slow process.
How did meeting and working with Fincher on "The Social Network" turn into your part in "The Girl With the Dragon Tattoo"?
Mara: It didn't. I only worked for four days on "The Social Network," and he was really happy with the work I did, and I had a tremendous amount of respect for the way he worked, but I barely knew him. We didn't have any sort of relationship. I think, actually, the work that I did in "The Social Network" made him think that I wasn't right for "The Girl With the Dragon Tattoo," because [the characters are] the complete opposite of each other. I had to do a little bit of work to convince him otherwise.
What was that process like?
Mara: It was just your regular audition process. I went in; I read for Laray [Mayfield]; she put me on tape. David watched my tape and was then really interested in me. From that point on, I had a lot of screen tests. It was a long process.
How did you start trying to find your character?
Mara: It all starts and ends with the book. There's an endless amount of information in there. You never get that much information on a character. And then, obviously, there were physical things I did. That always helps you get into the role. [Lisbeth is] a very physical part— her mannerisms, the way she walks, the way she talks, the amount of eye contact that she gives—all that was super important to the character.
Was there ever a time when you were preparing when you felt like "I think I've got her"?
Mara: No. There was so much work that went into it, I never had one moment where I felt like that. We were always constantly trying to figure it out and make it better and make it right.
Was Fincher specific with what he wanted from you for your character, or were you able to create on your own?
Mara: Both. The books did the work for us. They spelled out who the character is, so we had a very similar vision. It was a very collaborative process.
What was your biggest challenge in trying to find your character?
Mara: I don't know that I had one. She never felt that foreign to me. I felt like I really understood her. There was obviously a lot of work that went into it, and I had to learn a lot of stuff, but I never felt at a loss for who the character was.
Were you concerned about being compared to Noomi Rapace, who had already played Lisbeth Salander [in the Swedish version of the film]?
Mara: No, I had a different idea of who the character was, and I just didn't think about that.
Were you nervous about the nudity in the film?
Mara: No, I read the books, so I was really aware of what was expected of me. That's a huge part of who the character is, so I couldn't have gone into it if I had any sort of hesitation or hang-ups about that.
In my interview with Yorick van Wageningen [who plays Nils Bjurman], he said shooting the rape scene was "frighteningly endless" and "the harshest" of his career. What was shooting it like for you?
Mara: It was really intense. It's a really challenging scene physically and emotionally. But I was really well prepared for it. It's a scene that really drives the whole trilogy and a scene that we talked a lot about. I felt very safe. Of course, it was hard because it's a disturbing thing to have to act out.
There has been a lot of talk about David Fincher and the multiple takes he does as a director. Can you explain his style and why he does so many?
Mara: It's very exaggerated. He does do a lot of takes, but I don't know why everyone gets so interested in that. It's just the way that he works, you know? David, he doesn't just shoot all these takes and hope he gets it. Every single time he asks for a new take, there's always a specific direction, whether it's to the lighting, the camera, the costume, the set dressing, or the actors. The way we look at it is, we spent all this money and put all this time into putting all this stuff together, we flew all the way to Stockholm, we're here, and then we're going to shoot three takes? What's the point? We may as well really figure it out and get it right.
It seems like you two had such a great actor-director relationship.
Mara: I wouldn't have been able to get through an experience like this without it. I had to go into it really trusting him 100 percent, and I did. I probably would have done anything for him, almost to a fault. But, at the same time, it was such a collaborative experience. We definitely disagreed on some things, but we always talked everything through. David's an incredible director. He knows the story better than anyone in the room.
What did you learn from this experience?
Mara: I guess I learned I'm much more capable than I thought I was. As a young actress, you have to really learn to have a voice and speak your mind. I think it's easy for women in this industry who have an opinion or who have a point of view to be coined as "difficult." David always really empowered me to speak my mind, to have an opinion, and to have a choice.
How do you feel about playing Lisbeth Salander in parts two and three of the trilogy?
Mara: I'm not thinking about that yet. We have to wait and see if there's an audience for this film first. But I would definitely be happy to do it again. I don't feel finished with the character.
Do you have advice for the actors reading Back Stage?
Mara: I think it's a good thing to have a strong opinion and make strong choices. If you're super passionate and you're willing to do the hard work—I've been auditioning for stuff for years, and it's always hard. Rejection is always hard, and it's always devastating when you don't get a part that you really wanted. But when I look back, if I had gotten some of the parts that I really wanted, then I might not have been able to do this movie. I think everything happens for a reason, and you just have to keep at it.
OUTTAKES
-- Other film credits include 2010's remake of "A Nightmare on Elm Street," "Dare," "The Winning Season," and "Youth in Revolt"
-- Is the great-granddaughter of Pittsburgh Steelers founder Art Rooney Sr. and New York Giants founder Tim Mara. Her father, Timothy Christopher Mara, is the vice president of player evaluation for the Giants.
-- Set to film Terrence Malick's "Lawless" with Ryan Gosling and Christian Bale in fall 2012