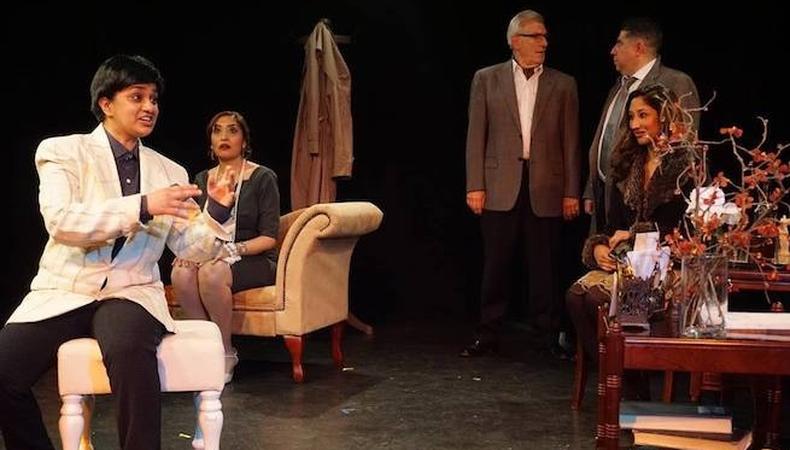 In May 2016, my theater company took on a new venture: George Bernard Shaw's "Pygmalion," with a transgender approach. In our adaptation, helmed by award-winning director Anthony D. Pound, Eliza Doolittle would transform from a lowly flower-girl to a high-class gentleman named Elijah. I played the character in question.
The story of this 1913 play is often better-known from its musical counterpart, "My Fair Lady." Eliza is selling flowers on a rainy night in London's Covent Garden when a group of people of all classes runs in to take cover from a sudden rainstorm.
Eliza quickly becomes the focus of a conversation between phonetics professor Henry Higgins and Colonel Pickering. Higgins boasts he could improve Eliza's diction, elocution, and speech to the point she could pass for royalty. Eliza sees this as a chance to get a better job and visits Higgins' home the next day to take him up on his perceived offer.
In our adaptation, Eliza asks Higgins—who is invested in this transformation—to teach her how to live in society as a gentleman instead. As far as the text goes, that's it; Eliza doesn't need to voice all the reasons she is a man born in a female's body just as any transperson in real life doesn't need to explain themselves. They simply are themselves. In this adaptation, Eliza has been offered a new life and wants to live as his true self in it.
For all people in the arts who proclaim how open and accepting they are, I quickly found that this wasn't the case. The first initially cast to play Mrs. Pearce, Higgins' housekeeper, had problems with the fact that my character would transform from a female to a male. During a phone call, she claimed she "wasn't judging" but thought it was wrong and was very angry at the initial reading. Thankfully, she dropped out of her own accord.
READ: I Cast a Role Specifically for an Actor of Color + Here's What Happened
Keep in mind that the entire premise of this play is based on lying and gambling. Higgins and Pickering make a financial bet about whether or not Elijah can pass for royalty at a party; whether as a woman or a man has no bearing on the storyline. When Elijah is still living as a woman, she's threatened arrest for prostitution, told she will be walloped with a broomstick, called names and flat-out told that "a woman who utters such disgusting and depressing noises as you has no right to live."
Actors had no moral problems with any of this, yet let one character say they were assigned a gender that wasn't true to them and many felt they were morally obliged to say that they thought it was wrong or ugly or both.
After a male friend told me for the umpteenth time how ugly I looked in the short wig, I remember snapping and telling him that I was actually trying to do something with my life and theater company, not worry about how attractive people thought I was.
During dress rehearsal and performances, actors had access to restrooms shared by others in the rehearsal spaces. When I used the ladies' room dressed in a man's suit but with my hair in a ponytail, other women complimented me on my outfit, thinking I was doing a Diane Keaton in "Annie Hall" kind of look.
Two scenes later, wearing the same suit but with a short wig, the women would hold back from washing their hands in the sink with me. I could see them in the mirror, frowning at me, trying to figure out if I should be in "their" bathroom.
I'm already used to hearing ridiculous, hateful statements regarding my race and religion from strangers...even from friends of friends. So I thought I was mentally prepared for this. But of course, I was not.
Throughout the entire process—and in all my shows and in my personal life—I always made sure to never, ever explain myself by stating it was for a role or telling these people whether or not my personal orientation was like that of Elijah. It is no one's business and irrelevant to any role in any play.
But it gave me a smattering of an idea of how much hate people have for something that truly no effect on their own lives and relationships. After all, no LGBT person out there is stopping heteronormative people from getting together and having weddings. Why is anyone so invested in what other people are doing or not doing?
But our "Pygmalion" was at a pivotal moment in time. The morning after we opened, New York, Boston, and Philadelphia announced that they were going to deem restroom access a matter of a person's self-identity, not gender assignment at birth.
Onwards and upwards.
Saima Huq, MPH is a public health researcher who has lived concurrent lives as a personal trainer, print model, zoo tour guide, and the founder and producer of Always Love Lucy Theatre, which stages classic plays featuring people actors of color and/or over age 40. She has been to 30 countries, most recently traveling alone across Vietnam. Her writings have been published on Stagebuddy and HelloGiggles. She lives in New York City.
Check out Backstage's theater audition listings!
The views expressed in this article are solely that of the individual(s) providing them,
and do not necessarily reflect the opinions of Backstage or its staff.