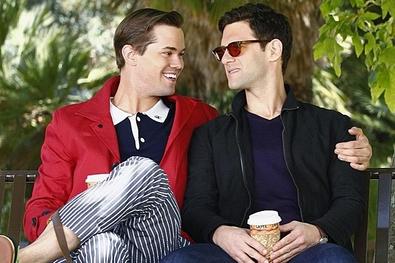 NBC's "Smash" and Ryan Murphy's "Glee," "American Horror Story: Asylum," and "The New Normal" are among the television nominees for the 24th annual GLAAD Media Awards, recognizing "outstanding representations of the lesbian, gay, bisexual, and transgender community and our allies on TV, in film, and in the news," the Gay and Lesbian Alliance Against Defamation announced Jan. 16.
Other TV nominees include the comedy series "Go On," "Happy Endings," and past winner "Modern Family," and drama series "Degrassi," "Grey's Anatomy," "The L.A. Complex," and "True Blood." USA's "Political Animals" and DirecTV's "Hit and Miss" are nominated with "American Horror Story" in the TV movie or mini-series category. "Days of Our Lives" and "The Bold and the Beautiful" are the only two nominated daytime dramas.
"The Best Exotic Marigold Hotel," "Cloud Atlas," "The Perks of Being a Wallflower," "Your Sister's Sister," and Oscar-nominated animated feature "ParaNorman" are nominees for best wide-release feature film, while "Any Day Now," "Keep the Lights On," "Mosquita y Mari," "Musical Chairs," and "North Sea Texas" are the nominated limited-release films.
"Images and stories from the LGBT community continue to push support for equality to historic levels," GLAAD President Herndon Graddick said in a statement announcing the nominees. "This year's nominees enlighten and entertain, but also reflect a new American landscape where a growing majority accept and value their LGBT family, colleagues, and friends. Now more than ever, viewers not only accept gay and transgender characters and plot lines, they expect them—just as they both accept and expect LGBT people to be a valuable part of their everyday lives."
The GLAAD Media Awards recognize and honor media for their fair, accurate, and inclusive representations of the lesbian, gay, bisexual, and transgender community and the issues that affect their lives. More than 150 nominees are recognized in over 30 awards categories this year.
The winners will be honored at ceremonies March 16 in New York, April 20 in Los Angeles, and May 11 in San Francisco.
The list of nominees in film, television, theater, and music is below. (For the complete list of this year's nominees, including print, broadcast, and digital journalism and individual Spanish-language categories, visit GLAAD.org.)

OUTSTANDING FILM – WIDE RELEASE
"The Best Exotic Marigold Hotel" (Fox Searchlight Pictures)
"Cloud Atlas" (Warner Bros. Pictures)
"ParaNorman" (Focus Features)
"The Perks of Being a Wallflower" (Summit Entertainment)
"Your Sister's Sister" (IFC Films)

OUTSTANDING FILM – LIMITED RELEASE
"Any Day Now" (Music Box Films)
"Keep the Lights On" (Music Box Films)
"Mosquita y Mari" (Wolfe Releasing)
"Musical Chairs" (Paladin)
"North Sea Texas" (Strand Releasing)

OUTSTANDING DRAMA SERIES
"Degrassi" (TeenNick)
"Grey's Anatomy" (ABC)
"The L.A. Complex" (The CW)
"Smash" (NBC)
"True Blood" (HBO)

OUTSTANDING COMEDY SERIES
"Glee" (Fox)
"Go On" (NBC)
"Happy Endings" (ABC)
"Modern Family" (ABC)
"The New Normal" (NBC)

OUTSTANDING INDIVIDUAL EPISODE (in a series without a regular LGBT character)
"Raising Hope" (episode: "Don't Ask, Don't Tell Me What to Do") (Fox)
"Drop Dead Diva" (episode: "Family Matters") (Lifetime)
"Franklin & Bash" (episode: "L'Affaire Du Coeur") (TNT)
"Touch" (episode: "Lost and Found") (Fox)
"The Mentalist" (episode: "Ruby Slippers") (CBS)

OUTSTANDING TV MOVIE OR MINI-SERIES
"American Horror Story: Asylum" (FX)
"Hit and Miss" (DirecTV)
"Political Animals" (USA)

OUTSTANDING DAILY DRAMA
"The Bold and the Beautiful" (CBS)
"Days of Our Lives" (NBC)

OUTSTANDING LOS ANGELES THEATER
"The Children," by Michael Elyanow
"Edith Can Shoot Things and Hit Them," by A. Rey Pamatmat
"The Irish Curse," by Martin Casella
"Pieces," by Chris Phillips
"Silent," by Pat Kinevane

OUTSTANDING NEW YORK THEATER: BROADWAY & OFF-BROADWAY
"Bring It On: The Musical," book by Jeff Whitty, music and lyrics by Lin-Manuel Miranda, Tom Kitt and Amanda Green
"Cock," by Mike Bartlett
"The Columnist," by David Auburn
"Vanya and Sonia and Masha and Spike," by Christopher Durang
"The Whale," by Samuel D. Hunter

OUTSTANDING NEW YORK THEATER: OFF-OFF BROADWAY
"Baby Daddy," by Alec Mapa
"From White Plains," written by Michael Perlman in collaboration with Fault Line Theatre
"A Map of Virtue," by Erin Courtney
"Sontag: Reborn," adapted by Moe Angelos, based on the book by Susan Sontag
"Tail! Spin!," created by Mario Correa

OUTSTANDING DOCUMENTARY
"Chely Wright: Wish Me Away" (First Run Features)
"Codebreaker" (TODpix)
"Hit So Hard" (Variance Films)
"How to Survive a Plague" (Sundance Selects)
"Vito" (HBO)

OUTSTANDING REALITY PROGRAM
"The Amazing Race" (CBS)
"Here Comes Honey Boo Boo" (episode: "It Is What It Is") (TLC)
"The Real L Word" (Showtime)
"Small Town Security" (AMC)
"Pregnant in Heels" (episode: "Welcome to Hollywood") (Bravo)

OUTSTANDING TALK SHOW EPISODE
"At Home with Neil Patrick Harris, His Fiancé David Burtka, & Their Twins," Oprah's Next Chapter (OWN)
"Autoshop Restores Bullied Gay Student's Car for Free," The Ellen DeGeneres Show (syndicated)
"Bishop Gene Robinson," The Daily Show with Jon Stewart (Comedy Central)
"The Husband Who is Now a Woman and the Daughter Who is Now a Son," The Jeff Probst Show (syndicated)
"Marriage Equality," The Suze Orman Show (CNBC)

OUTSTANDING MUSIC ARTIST
Gossip, "A Joyful Noise" (Columbia Records)
Adam Lambert, "Trespassing" (19 Recordings, RCA Records)
Frank Ocean, "Channel Orange" (Def Jam)
Scissor Sisters, "Magic Hour" (Casablanca Records)
Rufus Wainwright, "Out of the Game" (Decca/Polydor)