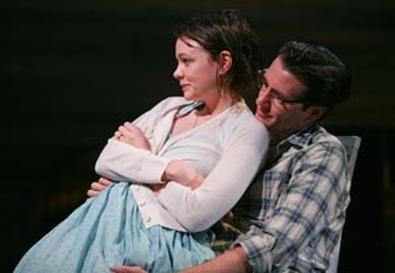 Ingmar Bergman's Academy Award–winning "Through a Glass Darkly" seems a likely candidate for theatricalization. Much like Eugene O'Neill's masterwork "Long Day's Journey Into Night," it centers on three men attempting to come to grips with the mental instability of a woman in their lives over the course of a day during a summer holiday. But unlike O'Neill's drama, the genius of Bergman's work comes not from the script but from tortured close-ups, harrowing silences in the terse dialogue, the barren landscape—lovingly and dramatically captured—of an island off the coast of Sweden, and the isolation brought to bear as the movie cuts between scenes. It's impossible to re-create Bergman's work on stage, and though director David Leveaux has attempted to create similar effects in his staging of Jenny Worton's adaptation of the film, the production never has the harrowing impact of the work that inspired it.

That's not to say there aren't moments of exceedingly affecting acting or technically assured stagecraft. Carey Mulligan, as Karin, a woman besieged by a mental illness that causes delusions as well as violent mood swings, delivers a performance that is by turns warmly endearing and frighteningly volcanic. What's most impressive about her work is its elegant simplicity and utter lack of artifice. Mulligan's turn is so successful that it almost makes acceptable the confusing duality that Worton, in expanding Bergman's dialogue, has given Karin's disease. Instead of allowing her condition to be ambiguous, as it is in the film, Worton tries to explain it as both hereditary and of almost saintly proportions, with Karin describing her visions of God and the next world.

Alongside Mulligan is Ben Rosenfield, who delivers a superlatively committed and beautifully nuanced turn as Karin's 16-year-old brother Max, a young man in the throes of hormonal overload. And while Jason Butler Harner is appropriately earnest as Karin's husband, Martin, a physician who finds himself having to care for the wife he adores and from whom he is sexually estranged, Harner's work lacks Max von Sydow's sad, clinical detachment that's so memorable in the film.

Similarly, Chris Sarandon shies away from the darker and less likable traits of David, the family patriarch, who freely admits to seeing his daughter's illness as fodder for his next book. Instead of the reserved and distant (if not absent) presence that the children describe, David, as brought to life by Sarandon, is a gregarious and engaging, albeit somewhat scattered, artiste.

Set designer Takeshi Kata backs a unit set with a wall of weatherworn wood. The design affords Leveaux the opportunity to create a fluid staging, with the action moving swiftly from the interior of the rented summer house to other locations on the island. But the way it telescopes the locales into one area creates a sense of claustrophobic togetherness that's at odds with the isolation at the crux of the tale.

Lighting designer David Weiner basks this environment in grays and whites to beauteous effect. When the lighting is combined with the cool tones of Jess Goldstein's period costumes, the production at times can feel like a black-and-white film. But this exemplary design work doesn't disguise the fact that the play is ultimately a pale theatrical incarnation of Bergman's classic movie.

Presented by Atlantic Theater Company at New York Theatre Workshop, 79 E. Fourth St., NYC. June 6–July 3. Tue.–Sat., 8 p.m.; Wed. and Sat., 2 p.m.; Sun., 3 p.m. (212) 279-4200 or www.ticketcentral.com. Casting by Telsey + Company.