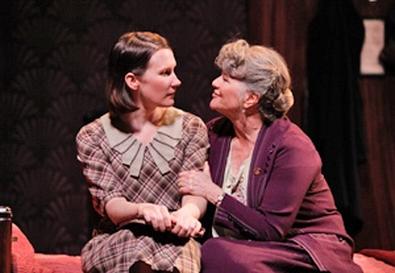 Tennessee Williams' first Broadway hit gets a thorough shaking in director Gordon Edelstein's production, imported by Roundabout Theatre Company from Connecticut's Long Wharf Theatre. The enthralling result is the freshest, most vital account of "The Glass Menagerie" I've seen—and I've seen my share. Edelstein and his excellent quartet of actors have blown the dust off this beloved 65-year-old classic. It's a cause for celebration.
Edelstein resets the show in a seedy hotel room, where Tom Wingfield is attempting to write a play about his family's lacerating history. I confess to being extremely skeptical of this at the start, because it requires Tom to be on stage as an observer for much of the play, and that can be a dicey proposition. But here it works, because it's made active: We are thoroughly included in Tom's struggle to write. Anyone who's ever attempted a dramatic work will recognize the process: envisioning scenes and characters in your head, acting out all the parts, pausing to search for a word, re-experience a difficult emotion, contemplate a revision. Also, by putting such focus on Tom, Edelstein and the riveting Patch Darragh are free to bring to "Menagerie" the knowledge we now have about Tennessee Williams' personal life. Because the play is so autobiographical—and honest—it only enriches the work.
The quicksilver Darragh is a revelation as an unambiguously homosexual Tom, who is not just "going to the movies" at night. It's clear that Laura shares and protects her brother's secret, emphasizing their tight bond. When Tom tells his mother there's "so much I can't describe" about his feelings, his sexual turmoil infuses the moment. When his famous diatribe against her escalates into the epithet "you ugly babbling old witch," it's because Amanda is trying to tear up something Tom is writing. The famous curtain lines are more searing than ever. This Tom had no choice but to abandon Laura. Staying would have killed him. But that doesn't lessen his pain or guilt.
Darragh is giving the kind of performance that lingers in the mind for life, and he's matched by Judith Ivey as Amanda. Ivey accentuates Amanda's love and concern for her children; she's not just an eccentric, deluded shrew. But she doesn't understand her children, in part because she's just not very bright. Amanda's struggle to comprehend her life is a source of both humor and poignancy in Ivey's expert hands, and the way the actor masks her own considerable intelligence in service of the character is the work of a virtuoso.
Keira Keeley's touching Laura is notable, surprisingly, for her strength. As long as she can stay in her own world at home, this Laura is comfortable, making a strong contrast to Tom's insecurity and unhappiness. Keeley emphasizes Laura's bravery in her encounter with gentleman caller Jim O'Connor, Tom's friend from the warehouse, here played by the pitch-perfect Michael Mosley. Most of Laura and Jim's famous scene of re-acquaintance appears to be lit by designer Jennifer Tipton solely with candlelight, and her careful interplay of light and shadow provides Laura enough safety to connect with him. Mosley and Keeley make a romance tantalizingly possible, so the dashing of it is all the more devastating.
Michael Yeargan's drab hotel room also suggests the drabness of the Wingfields' tenement apartment, and if the bed must double for a sofa, that only adds to the feeling of watching a writer at work. Martin Pakledinaz's thoughtful costumes are spot-on, particularly the dress Amanda resurrects to entertain Jim.
It's inspiring to watch such a conceptual gamble pay off so handsomely. I can't but think that somewhere, Williams is smiling.
Presented by Roundabout Theatre Company in association with Long Wharf Theatre at the Laura Pels Theatre, 111 W. 46th St., NYC. March 24–June 13. Tue.–Sat., 7:30 p.m.; Wed., Sat., and Sun., 2 p.m. (212) 719-1300 or www.roundabouttheatre.org. Casting by James Calleri and Carrie Gardner.