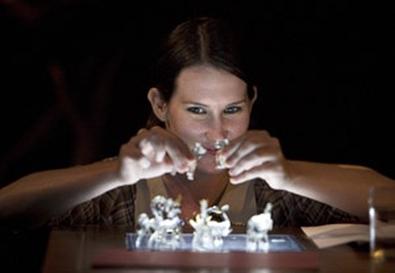 Director Gordon Edelstein's controversial interpretation of Tennessee Williams' classic, now in its West Coast premiere, brilliantly tempers the play's wistful sentimentality. The celebrated scribe's autobiographical portrait of the guilt and despair that plagued him after he left his impoverished mother and severely depressed sister to fend for themselves has generally been interpreted as a melancholy lyrical drama in a traditional vein. It's also widely known as a coveted star vehicle, spotlighting a quintessential Williams leading lady. Taking a big artistic gamble pays off beautifully in Edelstein's bold re-imagining. Judith Ivey shines in a multifaceted seriocomic take on iconic matriarch Amanda Wingfield, as a riveting ensemble effort bristles with remarkably fresh insights.
The revisionist conception kicks into gear instantly, as this production begins in a shabby New Orleans hotel room, where fledgling scribe Tom Wingfield (aka Tennessee Williams) swills booze and pecks away at a typewriter, conjuring up painful memories as he transforms them into a play draft. At the outset, the play's text states that this it is not a piece of realism, that it's filtered through memory. Thus it's entirely fitting that, courtesy of Michael Yeargan's inspired scenic design and Jennifer Tipton's atmospheric lighting, the Wingfield domicile and the hotel room exist within the same sphere, like the sketchy surroundings in a dream. In shifting the point of view from conventional dramatic scenes to fragments of Tom's imagination, Tom becomes the play's pivotal character for the first time.
The marvelous Patch Darragh gives the most convincing portrayal of the Williams persona this reviewer has ever seen. The scribe's homosexuality and alcoholism, which are usually vaguely presented or completely skirted, are clearly conveyed here. Edelstein's audacious concept allows us to reflect on the many things we've learned about Williams in the decades following the play's 1944 premiere. Ivey goes beyond the self-deluded aging Southern belle or the monstrous mommie dearest evident in many Amanda interpretations. The overriding impression we get from Ivey's hilarious and heart-rending characterization is Amanda's devotion to her children. She's overridden with regrets following desertion by her husband, but the spark of hope in this woman is fueled by her ability to laugh at herself. Ivey's Amanda has a clue to her own drama-queen antics, which humanizes the lonely woman, making her less of a caricature.
Keira Keeley is luminous as Tom's self-defeating sister Laura, a physical and emotional cripple, lost in her fanciful world of glass figurines. Keeley and a terrific Ben McKenzie, as the cocky yet compassionate gentleman caller Jim O'Connor, create magic in the lengthy candlelit Act 2 scene, which shows us Laura's finest moment of resiliency prior to a crushing letdown. This segment epitomizes the breadth and passion that imbue Edelstein's rendition with a special glow that's often missing in productions emphasizing slavish faithfulness over creative imagination.
Presented by Long Wharf Theatre and Center Theatre Group at the Mark Taper Forum, 135 N. Grand Ave., L.A. Sept. 12–Oct. 17. Tue.–Fri., 8 p.m.; Sat., 2:30 and 8 p.m., Sun., 1 and 6:30 p.m. (Dark Oct. 5–8.) (213) 628-2772. www.centertheatregroup.org.