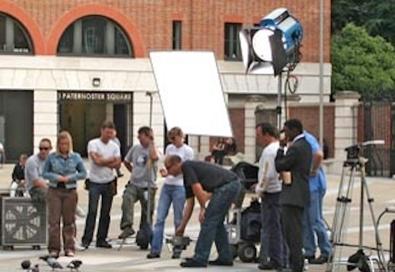 NEW YORK – Matthew Morrison's first single isn't igniting the charts like the songs from "Glee," the hit show he plays a teacher on, but the actor-singer says he's not trying to compete with its musical success.
He hasn't made a dent on the Billboard Hot 100, while the cast of the Fox show has appeared on the chart more than 130 times.
"I know going into this that that won't be possible," Morrison said in an interview from Los Angeles last week. "There's going to be a lot of expectations for this album, you know. I'm in such a spotlight right now. ... I just want to do the best I can and just continue the growth."
Morrison's single, the pop tune "Summer Rain," was released in early March; it currently sits at No. 27 on Billboard's Adult Contemporary chart. Last week he released his duet with Gwyneth Paltrow — a cover of "Over the Rainbow" — and this week he dropped his duet with Elton John, "Mona Lisas and Mad Hatters/Rocket Man." Morrison said there will be a "big unveiling" of one more star-studded duet.
His self-titled debut is out May 10. He said the first single isn't a reflection of his entire album.
"The single is fantastic and I love it, but I wouldn't classify that as my sound," he said. "There's a lot of really kind of deeper songs (on the album) and I felt like if I started with one of those, I couldn't go to a more poppy place later."
On "Glee," Morrison stars as Will Schuester, the school's Spanish teacher and glee club coach. He's earned Emmy and Golden Globe nominations for his role on the series, and also has appeared on Broadway in such shows as "Hairspray," "Footloose" and "The Light in the Piazza."
Writing songs gave him a chance to reflect on his life, he said.
"I learned so much about myself and kind of dealt with some things I guess I had been suppressing for a while," he said. "A lot of the songs I wrote were about my 20s, living in New York City, kind of being away from my family for the first time."
The 32-year-old said the album's most personal song is "My Name," a tune about the duality of his "Glee" character and his real self.
"I walk down the street and people are like, 'Hey, it's Mr. Schu' or 'It's the guy from 'Glee',' and no one really knows my name," he said. "You're in people's living rooms every single week and they feel like they know that character and they think that's who you are."
Morrison will kick off a solo tour June 18 in Minneapolis and wrap in Los Angeles on July 23. He says the tour will be "kind of moody, sexy."
---
Copyright 2011 Associated Press. All rights reserved. This material may not be published, broadcast, rewritten, or redistributed.