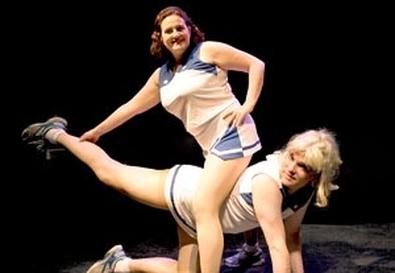 What do you get when you combine "Glee," Fox's hit series about singing high-school outcasts, and the "Scream" horror-film franchise? "Gleeam," of course. Andrew Lloyd Baughman's brief lampoon of the two popular genres employs the templates of both to satirize their rigid depictions of teen stereotypes. Even the admirable depictions of diversity on "Glee" come in for a skewering, with all the characters labeled by their distinguishing racial, sexual, or personality traits. There's Sensitive Jock, who is secretly in love with Gay Kid while dating Drama Queen and Pregnant Slut, and Slutty Slut, who schemes to make out with Tough Jock. The slender plot concerns the glee club practicing mash-up duets as a serial killer is offing them one by one. It's a promising premise, and Baughman is wise enough to keep it short—the 45-minute show ends just as it runs out of steam.
There were numerous technical problems at the performance attended, with several head mikes going dead. But the game cast mostly managed to overcome this obstacle, especially Justine Hall, as Black Girl, who puts over a sassy R&B parody, improbably backed up by the Rich Gay Boys' Choir.
Presented by the Landless Theatre Company as part of the New York International Fringe Festival at Le Poisson Rouge, 158 Bleecker St., NYC. Aug. 13–26. Remaining performances: Wed., Aug. 17, 7 p.m.; Thu., Aug. 18, 3:30 p.m.; Fri. Aug. 26, 3:45 p.m. (866) 468-7619 or www.fringenyc.org.