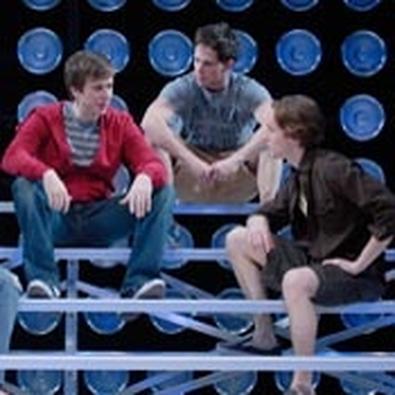 Glory Days has two stories. The first is contained within this poorly written excuse for a musical about four best friends who, after their freshman year in college, meet in the bleachers of their high school football field to plot pranks, sing songs, argue, brag about booty they bagged, betray one another, and storm off for angst-ridden parts unknown. All of which leaves us to wonder whether the real action occurs in a sequel, something I pray remains unwritten. The second is how Glory Days ever got to Broadway to begin with.
Let's take the second story first. What about this show could have attracted director Eric Schaeffer, whose reputation as the artistic director of the Signature Theatre in Virginia largely comes from helming acclaimed, slimmed-down revivals of Sondheim shows and generating upbeat press? Might it be that the relative youth of the Glory Days authors -- songwriter Nick Blaemire is 23; book writer James Gardiner is 24 -- gives them P.R. appeal? (Also, Blaemire performs in Cry-Baby.)
To be fair, the authors have only done what all young writers should do: They've written about what they know. Surely, though, Schaeffer knows more than they do -- that Glory Days is thin gruel. Even if it's little more than a tale of sophomoric freshmen, why couldn't Schaeffer make sure the plot lines, threadbare as they are, are resolved by the end? And why is Schaeffer's direction so, well, directionless? What's gained by having the actors flitting about, forever leaping up, down, and around Jim Kronzer's silver set? (When bored, count the rows of lights behind the bleachers and imagine how much fun designer Mark Lanks had in lighting them.)
There's also the motive question. It has become increasingly popular for the heads of nonprofit theatres to use Broadway transfers to improve their standing with donors. Given the shortcomings of Glory Days, could that be Schaeffer's real reason for transferring this unquestionably not-ready-for-Broadway show?
Back on stage, the four actors play archetypes, not characters. Andy (Andrew C. Call) is the dumb jock who became an oversexed frat-boy himbo. Skip (Adam Halpin), once of the Junior ROTC, has turned into a rebel (growing his hair out at his Ivy League school) and become Zen, calmly telling Will (Steven Booth), who has gathered them all together and narrates the show, that Will's scheme to set off the sprinkler system during an upcoming football game is kid stuff. Jack (Jesse JP Johnson) gets the single song exploring character: In "Open Road," he reveals he's gay.
Conflict at last! Well, sort of. Andy can't fathom Jack's news (too close to home?), so he reacts by texting manically. Skip seems cool, but he's also gone from hating the idea of the sprinkler-system prank to proposing that he sneak into the school to find the right key to make it happen, as the key Will got from the girl he says he's dating isn't working. With Andy and Skip off buying beers or committing crimes, Will and Jack (Will & Grace, anyone?) discuss Jack's revelation. Jack kisses Will as Andy returns, has a fit, and departs, never to be seen again. Jack soon does the same. Skip's so over it; he offers Will a ride out of there. But Will passes -- time to sing one final song about them all being friends forever. Is Will gay too? Is Skip stoned? Is Andy homophobic? Is Jack in love with Will -- or Andy? If these are their glory days, I wish them luck in midlife.
Presented by John O'Boyle, Ricky Stevens, Richard E. Leopold, Lizzie Leopold, Max Productions, and Broadway Across America in association with the Signature Theatre
at Circle in the Square Theatre, 235 W. 50th St., NYC.
Opened May 6 for an open run. Mon., Wed.-Fri., 8 p.m.; Sat., 2 and 8 p.m.; Sun., 3 and 7 p.m. (No performance Wed., May 7.)
(212) 239-6200 or (800) 432-7250 or www.telecharge.com.
Casting by Tara Rubin Casting.