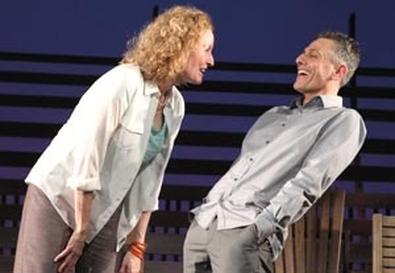 I'm shamefaced to admit that as familiar as I am with David Greenspan's excellent work as an actor, until last night I was a virgin when it came to his plays. Not that I wasn't intrigued, but they always sounded a bit intimidating in their mix of classicism and experimentation. Well, as Professor Higgins once put it, thank God that's all over. "Go Back to Where You Are" is a 70-minute slice of joy about the rebirth of the human spirit. Wistful, romantic, melancholy, a bit catty, and very, very funny (when it wants to be), it leaves, as one character puts it, "a little spot on the heart."

The fanciful conceit has God plucking Passalus, a chorus boy from ancient Greece, out of hell and sending him to the shore of Long Island's East End. Plunked down amidst a group of theater artists on a summer weekend getaway, Passalus is on a mission to alter the life of one—and only one—of them. If successful, he wins freedom in the form of blissful annihilation. The group comprises Claire, a famous but aging actor; her brother, Bernard, an obscure playwright and successful teacher of that profession; her 20-something son, Wally, a TV writer who recently lost his husband to cancer; Charlotte, Claire's less successful Juilliard classmate; Tom, a longtime director friend with whom Claire is about to do "The Sea Gull" and Malcolm, Tom's set-designer lover of long standing. Remaining resolutely offstage is Carolyn, Claire's daughter, whose birthday this is and who is the object of Passalus' quest.

The shape-shifting Greek takes the form of an expatriate British matron to gain access to Carolyn's life. But when Bernard stumbles upon him in his own form, romantic sparks are struck. Bernard's invitation to dinner, which Passalus is already supposed to be attending as the matron, kicks things into high gear. In a play that already includes direct address to the audience in the form of both narration and asides, Greenspan suddenly adds Passalus' ability to hear people's thoughts, and as he alternates between being the matron and himself, everything becomes a miraculous—and always perfectly clear—mash-up of running thoughts, occasional commentary, and dialogue. Of course, Passalus can't stop himself from helping other people, effecting changes for the better in the lives of those around him. His punishment is to return to life, where he and Bernard, a solitary soul and longtime widower, inch toward love.

Under Leigh Silverman's musical direction, every performance sparkles. Lisa Banes is an enchantingly funny Claire, expertly calibrating the character's selfishness and actorly narcissism yet unexpectedly moving when Claire's thoughts reveal how self-aware she really is. Brian Hutchison makes the unassuming Bernard seriously sexy by emphasizing the character's quiet thoughtfulness, self-effacing intelligence, and sensitivity to nature. Mariann Mayberry consistently finds the humor in the too obviously desperate Charlotte ("I'm just acting for health insurance these days!") but never condescends to her. As Tom and Malcolm, Stephen Bogardus and Tim Hopper are completely convincing as a longtime couple on the rocks over fidelity and power-imbalance issues, and Hopper doubles effectively as a peremptory and inflexible God. Michael Izquierdo brings the somewhat underwritten Wally to the fore with an open-faced, guileless charm. As an ensemble, the actors effortlessly achieve the interconnection of intimates.

Of course, Greenspan has written Passalus for himself, and the role fits his stylized persona like a glove. Archly exotic yet instinctively compassionate, Greenspan emphasizes the character's otherness until finally, scarily, it drops away as Parnassus haltingly begins once again to move in the human dance. Even better, Greenspan lands every laugh in sight.

I suppose it's possible that the play will resonate more with audiences who are familiar with the ways in which theater people (mis)behave. I plead guilty as charged. That said, I left the theater more than a little bit in love.

Presented by and at Playwrights Horizons, 416 W. 42nd St., NYC. April 12–May 1. Tue.–Fri., 7:30 p.m.; Sat., 2 and 7:30 p.m.; Sun., 2 and 7 p.m. (212) 279-4200 or www.ticketcentral.com . Casting by Alaine Alldaffer.