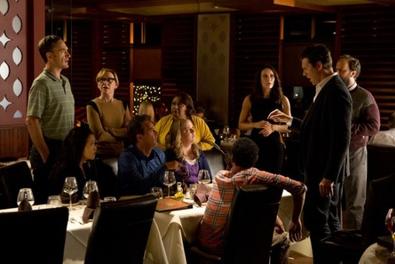 Since a major recurring plot point of "Go On" centers on the sharing of one's feelings, it's only fair that we share our deepest darkest secret. Sometimes, we eat our feelings. And wouldn't you know it? It's something Ryan King (Matthew Perry) does too!
That's right – King is grief eating. And despite claiming to be in "complete control," he admits to not knowing how to stop. "I get sad and food makes that go away," he tells George (Bill Cobbs). "It starts off so innocently. An extra slice of this, a side of that, and the next thing you know the Chinese food people are giving you seven sets of utensils."
We've been there before, King. Just wait until you start grief eating to get over the fact that you're grief eating. That's what we like to call "rock bottom."
Luckily, King has his Transitions group, who refuses to let him head down the path to fat-ville. Before he can say "Do I want fries with that?" Team Transitions barges into his home for a little "Calorie Aversion Therapy." "Your eating has a compulsive quality that's troubling, and it could open to a gateway of other obsessive behavior," Mr. K (Brett Gelman) explains. The only way to beat that is to eat yourself sick. And since the 'Transitions' team is just that, they participate in the over-eating fest.
It's at this point that we looked down at our coffee table filled with empty Halloween candy wrappers (three weeks before Halloween) that we started to think, "Maybe these people actually know what they're talking about. "And then Danny (Seth Morris) started talking about an imaginary old-timey town he's built in his head to escape his problems and we thought better.
Danny, admittedly, isn't the best barometer. "He's a blockhead," says Anne (Julie White). Danny lives with his wife's boyfriend and their child. "Objectively, your life sucks" King tells him. Yet Danny's always so happy. Probably because of said make-believe town. (He's even named the place: Harborville.) King warns that Danny should own up to his problems and address them head-on. But when King buries his problems in a handful of munchkins, letting Danny escape to a happy place in his own mind suddenly doesn't seem so bad.
But when it comes to avoiding problems, no one seems to be doing that better than Lauren (Laura Benanti). Our fearless group leader is in such denial of her relationship, she hasn't even stopped to wonder whether she loves her boyfriend, Wyatt (Hayes MacArthur).
The transitions group first points this out to Lauren. They get to know Wyatt when they invite him to spill the tea on Lauren's "dirt." You know, to create a little balance in group and prevent the group members from feeling like one-dimensional weirdos. Through that process, we learn a lot about Lauren. ("She's gay for Salma Hayek and she did child beauty pageants," Wyatt shares.) But the most surprising piece of intel is that she still hasn't had the marriage talk with Wyatt.
Wyatt and Lauren have been together for three years, and like most boyfriends on television, Wyatt is absolutely perfect. He's handsome. He's funny. He gets along well with everyone in the Transitions group. Heck, the guy might as well be a Disney prince. But Lauren is still unsure. "How do you know?" she asks King. "If you don't know, you know," he tells her. "You know?"
Um… we don't know. But we sure hope this bag of M&Ms can help us find the answer.
Lines of the Night
"It's Friday night. I've had two margaritas. I'm not really prepared for all your Ryan-ness." – Lauren, when King drops by dinner
"I like your teeth. Can I have one?" – Mr. K to Wyatt
I never thought about you as a woman. Now you've been sexualized. I can't stop thinking about you in sexual scenarios." – Sonia (Sarah Baker), to Lauren after seeing her and Wyatt on a date.
"Why are all my fans gross?" – King
"You guys are great. I hope my life goes to hell so I can sign up and do this more." – Wyatt to the group.