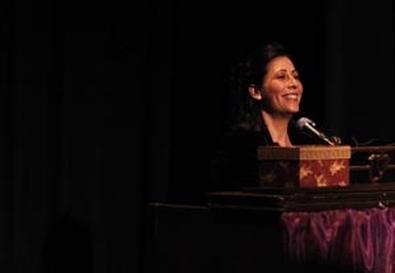 As far as most of the autobiographical information goes, Ana Guigui's 90-minute one-woman show covers well-tread, yet interesting, territory. But what makes this a standout in the crowded solo-show genre comes when Guigui sits behind the piano. "God Box" is two shows, and the second one—a re-creation of life as a lounge piano singer—is worth the admission price. Add to it a tight series of well-connected monologues, including one that is as unforgettable as it is funny, all delivered by a thoroughly likable and charming performer, and the result is easily digestible and tasty entertainment.
Directed by Robert Lyon Barker, Guigui's story centers on her quest for a soul mate, which she is trying to conjure through a small box filled with her vision of the ideal man. The box contains a list of qualities she desires, which came from her father, brother, or men she dated. But romance comes hard for the piano singer at the Doubletree Hotel in Westwood, although one man staying at the hotel is enchanted by her rendition of Billy Joel's "New York State of Mind." Guigui mixes several classic pop songs with her catchy originals, and she weaves flashbacks into her current potential relationship. By far the most outrageous story is her spur-of-the-moment date with a rapper after an awards show. Their conversation about Guigui wanting to become a mother elicits nonstop laughter from the audience.
Barker uses the entire stage to transition to various locales. And Luke Moyer's simple lighting accents the moods, from romantic to tragic, to wild comedy. But it's the music that shines. A classically trained pianist, Guigui can spin yarns and carry on complex conversations while nailing Elton John's "Rocket Man." And her singing voice is inviting and relaxing, which is ideal for a lounge singer. It's hard not to ask for a request. Given her laid-back, charismatic style, it's possible she might just play one for you—assuming you put some money in the tip jar.
Presented by and at Actors Forum Theatre, 10655 Magnolia Blvd., North Hollywood.
July 10–Aug. 16. Fri.–Sat., 8 p.m.; Sun., 2 p.m.
(323) 960-5770. www.plays411.com/godbox.