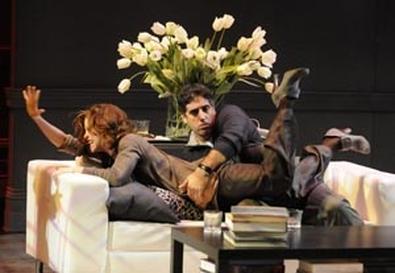 Any misanthrope will tell you that most people are self-absorbed and self-serving to the core, wholly uncaring about others. It's society that forces us to coexist. French playwright Yasmina Reza's black comedy, translated by Christopher Hampton, shows just how thin and brittle is that veneer as two couples in an upscale New York City neighborhood hash over the details of a playground fight in which one couple's son knocked out the front teeth of the other. The parents not only blow the incident out of proportion; they quickly get down into the mud, proving far more vicious than their children—and Reza notes that by extension similar dynamics often guide opposing sides of world conflicts.
Director Caryn Desai presents this microcosm with four distinct faces: earthy, good-natured Michael (Greg Derelian); his liberal, socially conscious wife, Veronica (Leslie Stevens); alpha male Alan (David Nevell), a high-powered, winner-take-all corporate attorney; and his cheerful, polite wife, Annette (Alet Taylor), who adheres to older societal stereotypes of wives and mothers. While the discussions and negotiations are obviously doomed from the start, and the destruction of the spouses' efforts is just as obviously inevitable, Desai and company wring laughs from the ways both sides strain to come off as the more devoted, wise, and compassionate parents.
The fine ensemble cast evenly balances the bickering within and between couples, carving highly individualized portraits through the way they undermine or reinforce various traits by gender and marital and social status. As the more conservative pair, Nevell and Taylor evoke moneyed, privileged WASP blue bloods unwilling to lay blame upon their son, who injured Michael and Veronica's son. Derelian's clownish Michael typifies a blue-collar lifestyle and values, ultimately revealed as at odds with Stevens' portrayal of the feisty yet sensitive Veronica. The staging's production values—notably Stephen Gifford's sterile living room set, so devoid of human warmth—undergird the unflattering portraits of self-centeredness.
Presented by International City Theatre at Long Beach Performing Arts Center, 300 E. Ocean Blvd., Long Beach. Jan.27–Feb. 19. Thu.–Sat., 8 p.m.; Sun., 2 p.m. (562) 436-4610 or www.internationalcitytheatre.com.