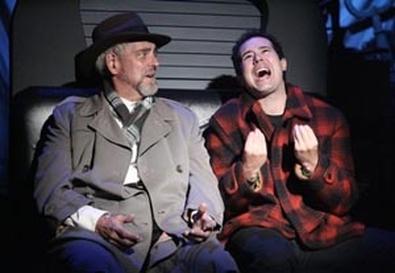 James Sherman's script eventually comes to the relatively universal point that our parents wanted what was best for us—whatever our race, religion, or nationality. But is that one brief mention enough universality in this play that follows Isaac's quest to find his Jewishness?
Isaac is a young journalist living in Chicago in 1977, when the National Socialist Party of America proclaimed its intention to march through Skokie, Ill., populated with Holocaust survivors. The event sets him on a path to discover what his heritage means to him. Sherman deals in humor that makes a point, characters that ring true, situations many face, and occasionally something that might strike the viewer as racism.
Darin Anthony directs with apparent respect for the material and a strong sense of theatricality. His actors find the realism in the face of the script's types and one-liners, while his staging highlights the self-proclaimed "memory play" elements. And only Anthony can line up his actors in violation of Directing 101 laws against it, turning the normally ungainly blocking into graceful visions.
He is ably aided by top-drawer actors who perfectly suit their roles. Adam Korson is a charmingly open Isaac, giving his character depth and a bit of deep sorrow that underlies the ample humor. Karen Kalensky is hilarious, also with a touch of heartache, as Isaac's mother. The remaining quartet of actors plays various roles—from Isaac's life and from film and literature—to delightful effect. Jennifer Flaks most notably plays Isaac's dewy former girlfriend and current pen pal with an almost otherworldly, certainly Old World, presence. Corryn Cummins plays Isaac's gentile wife, a woman who would have happily stayed by his side and in whose eyes we see the side effects of his journey. Jason Weiss is a convivial Jewish Huck Finn and a high-stepping Jewish Henry Higgins. And the elegant, jovial, heart-rending Peter Van Norden creates a variety of characters that obey the general outlines of their types but are fleshed with the deepest of humanity. And therein we may find the universality we crave.
Presented by West Coast Jewish Theatre at the Pico Playhouse, 10508 W. Pico Blvd., L.A. Oct. 1-Nov. 27. Thu.-Sat., 8 p.m.; Sun., 3 p.m. (Dark Oct. 7-8 and Nov. 24.) (323) 860-6620. www.westcoastjewishtheatre.org.