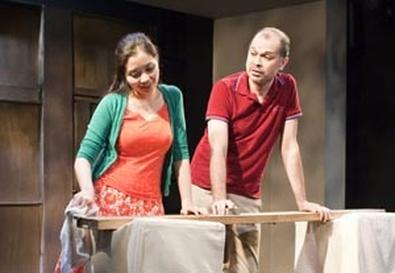 For much of its first act, Linda Faigao-Hall's
God, Sex & Blue Water
has the makings of a warm, revealing exploration of a little-chronicled immigrant subculture, the devotedly Catholic Filipinos of Hoboken. Unfortunately, Faigao-Hall does herself in with uneven writing.
Laling (Lydia Gaston), from a remote island, seems acclimated to Jersey in some respects, but she carries a curious, unpleasant island tradition: Every year at Lent she nails herself to a cross, re-enacting Jesus' torment and seeing it as necessary and ennobling. Her brother Max (an underrehearsed Andrew Eisenman) is more thoroughly Americanized—being fond of Billy Ray Cyrus, karaoke, and beer—and anti-crucifixion: "This is America," he dourly declares. "There are no miracles here." And Laling's daughter Clarita (Leanne Cabrera) is having a hard time negotiating her new world. She's intrigued by the intentions of Brian (Ryan McCarthy), the blond agnostic insurance executive who's drawn to her. But she's also just out of a convent and given to personal dialogues with God. Oh, and she regularly experiences stigmata.
Cabrera is so drop-dead gorgeous that I didn't much care whether she could act or not, but in fact she invests Clarita with an intense spirituality that makes her etherealness believable. She's truly lit from within, and when she ponders the new Americanisms Brian is teaching her ("Guacamole—it sounds exactly how it tastes") or recounts her excitement on first landing at Newark ("Even the ground I walked on seemed to jump up at me"), she has a freshness that transcends Faigao-Hall's now-prosaic, now-poetic dialogue. She's special.
Clarita's escalating conflict over whether to serve Jesus or attempt an attractively ordinary existence with Brian should form the basis for an affecting culture-clash drama. Unfortunately, Faigao-Hall muddles the intermittent good writing with characters who divulge expository information to one another they should have hashed out ages ago. She makes them more self-aware than they would logically be, and in the second act she takes the consequences of the culture clash well beyond credibility. She's not helped by Nelson T. Eusebio III's overemphatic direction, with loud sound effects and unconvincing screams and carryings-on. Nevertheless, with McCarthy effectively underplaying a recognizably flawed, appealingly modern young man, the central romance does have some resonance. And when the writing and direction fail, there's always Cabrera to look at.
Presented by Living Image Arts Theater Companyat the Lion Theatre, 410 W. 42nd St
.,
NYC
.
April 23
–
May 9. Tue
.,
Thu
.,
and Sat
.,
8 p.m
.;
Sun
.,
3 p.m
.
(
212
)
279 4200 or ticketcentral.com
.