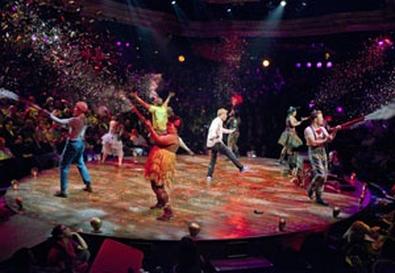 Have you ever been to a party where the host grabs you the minute you walk in the door, shoves a drink in your hand, tells you five or six bad jokes, forces you to play games, and asks repeatedly if you're having a good time yet? If so, then you have a rough idea of the new Broadway revival of "Godspell," the 1971 rock musical hit. Director Daniel Goldstein has upped the "fun" ante on conceiver John-Michael Tebelak and composer-lyricist Stephen Schwartz's clown-show version of the Gospel according to St. Matthew. The Circle in the Square Theatre has been transformed by set designer David Korins into a combination amusement park and rec room, with trapdoors concealing trampolines and water tanks. Meanwhile, theatergoers in the first few rows sit on plush cushions rather than seats.
Instead of allowing the concept, of a childlike Christ leading a gaggle of puppyish disciples through the parables, to stand on its own, Goldstein has added a plethora of gimmicks, including audience-participation charades and Pictionary, as well as topical references to everything from Donald Trump to Facebook to Occupy Wall Street. When the cast hauls out the glitter cannons at the end of the first act, you know they're trying too hard. "Godspell" is a popular choice for high school and community theaters because it has a simple, laid-back charm and opportunities for the cast of 10 to stand out, with each receiving at least one lead vocal part in the bouncy, infectious score, here rocked up and amped by orchestrator Michael Holland and sound designer Andrew Keister. Goldstein would have done better to reduce the volume and let the young ensemble rather than the jazzy staging take the spotlight.
Hunter Parrish makes for a charismatic and attractive Christ figure, even if his voice is the weakest in the company. "Alas for You," Jesus' angry rant at the Pharisees—represented here by giant rubber mouths and footlight eyes—should be an intense scream of rage, but with Parrish it fizzles halfway through. Yet he successfully captures the boyish enthusiasm of this musical-comedy Messiah and is heartbreakingly real during the agonizing crucifixion scenes. Wallace Smith provides the proper shading and ambiguity for the conflicted Judas. Understudy Julia Mattison (subbing for an ailing Morgan James) spicily puts across the vampish "Turn Back, O Man." Uzo Aduba makes "By My Side" a yearning plea for Jesus' love, and she is also a bright spot in the comic moments, particularly when impersonating a vicious bird. Anna Maria Perez de Tagle is button-cute and gives the Top 40 hit "Day by Day" an innocent sweetness. Telly Leung displays his fine voice and talent for movie-star imitations. Nick Blaemire, Celisse Henderson, Lindsay Mendez, and George Salazar each have individual sequences in which to shine.
Despite the overkill, the show's warm heart manages to glow through the glitz. Not surprisingly, the most effective number is the most basic, "All for the Best," which is skillfully choreographed by Christopher Gattelli as a loving tribute to vaudeville, complete with hats and canes. I also enjoyed the easy opening of the second act, with Leung, Smith, and Mendez crooning an informal reprise of "Learn Your Lessons Well" as if they were entertaining friends at a piano bar. When the cast is allowed to relax like that, this "Godspell" becomes a moving and tender morality lesson rather than a frantic sitcom.
Presented by Ken Davenport, Hunter Arnold, Broadway Across America, Luigi Caiola, Rose Caiola, Edgar Lansbury, Mike McClernon, the Tolchin Family, Guillermo Wiechers and Juan Torres, and the People of Godspell at the Circle in the Square Theatre, 1633 Broadway, NYC. Opened Nov. 7 for an open run. Tue., 7 p.m.; Wed., 2 p.m.; Thu. and Fri., 8 p.m.; Sat., 2:30 and 8 p.m.; Sun., 2:30 and 7:30 p.m. (No performance Tue., Nov. 8; Wed., Nov. 9, performance is at 8 p.m.) (212) 239-6200, (800) 432-7250, or www.telecharge.com. Casting by Telsey + Company.