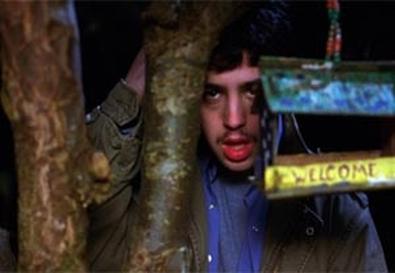 Shakespeare, space, Socrates, symbolism—
What Goes Up
shoots for the moon. With a combination of unorthodox scenarios, unsympathetic characters, and uneven performances, it's doomed to never get off the ground.
Jonathan Glatzer's film follows washed-up New York reporter Campbell Babbitt (Steve Coogan) as he's banished to the boonies to cover New Hampshire pride Christa McAuliffe, set to become the first teacher in space as part of the ill-fated 1986 Challenger shuttle launch. Challenger is an incongruous backdrop for a tale of such little consequence, as Babbitt readily drops the soon-to-be-significant McAuliffe story when he stumbles upon a group of misfit teens in mourning for their teacher, an old college friend of Babbitt's who committed suicide just as the reporter arrived in town.
Babbitt is dealing with a tragedy of his own, coping with the death of a source he fell in love with by continuing to publish stories about her as though she's still alive. But his depression is more dour than poignant, and though Coogan's performance is by no means subpar, the character's journey is silly, so Coogan is hit-and-miss. As far as the teens go, the actors are at the mercy of caricatured beings from the page on. Hilary Duff as a capricious love interest for Babbitt teeters between "performing" the role and immersing herself in it, generally favoring the former. Olivia Thirlby's deeply wounded Tess seems to be the heart of the film, and though Tess is written rather flatly, the talented Thirlby at least succeeds in providing a pretty portrait of young-adult angst and yearning. Josh Peck is dementedly creepy—and mostly one-note—as a peeping Tom–turned–community hero. Molly Shannon's turn as onetime fiancé to the dead guy is tic-y yet humorous, though the film's overall convolution makes all attempts at jocularity feel wrong.
The one bit of sweetness in
What Goes Up
lies with Sarah Lind as the paraplegic Peggy and Max Hoffman as facile fibber Fenster. When Peggy demands Fenster have sex with her as a test of her physical and emotional paralysis, we think it's just another weird-for-weirdness'-sake construct. But the development of these two characters and their relationship turns out to be something we wish had been the whole point of this otherwise frustrating film.
Genre: Drama
Written by: Jonathan Glatzer and Robert Lawson
Directed by: Jonathan Glatzer
Starring: Steve Coogan, Hilary Duff, Olivia Thirlby, Josh Peck, Molly Shannon, Sarah Lind, Max Hoffman