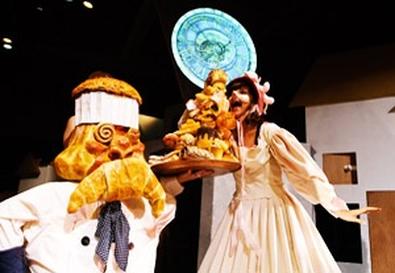 Your appreciation for this production will depend largely on the style of theater you prefer. This is storytelling for the eyes and ears more than for the heart, yet the visuals are magnificent. Meanwhile, however, Kitty Felde's skills in delicately interweaving three of Nikolai Gogol's best-known short stories and adapting them for this stage production seem swallowed up by the onstage pyrotechnics.
Sean T. Cawelti directs, tethering an astonishing number of elements and artists to a remarkably homogenous vision. On the crooked village street that teasingly disappears upstage, the lives of the various denizens play out. Insanity, poverty, unrequited love, and hard work are the only rewards for these characters. A basic necessity of life brings punishment to Akaky, the postal worker, played with unbearably deep sadness by Kristopher Lee Bicknell in "The Overcoat," while the audience is treated to heavenly tailoring, courtesy of a behemoth tailor puppet whose mustache is made of giant scissors, a spool for a monocle. Bicknell then becomes the title character in the story of "The Nose," missing from the face of Kovalev (Tom Ashworth) and getting bigger with each sighting until said facial feature is able to perform heroic deeds. The overcoat becomes hair on the nose, which has developed an appropriately nasal voice. Poor civil servant Aksenty goes insane before our eyes, in a sweetly melancholic performance by Ben Messmer.
So we observe. Sometimes we follow Medji the dog as it scampers and sniffs and even gently breathes; sometimes we follow the puppeteer, April Warren, as she gives life to the dog. Sometimes we watch Estela Garcia as the self-aggrandizing shop owner Madame Magda, and sometimes we can't help but watch the piece-of-paper puppet that represents Magda's daughter. But the crushing nature of Gogol's stories is still as absent as a balmy day on darling Nevsky Prospect.
Presented by Rogue Artists Ensemble at the Bootleg Theater, 2220 Beverly Blvd., L.A. Sept. 25–Nov. 1. Fri., 8 p.m.; Sat., 3 and 8 p.m.; Sun., 3 p.m. (800) 838-3006. www.rogueartists.org.