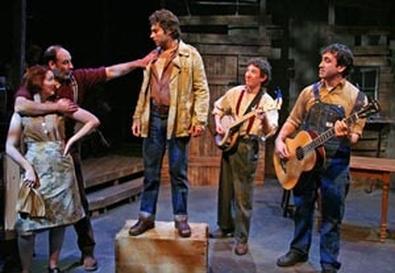 When J.M. Synge's
The Playboy of the Western World
premiered at the Abbey Theatre in Dublin in 1905, it literally created a riot. While this singular Irish comedy has been a perennial favorite with theatregoers, lately it has also become the inspiration for other creative folk. In 1984 Mustapha Matura adapted it to the West Indies; in 1994 it became a television film set in Canada; Chicago saw an operatic version in 2005; in Beijing in 2006 it was set in a barbershop; and it returned to Ireland in 2007 when famed novelist Roddy Doyle set his play in West Dublin with a Nigerian refugee in the title role. Now comes the latest adaptation, a bluegrass musical set in the wilds of 1930s Appalachia. And very welcome it is. While being surprisingly faithful to Synge's original, it has an American character all its own -- a character that is joyous, tuneful, and a barrel of fun.
The accents may be hillbilly but don't be fooled; this is cleverly crafted, sophisticated fare. The music and lyrics are by Peter Mills and the book is by Mills and Cara Reichel, who is also responsible for the show's inspired direction. Both Mills and Reichel would seem to have talent to burn. A good part of the musical's strength is owed directly to Synge, whose original plotting provides a sturdy framework to hang both songs and mountain shenanigans on. Where Synge indulges in poetic flourishes, Mills provides words and music; thus the songs consistently progress the plot and always have an integral identity.
Here Synge's Christy becomes Clayton (Mark Mozingo), the golden boy of the title; Pegeen becomes Maggie (Victoria Huston-Elem); the widow Quin is the widow Hazel (Carol Hickey); and the bashful Shawn becomes Luther (Jeff Edgerton). As Maggie's father, J.M. (Dan Sharkey), a moonshiner, is leaving Maggie with her righteous fiancé Luther, tired and worn Clayton enters. When Clayton tells of killing his demonic father with a shovel, he is hailed as the local hero, becoming the object of affection of spitfire Maggie, conniving Hazel, and all the girls thereabout. But when his father, Leroy (Scott Wakefield), bursts in very much alive, the golden boy is seen in another light.
Director Reichel integrates the onstage band of five into the action with some wonderful results, such as when the musicians -- Matthew Duré, Dennis Michael Keefe, and Mike Rosengarten -- become mountain girls for the amusing "A Wanted Man." For his flavorful score, Mills uses only strings, which hark back to the musical's Irish origins. The title song and the duet "More to Me" demonstrate Mills at his melodious best. The songs, with no amplification in sight, are delivered by a truly talented cast with not one weak link. Mozingo's Christy, Huston-Elem's Maggie, and Hickey's Hazel are all strong in character and song, while Edgerton's Luther appeals with deft comic timing.
This small, delicious musical deserves a longer life. Catch the mirth and music while you can.
Presented by the Prospect Theater Companyat 59E59 Theaters, 59 E. 59th St
.,
NYC
.
April 17
–
May 3. Wed
.–
Sat
.,
8:15 p.m
.;
Sun
.,
3:15 p.m
. (
Additional performance Tue
.,
April 21, 7:15 p.m
.)
(
212
)
279-4200 or www.ticketcentral.com
.
Casting by Diana Glazer
.