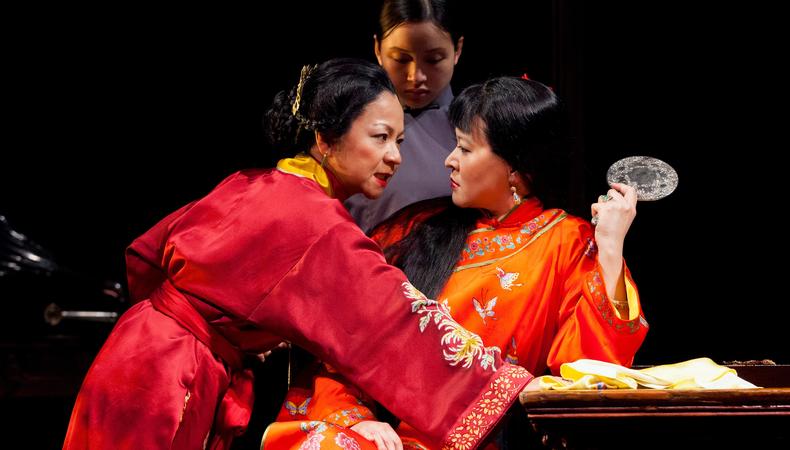 It's been a busy time in New York theater, with major shows opening on and off Broadway like a row of falling dominoes. Happily, the percentage of good work has been high, and it just got higher with Signature Theatre's production of David Henry Hwang's "Golden Child." Winner of a 1997 Obie Award and nominated for a 1998 Tony Award as best play, "Golden Child" is loosely based on the story of Hwang's Chinese great-grandfather's conversion to Christianity in the early years of the 20th century. Written with insight, compassion, and a sharp eye for the unintended consequences of clashing cultures, "Golden Child" is one of Hwang's best works, as entertaining as it is thought-provoking.
Eng Tieng-Bin, a successful Chinese businessman who has been working abroad for three years, returns home to his three wives a new man. Impressed by the freedom of the "modern world," Tieng-Bin wants change. Instead of the Chinese custom of self-deprecation, which means that nobody ever says what he or she really means, the patriarch wants the "luxury to speak truth in my own home." He's also drawn to the Christian philosophy of monogamy and its rejection of polygamy. Soon he is taking formal lessons to convert to Christianity with the English Rev. Baines, a well-meaning but tone deaf Episcopal clergyman who is in China to convert the heathens. Only second wife Luan joins Tieng-Bin as she works to manipulate her way to being the last wife standing. What she doesn't know is that he has already decided that his youngest, prettiest wife, Eling, will fill that role. She is, as he puts it, "the only woman I chose." Traditionalist first wife Siu-Yong, aghast at her husband's violations of Chinese beliefs, increases her opium smoking while fighting every innovation tooth and nail, using her first-born daughter, Ahn, the "golden child" of the title, as a spy. But the rebellious Ahn favors her father, and when she gets him to agree to unbind her feet, Siu-Yong snaps and tragedy results.
Under Leigh Silverman's perceptive direction, the cast does superb ensemble work. Greg Watanabe is a properly conflicted, innately decent Tieng-Bin, ultimately filled with a bewildered anguish at all he has unintentionally wrought; in a prologue and an epilogue Watanabe also plays Tieng-Bin's inquisitive great-grandson, interviewing Ahn about the family's past in her twilight years, and the actor effectively inhabits the brash 14-year-old. The excellent Julyana Soelistyo, originator of the title role, shines as Siu-Yong, stressing her implacable confidence and serenity of conviction. Jennifer Lim is a hungry and determined Luan, while Lesley Hu highlights Eling's docility and sense of gratitude to her husband for marrying a lowly peasant. Matthew Maher fills his deceptively mild Rev. Baines with unquestioning superiority. As 10-year-old Ahn, Annie Q. is radiantly mischievous, a quality she smartly retains when Ahn is 60.
Signature's physical production—Neil Patel's serene and symmetrical wooden set, Anita Yavich's eye-catching costumes, Matt Frey's chiaroscuro lighting, and sound designer Darron L West's dramatically acute use of music—is first-rate, as is this exemplary and very welcome revival.
Presented by Signature Theatre at the Pershing Square Signature Center, 480 W. 42nd St., NYC. Nov. 13–Dec. 16. (212) 244-7529 or www.signaturetheatre.org. Casting by Telsey + Company/Will Cantler.
Critic's Score: A