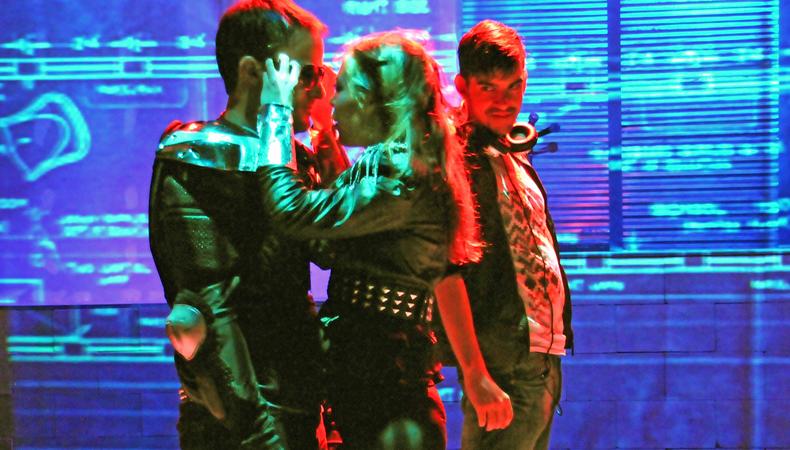 Role-playing games teach players to be true to themselves, whether they are "chaotic good," "chaotic neutral," or "chaotic evil." These "alignments" are used by gamers to indicate the personality of their fantasy avatars, though if pressed to pick one for New Georges' production of "Goldor $ Mythyka: A Hero Is Born," I think just "chaotic" would suffice. Based on the true story of a "Dungeons & Dragons"–obsessed couple who robbed an armored-car company, Lynn Rosen's potentially interesting high-concept script loses track of its identity by constantly commenting on itself. Paired with director and co-developer Shana Gold's affected staging, the result feels more ADD than D&D.
The couple in question, Roger L. Dillon and Nicole D. Boyde, made national headlines due to the curious footnote that they were avid gamers. From this irresistible detail their inevitable press persona arose: the "goth Bonnie and Clyde." Rosen's play deconstructs the event more than it depicts it, parsing their significance amid other real-world news, such as the Bernie Madoff scandal and the recession. But the playwright eschews pure docudrama in favor of a fantastical narrative about juvenile wish fulfillment colliding with adult responsibility. In Rosen's version of the events, the renamed Bart and Holly (Garret Neergaard and Jenny Seastone Stern) meet while they are both boarding with Holly's aunt, where they spend hours gaming in the basement and falling in love. When they are fired from their jobs at the armored-car company, it's their empowered D&D personas, Goldor and Mythyka, who emerge from the basement and use their intimate knowledge of the company's procedures to pull off the heist. After several high-profile incidents, including making off with more than seven million dollars, Goldor and Mythyka become cult heroes for sticking it to the corrupt financial system.
Neergaard, Stern, and the ensemble handle the zigzags of this intriguing material commendably, and Gold even stages the sprawling series of events compellingly, but the piece has one insurmountable flaw. At the start of the show a manic DJ (Bobby Moreno) spins records while the audience members take their seats. He sticks around once the play gets underway, claiming that he is the Dungeon Master—a narrator–game leader in D&D lingo—of the proceedings. From then on he conducts the play through every polished transition of designer Nick Francone's industrial set, every throbbing beat of Shane Rettig's omnipresent original music, and every slick animated projection designed by Piama Habibullah and Jared Mezzocchi. Even worse, he literally coaches the characters through each scene, with scarcely a line of dialogue going by without some impish slang-heavy observation. The obnoxious "hipness" of this conceit—imagine comedian Aziz Ansari acting as a Greek chorus—belongs to the character and not to the game Moreno. It, like Tristan Raines' fetish-gear costumes, simply doesn't jibe thematically with the D&D outcast protagonists.
Nonetheless, bonus points to Rosen and Gold for rolling this massive 20-sided die with such gusto.
Presented by New Georges at the New Ohio Theatre, 154 Christopher St., NYC. April 8–27. (212) 868-4444, www.smarttix.com, or www.newgeorges.org.
Critic's Score: C-