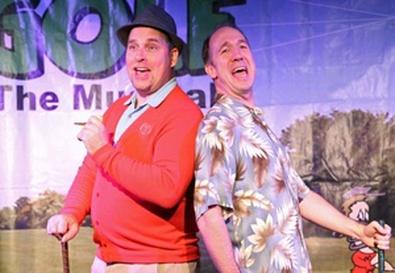 Why do a show about golf? Michael Roberts anticipated that question, because the composer-lyricist–book writer's opening number to "Golf: The Musical" is called "Why Do a Show About Golf?" The melody is catchy if facile, the lyric is neatly turned if predictable, and the song is really an excuse to do a jokey Top 10 list of answers to that musical query—some straying into topics as far off the fairway as "Spider-Man"—that are pretty funny. It's a highly representative taste of the high-energy, low-inspiration, but thoroughly professional revue that follows.

One would assume that golfers and musical-revue lovers are seldom the same people. So Roberts has to pepper the material with plenty of non-links-related references to amuse the latter group, while working within a well-worn, safe revue format so as not to confuse or alienate the former. That means sketches that seize on one subject and work it into the ground; feeble double entendres about shafts, balls, and hookers; and punch lines on everyone from Sarah Palin to Lindsay Lohan to Roman Polanski. When he sticks to the nominal subject, you can tell who the duffers in the crowd are—they're the ones chuckling at couplets like "Lord on high, we praise Your name/Help me take strokes off my game."

Roberts does have some good comedy-song ideas, and musical director Ken Lundie—playing, for some reason, an electric grand piano—knows how to milk a clever phrase to the maximum. "Great Lady Golfer," performed splendidly by tall, hot Lyn Philistine, is a smart gospel-tinged lament of a female athlete doomed by her choice of sport to eternal anonymity. But Philistine can't make much out of "My Husband Is Playing Around" or "Golf Is Such a Naughty Game," with their high-school snickering about sex and one-joke premises. Her husband, Christopher Sutton, sings sweetly and can even do sketch comedy but isn't given a lot of first-rate opportunities. The ensemble numbers—an odd rave-up advocating a second chance for Tiger Woods, a guide to lying about your game, a straightforward "That's How You Play Golf"—tend to pile on more verses than necessary, and director Christopher Scott encourages his talented cast to mug.

Still, I enjoyed a "Hail to the Chief"–inspired sung history of presidents and golf, and I loved an extended song-sketch that takes the old Hope-Crosby "Road to Morocco" title song and recycles it into "The Road to Heaven," with the duo swapping vaudevillian golf one-liners Up Above. Tom Gamblin's Bing Crosby is approximate, but Brian Runbeck's Bob Hope—never an easy voice—is brilliant, and the pair's ad libs and easy kibitzing with the audience briefly attain the spontaneous-combustion hilarity to which the lesser numbers aspire. After that, alas, it's a cheap and overlong audience-participation gimmick and another one-joke number, this time about miniature golf.

Why do a show about golf? No great reason, it turns out. But "Golf: The Musical" boasts enough decent yuks to help you past the sand traps, and its gifted foursome is appealing even when the material and staging aren't. One complaint: Steven McMullen's sound design is too loud, with reverbs and special effects where none are called for. Another: $4.50 is a lot for a club soda.



Presented by Eric Krebs at the Midtown Theater, 163 W. 46th St., NYC. Dec. 6–Jan. 16. Sat., 2 p.m.; Sun., 3 and 7 p.m. (No performances Sun., Dec. 12, 7 p.m., and Sat. and Sun., Dec. 25 and 26.) (212) 352-3101, (866) 8111-4111, www.theatermania.com, or www.golfthemusical.com.