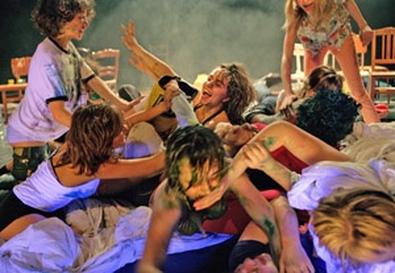 Even before the show begins, the teenage cast members of "Once and for All We're Gonna Tell You Who We Are So Shut Up and Listen" are asserting their existence from offstage by banging on drums, screaming song lyrics, and generally forcing you to acknowledge their loud presence. "I've had enough of this," one audience member said, as so many generations of parents have.
If the show, part of the Public Theater's Under the Radar festival, rings true, it's partly due to director Alexander Devriendt and co-author Joeri Smet's collaboration with the young cast. On a Sunday matinee, the under-18 crowd was out in full force, waiting to see their experience on stage.
The 14 teens amble on and begin an assault of simultaneous vignettes. One isn't sure where to look: at the vaguely flirting couple, at the pair fooling around with balloons, at the girl absentmindedly burning her Barbie. Their clothes (by costume designer Sophie De Somere) are carefully chosen to evoke a sense of not-trying-too-hard trendiness. It could be any classroom before the teacher comes in, the everyday trivialities that are ceaselessly entertaining. Then an alarm sounds and, as quickly as they had come, they are gone.
We soon realize the proceedings are far more rehearsed than we initially thought. What seemed totally improvised now is redone, the little accidents occurring at the same time, the magic seen from behind the scenes. The sequence of actions is repeated again and again, in different variations: one in which every actor is hormonally driven, one in which they're all full of pent-up anger (angry rock is the musical accompaniment).
The construction can seem puzzling, the actions a bit too contrived. We're no longer seeing five minutes in the life of a teenager, but a play put on for our behalf. The theatricality gets tiring, with some repetitions adding little to the display. One cast member's confession rings true after one too many rehashings: "I have no choice, you see. I have to go too far." But "Once and for All" does recall, in its deliberately scripted nature, the self-consciousness that we associate with adolescence: that deep desire to fit into a certain crowd's routine, the need to act a part.
The play shines in its last moments, when the cast members exaggerate each of their actions in a wild bacchanal of teenage rebellion. The show's progression from the beginning tedium reflects the paradoxical existence of a teenager: trapped inside a definition of what you should be while relishing a freedom that you'll lose all too soon.
Presented by the New 42nd Street/the New Victory Theater, Ontroerend Goed, Kopergietery, and Richard Jordan Productions as part of Under the Radar at the Duke on 42nd Street, 229 W. 42nd St., NYC. Jan. 8–17. Thu. and Fri., 7:30 p.m.; Sat., 2 and 8 p.m.; Sun., 3 p.m. (646) 223-3010 or www.newvictory.org.