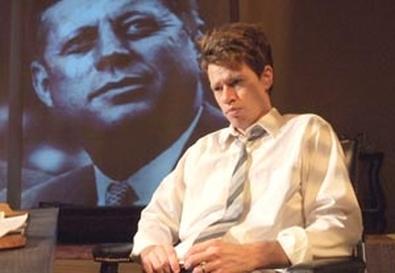 As Robert F. Kennedy, Brian Lee Franklin, who has an appropriately boyish face, mutters zippy comebacks and frustrated retorts with aplomb. As the author of the play "Good Bobby," he shows less skill: Franklin's biographical drama meanders from Bobby's time as his brother Jack's campaign manager through Bobby's decision to run for the U.S. Senate. By the second act, you might feel as ho-hum about spending time in Bobby's office as the character does himself.
Using Kennedy home video as a prologue is nice, but continuing to resort to visual aides to mark time—Bay of Pigs, assassination of Diem, Alabama riots—feels lazy. The play's main action seems to be Bobby resisting his father's expectations, but Steve Mendillo's Joe Kennedy is more feeble than fierce. As a result, Bobby's simmering rage, though funny, feels more self-indulgent than sympathetic. Bobby's personal life is largely omitted. We don't realize he's married with a bunch of kids until he meets with the Soviet ambassador (Barry Primus) in Act 2, during the Cuban missile crisis. Until then, all we see is an isolated man who picks on his secretary and occasionally visits his parents.
Though it's interesting that this Bobby is not the idealistic softy we've come to expect, the play badly needs a dramaturge and a real conflict to center it, despite Franklin's way with offhand zingers and explosive outbursts. Merely watching Bobby grow annoyed repeatedly is about as interesting as watching C-Span. Pierson Blaetz's direction similarly lacks shape and pace and pulls indifferent performances from much of the cast. Joe Hindy's CIA agent and Dan Lauria's Jimmy Hoffa are lively when they appear, which is not often enough.
Presented by Greenway Arts Alliance at 59E59 Theaters, 59 E. 59th St., NYC. Oct. 14–Nov. 8. Tue., 7:15 p.m.; Wed.–Sat., 8:15 p.m.; Sat., 2:15 p.m.; Sun., 3:15 p.m. (212) 279-4200 or www.ticketcentral.com.