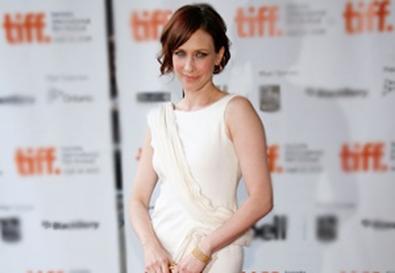 "Up in the Air," director Jason Reitman's third feature (see story on Page 23), is centered on Ryan Bingham (George Clooney), a corporate downsizer who spends more time on flights and in strange hotel rooms than at home as he travels the country firing people. But the movie is also very much about the women in his life. There's the ambitious co-worker (Anna Kendrick) he's forced to show the ropes to, the sisters (Amy Morton and Melanie Lynskey) who need his support, and Alex, the woman who enchants him. Portrayed by Vera Farmiga, Alex upsets Ryan's compact and sterile life when he begins to develop deeper feelings for her, even though she's been brutally honest about keeping their relationship purely superficial. "She's the turbulence in his flight," notes Farmiga.
Since her breakout role as a cocaine-addicted housewife in the 2004 indie "Down to the Bone," Farmiga has amassed an impressive résumé, working with such directors as Martin Scorsese in "The Departed" and Anthony Minghella in "Breaking and Entering." She also has the distinction of having starred in two movies featuring evil children: 2007's "Joshua," opposite Sam Rockwell, and this year's "Orphan," with Peter Sarsgaard. But as Alex, Farmiga has landed her best role since "Down to the Bone," as a confident career woman who makes no apologies for her bold sexuality.
Back Stage
: How does it feel to be the woman who tames George Clooney?
Vera Farmiga
: He's been breaking women's hearts for decades, so it was fun to turn the tables.

Back Stage
: At the same time, was it intimidating to play a woman who embodies what is traditionally sort of the male role?
Farmiga
: Yeah, it's tricky tackling Alex. To portray female desire in a very masculine way—which is demanding and shameless and liberal—and still have her come across as appealing and feminine is a hard line to tread. You're trying to honor her power, her prowess, and not scare people away. She's a sexual adventuress; she has escapades and dalliances, but she has self-respect. That's what I really admired about the character and thought it was a feminist manifesto of sorts. Her motto is to be the way she is and have the world accommodate it on all levels. She is a full-fledged sexual creature and a romantic operative who's free to chase or be chased without abandon or apology. It's very masculine, and there's a role-reversal here. You could even interchange both of their names—Ryan and Alex.
Back Stage
: Jason has said he likes to cast people who he can see sharing qualities with their characters. Are you at all similar to Alex or is she a total creation?

Farmiga
: I'm a hopeless romantic and utterly devoted to my relationship. I'm also so much more of a prude than she is, I really am.
Back Stage
: What sort of feedback have you gotten from other women?
Farmiga
: I was concerned women would be throwing tomatoes at me, saying, "You can't walk away from George Clooney!" On the contrary, they applaud it. Mothers and wives who give so much of themselves and appease everybody else's desires and needs and wants are really looking at this character and saying, "That's pretty cool."
Back Stage
: Jason said he saw you in "Down to the Bone" and wrote the role of Alex with you in mind. But you still had to audition?
Farmiga
: I did. I was four months pregnant at our first meeting, and I think I was hired in my eighth month. I got really big in my ninth month and I weighed as much as George. So it was a big decision on Jason's part, and it's a testament to him that he hung in there and championed me for the role. I know George did too. There came a point where we didn't know if the pregnancy would happen too close to filming, and George said—it may not have been in these exact words but something to the effect of—"Let her be chubby. She's not playing a model."

Back Stage
: Was it difficult to go back to work so soon after giving birth?
Farmiga
: I do think delivering and feeling the empowerment of birth and experiencing that as a woman made the performance even fuller. Certainly there were obstacles of extreme exhaustion and lack of sleep. There were times I would be staring at George and worrying about finding a position where the cameras would not see the milk marks on my silk blouses. But aside from that, I've never felt more womanly than I did at that time in my life.
Back Stage
: You seem to excel at playing strong women, which is not a bad thing to be typecast as. But do you ever worry about being pigeonholed?
Farmiga
: No, because they're strong but they are all flawed in some way, such as Abby in "Joshua," who does not appropriately deal with her illness and is a very weak woman and falls apart.
Back Stage
: Speaking of "Joshua," which of your evil onscreen children would win in a fight: Joshua or Esther from "Orphan"?
Farmiga
: It would be a good match. People have asked me, "What do you have about bad-seed movies?" I love psychological thrillers; some of my favorites are Polanski films. I just didn't see them as bad-seed movies. For me, "Orphan" was a story about a couple recovering from one of the most complex griefs a couple can experience, which is stillbirth. That was the story for me; it's frustrating when some critics reduce it to a bad-seed movie.
Back Stage
: "Down to the Bone" really opened doors for you, but have you noticed a change in your career since other high-profile roles, such as "The Departed"?
Farmiga
: You know, it's always "Down to the Bone." Even now, it's not my performance in "The Departed"; it's always "I saw you in 'Down to the Bone.' " It's fantastic. I would not have been in this film were it not for that movie.
Back Stage
: What had your career been like before "Down to the Bone"?
Farmiga
: Up until then it was just "Law & Order" episodes and bit parts—working consistently but in lame roles. I'd really only done characters on film that had nothing arcs or were really one-dimensional. It was the first time someone granted me the opportunity to step into a full-bodied woman and interpret it in my way. It was incredible, even though it had a brief theatrical existence. No matter how much critical praise it got and how many festivals uplifted it, it still could not find a home. Even now, what pisses me off is that you don't ever see it played on television. It's a film I think deserves to be seen. So it can be maddening.
Back Stage
: So how do you really feel about flying?
Farmiga
: Flying is purgatory for me. It's Hades. As a child I loved it, and I loved snooping on people and their conversations and watching them when they slept. I felt like you could really get a sense of who they were when they let their defenses down. But I'm the person you do not want to sit next to: I have a teething 9-month-old. At the same time, it can be nice to be contained. It's forced meditation. And it can be nice to just be still.
Outtakes

- Was a regular on the Fox TV series "Roar," alongside Heath Ledger
- Stage work includes roles in "The Seagull," "Good," and "The Glass Menagerie"
- Other film credits include "The Manchurian Candidate," "Running Scares," and "The Boy in the Striped Pajamas"; earned rave reviews for her turn in last year's drama "Nothing but the Truth," but the distribution company went bankrupt before release and the film hardly played in theatres