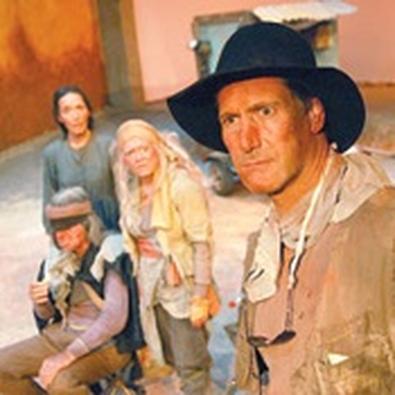 Local membership companies have long offered benefits for actors and other theatre artists by providing them with opportunities to practice and hone their crafts, network, and reap the rewards of a communal experience. Yet actor-driven organizations with a different paradigm -- smaller in membership, less formally structured, and imposing less-stringent obligations -- are proving a successful formula for some actors. Back Stage looked at four Los Angeles companies that have earned respect and praise for their contributions to the local scene.
Circle X Theatre Company
The granddaddy of the theatre groups profiled here, Circle X Theatre Company, was founded in 1996 by several artists fresh out of grad school whose primary aims were to provide an alternative to commercial and showcase fare and to offer innovative works. To varying degrees, six of the founders (Richard Augustine, Jim Anzide, Matt Bretz, Bob Clendenin, Gwyn Fawcett McColl, and Melanie Jeffcoat) remain active with the group. After more than a decade of eclectic productions -- including 14 world premieres -- and more than 50 awards from the Ovations, LA Weekly, the L.A. Drama Critics Circle, and the Back Stage Garlands, the company continues to offer challenging and acclaimed fare, such as the Jeff Goode comedy Love Loves a Pornographer, continuing through Jan. 20 at [Inside] the Ford.
Heading the company since 2003 is New Jersey-born artistic director Tim Wright, who joined in 2000 as managing director. He leads a staff of 12, which includes two paying positions: his and that of development director Camille Brown. Circle X is a membership company that does not charge dues but requires its members (currently numbering about 50) to assist with such duties as staffing the box office and setting up and striking sets.
"We strive to present three productions per year," says Wright. "We used to schedule things play by play; but, for the first time, we will soon announce a full season for 2008." In recent years, the company has performed at the Ford, under the Ensemble Theatre Collective program, supported by the Los Angeles County Arts Commission and the Flintridge Foundation. Says Wright, "This program supported the efforts of five sort of nomadic ensemble companies, but it's coming to an end now." Circle X will be an itinerant company once again, though Wright says one play in the new season will be staged at the Ford. He says the company enjoys donations from several sources, including the Los Angeles Department of Cultural Affairs, private donors, and corporate sponsors.
Of the group's organizational mix, Wright says, "We have a lot of actors in our membership, though many of them span multiple disciplines. We like to have people who are invested in the art of theatre itself. We don't cast exclusively in the company. Our goal has always been to cast the best show possible. Our members pretty much have to compete with nonmember actors in open auditions, and if all things are equal, we tend to go with the member."
Wright says he feels lucky about press coverage of the company thus far, but he isn't pleased that some major papers have dropped play listings in their print editions, causing a big burden for companies that can't afford to purchase ads. "This feeds into the nationwide idea that L.A. has no theatre," he says. "Yet despite press coverage we get, we always struggle with attendance. Even well-reviewed shows take a while to get any kind of substantial attendance. Also, the rents in this town are so high, so you usually can't plan on extending shows when you book a space. The last couple of shows we did at the Ford -- Eurydice and The Brothers Karamazov -- could have extended had we known in advance that their runs would be so successful. We're involved with the Hollywood Arts Retention Project, which is trying to find permanent facilities for Hollywood arts organizations. Over the next three years, we hope to secure a permanent facility."
He says the group's original mission statement hasn't changed: "We produce rarely seen plays that are highly provocative and boldly theatrical. We emphasize imagination over budget. We get a lot of scripts sent to us in our open submission policy." The company's body of work boasts many fine productions. According to Wright, the ones he usually hears cited as most memorable are Glen Berger's 1998 world premiere Great Men of Science, ; Jillian Armenante and Alice Dodd's 2000 debut of In Flagrante Gothicto; and last year's LADCC-appreciated adaptation of The Brothers Karamazov.
Wright, who works as an actor, director, and producer in the company's productions, says his favorite discipline is acting, though his demanding leadership duties allow him to perform only occasionally. In spring 2008 he will direct the workshop of a new piece by local scribe Tom Jacobson, sponsored by the Los Angeles History Project. According to longtime member Armenante, "Tim's an amazing producer. I love working with him." The community's response to the work being done by Circle X under Wright's supervision bears out her vote of confidence. www.circlextheatre.org.
Furious Theatre Company
Anyone who works in the Actors' Equity Association 99-Seat Plan arena in L.A. knows that staying afloat amid daunting artistic and fiscal challenges is an ongoing struggle. The dynamic Furious Theatre Company, comfortably situated at the Carrie Hamilton Theatre at the Pasadena Playhouse, has had more lucky breaks than many. But without talent to back up the good fortune, the company couldn't have established itself as one of the city's most respected and adventurous groups.
"Six of us came together as co-founders," says Artistic Director Dรกmaso Rodriguez. "We didn't think of ourselves as a membership company, but we did want to function as an ensemble. Steppenwolf was our model, and we intended to build our ensemble up very slowly. We started in 2002 [with the highly acclaimed Saturday Night at the Palace], and by 2004 we had doubled ourselves. We will soon be adding three new members." The company uses open casting for some roles, though "a guideline is that there should be at least one role in each play for an ensemble actor," Rodriguez says. Some associates are primarily designers, and some actors have also designed. Rodriguez adds that although Furious works under the 99-Seat Plan, the fees paid to actors are voluntarily higher than the minimum required. They get $25 per performance and a $400 rehearsal stipend; increases are planned for next year.
The company's first location was the Armory Center for the Arts in Pasadena, a former plastics factory. "We were temporarily given a large space where several nonprofit arts organizations were operating free of rent," says Rodriguez. "We had a 9,000-square-foot corner of the 54,000-square-foot complex." In fall 2003 the city of Pasadena asked all tenants to leave, as it needed the building back, so Furious found itself homeless, but not for long. Its plight came to the attention of Pasadena Playhouse executive director Lyla White, who along with Artistic Director Sheldon Epps granted Furious a four-year residency at the Carrie Hamilton.
The company has flourished since opening there in 2004, winning major honors from local awards groups and critical praise for such shows as Canned Peaches in Syrup and Grace. The highly supportive Pasadena Playhouse helps the young company in many ways -- not only in rent-free occupancy but also in the sharing of its marketing resources, office supplies, and more. Attesting to the Playhouse's confidence in the group, Epps recently hired Rodriguez to a new post as associate artistic director of the Pasadena Playhouse; Rodriguez will make his directing debut there next month with Orson's Shadow. How can he juggle these two demanding jobs? "Everyone in our company has to have a day job to support the work with our company. This new position is my new day job," Rodriguez explains.
The company has thus far offered 14 productions. Overseeing its high standards is its artistic council -- which includes Sara Hennessy, Shawn Lee, Vonessa Martin, Eric Pargac, Rodriguez, and Brad Price. Rodriguez says that after its recent world premiere of Matt Pelfrey's An Impending Rupture of the Belly, the company is pursuing a goal of developing new works. He adds, "We like plays that are visceral experiences and having high stakes. We try to be very clear that we're not a political company, but with the types of plays we select, social or political issues are sometimes involved in the themes."
The company has two full-time paid staff members: an administrator and a marketing manager. Graphic designer Pargac earns part-time wages, as does CFO Martin. The company's 13-member board has been very successful in obtaining private donor and corporate grants, as well as funds from the L.A. County Arts Commission. Rodriguez adds, "Ticket sales would only pay about 30 percent of our operating budget. We're in the same boat as many small theatres. Our audiences have grown due to our good reviews, but it's still a struggle to get the word out on shows. Sometimes things will surprise you, though. We thought of Canned Peaches in Syrup as our big gamble play, just something we really wanted to do, and it became our most successful show out of the entire 14."
He hopes to announce the next season soon. "One of our challenges," he says, "is that the Carrie Hamilton is slated for a million-dollar renovation -- which is wonderful. But the date keeps moving. We had thought Peaches was going to be the last show before we had to find theatres in L.A. to do shows during the renovation. But now we don't know what our cutoff is. But luckily our relationship with the Playhouse is such that we are going to work on the problem together." www.furioustheatre.org.
Lucid by Proxy
The founders of the critically acclaimed Lucid by Proxy theatre company attribute the launching of their organization to L.A.'s Edge of the World theatre festival. Midwesterners David Nett and his wife, Shannon Nelson, had been discussing the possibility of starting a theatre company since they moved to L.A. in 1998. When an opportunity to quickly prepare plays for presentation at the 2000 EdgeFest presented itself, they assembled a group of like-minded friends and came up with the name Primal Elements, producing three original one-acts within three weeks. They received such an encouraging reception that plans for their new group, its name changed to Lucid by Proxy, quickly got under way.
The company has created and produced 15 local premieres, including 10 full-length works, four short plays, and one musical. Nett says, "The first three years, we only produced at EdgeFest time. We didn't have any idea of the infrastructure of how to publicize, how to put together a theatre company in L.A., how to find performing spaces." Meeting seasoned local theatre veterans, such as EdgeFest staff members Amy Edlin and Ray Simmons, provided a big boost to Lucid, yielding all sorts of solid advice.
Lucid isn't a membership company. No dues are charged, and the seven original associates (Nett, Nelson, Valerie Rachelle, Patty Ramsey, Rick Robinson, Jeanette Scherrer, and James Paul Xavier) remain the group's driving force. The company hasn't established a hierarchical structure or specific titles for these associates, though each has special skills or areas of interest to contribute in running the company and its productions. "It depends upon the show and how it came to be," says Nett. "Was it written by one of us? Was it found by one of us who's championing it? Our structure realigns itself around the focal person for each show. One or two of us usually end up being the creative director or producer." Nett and Nelson frequently take roles. Nett also directs some of the productions and writes screenplays.
"As our focus is on doing original work, a membership company wouldn't be best for us, at this point," says Nett. "In that type of organization, the company has a responsibility to the actors who are members, and when you are creating new work, having that extra kind of wall around anything you're producing is difficult, because you worry when you aren't casting some members often enough. It puts a constraint on the creative process. There is a large pool of actors and designers who we work with regularly. I have friends who are in membership companies, and one thing I envy is that dues bring in a steady stream of revenue. Also, when we're getting ready to put up a show, it would be nice to call and say, 'Hey guys you're all obligated to come over and help us erect walls.' Yet the upside is when people choose to work with us, they are always excited to do so." Nett says original scripts penned by the company's regular writers, such as Robinson, might be created with some company actors in mind, but the roles are not generally precast, and open auditions are held. Lucid by Proxy also accepts script submissions and sponsors the development of solo works in its Solo Artist Project.
"Everybody in our group has a day job," Nett says. Some productions have been financed by the company associates -- on credit cards and through other means -- and Nett says the group is at the point at which finding funding sources aside from ticket sales and the handful of private donors has become crucial.
The company has a good relationship with the owners of the 26-seat Paul E. Richards Theatre Place in Silverlake, formerly a dentist's office and then an acting studio. Lucid rents the facility to stage its productions. Next year the company plans to mount a revised version of its well-received musical, Spare Parts and Cynic, by Robinson and Joshua N. Hsu, and must find a larger venue for it. Among other notable productions were the gripping futuristic seriocomedy Multiverse and Quickening, a compelling drama about ethical issues surrounding abortion. Recently, one of Lucid's works, Robinson's Asymmetry, was published by Samuel French, "Creating productions from scratch is extremely rewarding," says Nett. "Being in Samuel French is obviously secondary to the art, but it's a milestone for us, and it feels really good." www.lucidbyproxy.com.
VS. Theatre Company
Like Lucid by Proxy, VS. (pronounced "versus") Theatre Company doesn't define itself as a membership company. In 2003 two actors -- Johnny Clark and Kimberly-Rose Wolter -- formed a producing entity, aiming to mount provocative plays that include good acting roles for themselves and for other actors. They made an auspicious debut in March 2004 at Burbank's Victory Theatre with their superb staging of Keith Bunin's drama The Credeaux Canvas, featuring Clark, Wolter, and Marilyn McIntyre, who netted an Ovation nomination and a Back Stage Garland.
The company started quite informally. "It was just the two of us at first," Clark explains. "We had enough money to produce what was supposed to be only a three-and-a-half-week run. I recruited my friend Ron Klier to help out as literary director and another friend, James Rooney, as the producer. We never expected it to be as big a success as it was. We hadn't planned much beyond getting the first show up, so we didn't have a lot of scripts in mind. By the time we did Modern Dance for Beginners, six months later, we had everything fleshed out: our website, our mission statement. We felt that we could provide something of value to the theatre community."
The company's mission statement lists the following aims: to develop and/or produce original works, West Coast premieres, and rarely performed plays from major playwrights; to explore the human potential for triumph and tragedy; to champion the theatre as a living art form; to reach out to a larger and more diverse audience; and to entertain and challenge that audience. Clark says, "The plays we pick are those that one or both of us are extremely passionate about." The partners met while attending an acting class at Atlantic Theater Company in New York and found that their artistic sensibilities meshed. They began mulling over ideas for forming a company.
After Credeaux, the company worked at the Victory for a year, presenting acclaimed productions of John Corwin's Navy Pier and John Patrick Shanley's Beggars in the House of Plenty. Believing that there might be better exposure performing in the Hollywood area, VS. has since mounted its productions at the Elephant-Lillian theatre complex, including Waste of Shame, Eric LaRue, and this year's rapturously reviewed co-production with Elephant Stageworks, Stephen Adly Guirgis' In Arabia, We'd All Be Kings.
Clark believes membership companies work well for some actors, but he has a different model in mind: "I've been a company member. I've paid dues. So has Kim. We were lucky enough to be cast in shows and feel a part of the companies, but I always thought to myself, 'What about the 50 or 75 members who you never see, working actors who still pay their dues?' I felt that the better opportunity for us was to be more like a producing organization of our own. That way we would reserve the right anytime we picked a show to hopefully get the best actors available for each part."
In lieu of official members, the company has found kindred artistic spirits among a handful of resident artists, including a stage manager and designers. The pool of theatre artists who work repeatedly with the group is growing. The company holds open auditions when needed, though many of the roles are cast with actors familiar to the artistic directors or the show directors. Says Clark: "When we do a play, we generally have people we have worked with in mind. For Eric LaRue, every part was filled via open auditions because we had nobody in mind."
He says the company has been functioning through ticket sales and private donations, but he recognizes that his group needs to find ways to raise money from additional sources. Until now the production pace has been driven by the schedules of the company leaders and associates, without a pressing need to be constantly mounting productions. But Clark reveals that the group will soon announce a full season for 2008, because negotiations for several properties are now coming to fruition. He says there will be exciting news, including a co-production with a Chicago company, the show to play in both cities. Clark is confident that VS. is on the verge of its next major phase of artistic growth.
As for that unusual name, Clark admits -- with a chuckle -- that Klier thought of it, inspired by the title of a Pearl Jam CD. Yet it also stands for the company's desire to produce compelling theatre. Says Clark, "We have been the upstart company, against the world a little, striving to do this differently. And everything in drama comes down to man versus man and man versus society." www.vstheatre.org.
For more information on theatre companies that offer memberships, see our complete listing.
Les Spindle can be reached at lspindle@backstage.com.