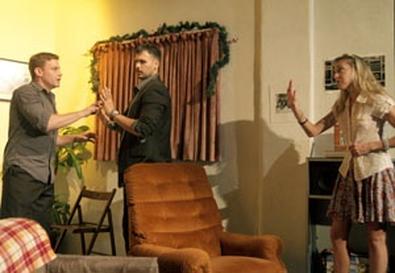 The gimmicky title of Joanclair Richter's debuting comedy foreshadows the pretentiousness of her overreaching script. This story of a squabbling Hollywood couple—creatively blocked singer-songwriter wannabe Meryl (Lindsay Seim) and her unambitious boyfriend Joel (Nick Warnock)—might have felt more at home in a 1960s sitcom. Despite the playwright's apparent attempts to satirize career angst and relationship strife in modern-day LaLa Land, the play gets bogged down in repetitive banter that sounds like flippant dialogue rather than everyday speech. The script improves slightly toward the end in a sardonically funny scene. Unfortunately, that's not enough to redeem director Lynne Moses' meandering production.
Exemplifying this endeavor's contrivances is Seim's mannered portrayal of a high-strung bohemian artiste. Sandy Duncan in her prime might have found a degree of endearing humor in this role—half pixie, half self-absorbed kook—but Seim's overwrought characterization comes across as more strident than amusing. Warnock works hard to milk laughs from his milquetoast character, but he has trouble eliciting empathy for this love-struck dolt.
Joel, who admits that he's content in his mundane job as a benefits claim clerk, urges Meryl to quit her day job as a hotel parking valet to focus on her so-far nonexistent music career, while he supports both of them. It soon becomes clear she's having trouble creating any musical sounds—let alone lyrics—though she swears they are "inside" her, waiting to come out. A sudden revelation of pregnancy briefly complicates matters, then is quickly dropped. After Meryl eventually creates a demo recording of her work, a musical bigwig (Max Decker as slimy Doug) comes over to peruse what she has to offer. What the boorish mogul expects from her proves to be much more than she bargained for. As the pill-popping and utterly unscrupulous Hollywood player, Decker brings moments of ribald hilarity to the proceedings. As soon as he departs, the play abruptly sputters to a bland conclusion. There's certainly room for incisive satires on Tinseltown's music industry and the career merry-go-rounds of aspiring superstars who flock here, but Richter's undercooked play lacks bite, focus, and sustained humor.
Presented by Strictly Stages & SST Productions at the Hudson Guild Theatre, 6539 Santa Monica Blvd., Hollywood. July 8–Aug. 14. Fri.–Sat., 8 p.m.; Sun., 7 p.m. (323) 960-5774. www.plays411.com/goodcrazy.