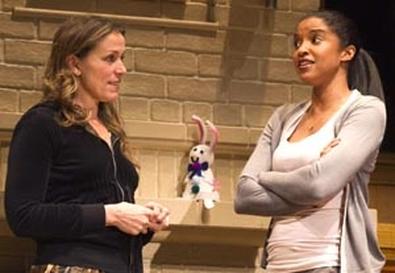 Playwright David Lindsay-Abaire's "Good People" is full of interesting characters and sharply written scenes, which combine to paint an indelible portrait of a social milieu, the economically depressed blue-collar culture of Boston's South End.
Daniel Sullivan has directed with intelligence and sensitivity, eliciting top-notch performances from a powerhouse cast. Though the show is never less than emotionally compelling and often surprisingly funny, afterward I couldn't elude a slight sense of disappointment. This well-made play is just a tad too well-made. I couldn't shake off the sense of having seen more of a thesis than a drama.
It's a thesis, I hasten to add, with which I agree: Success in life is as much a matter of luck as it is of hard work; good people, those who toil honestly and try to play fair, aren't always rewarded with good lives. Lindsay-Abaire illustrates this through his leading character, Margaret, who in the play's opening scene is being fired by her much younger boss, Stevie, from her job as cashier at a dollar store. Margaret is always late, and it has caught up with her. The fact that this single mother has a developmentally disabled adult daughter at home may cause her lateness, but her boss says that his boss considers this beside the point. The 50-ish Margaret fears for her employment prospects. She's also under pressure from her landlord, Dottie, to pay up or get out. But when Margaret finds out, from her hard-boiled friend Jean, that a former flame, Mike, who escaped Southie to become a doctor, has only recently moved back to Boston with his family, she decides to hit him up for help finding work. This leads to a reluctant invitation to a birthday party that Mike's wife, Kate, is throwing for him in their well-appointed home in tony Chestnut Hill. (Here's to set designer John Lee Beatty's inspired choice to make the doctor's world wide-screen and Margaret's full-frame.) The party is canceled at the last minute, due to Mike and Katie's young daughter's illness, but Margaret doesn't believe him and goes anyway. Resentful of Mike's "lace curtain" life, Margaret acts out. Mike counters from his own damage, and things get pretty sticky.
This is Frances McDormand's show, and she grabs it and doesn't let go. Jean is always telling Margaret that she's "too nice," but McDormand wisely underlines every opportunity to suggest that Margaret is anything but. McDormand is particularly good at Margaret's passive-aggressive combativeness and inability to stop herself from pushing too hard, which the actor locates in the character's prickly pride and increasing desperation. Yet she also maintains a dignity that lends credence to Jean's accusation. McDormand keeps us guessing all night, even when Lindsay-Abaire doesn't.
Tate Donovan proves a fine foil as Mike, highlighting the character's conflicting feelings of relief at escaping a dead-end life and guilt at no longer being a true Southie. As Kate, Renée Elise Goldsberry is best when scrambling to avoid the inadvertent cultural condescension this highly educated daughter of an African-American doctor keeps stumbling into with Margaret. Goldsberry then scores when Kate suddenly shows spine and maturity as she nails Margaret for putting her pride ahead of her daughter's well-being. Estelle Parsons makes Dottie into an engagingly colorful sideshow of eccentricities, Becky Ann Baker is a convincingly curdled Jean, and Patrick Carroll smartly stresses Stevie's decency, though the character is largely a plot device.
Among Lindsay-Abaire's conveniences are Stevie's Act 1 curtain bingo win, a too-carefully telegraphed expensive vase that Mike gave Katie as a "push present" for delivering their daughter, and the shifting potential parentage of Margaret's daughter (considerably premature babies are awfully hard to fake). Touches such as these are particularly disappointing when surrounded by the preponderance of fine writing to be found in "Good People."
Presented by Manhattan Theatre Club at the Samuel J. Friedman Theatre, 261 W. 47th St., NYC. March 3–May 29. Tue., 7 p.m.; Wed.–Sat., 8 p.m.; Wed., Sat., and Sun., 2 p.m. (212) 239-6200, (800) 432-7250, or www.telecharge.com. Casting by David Caparelliotis.