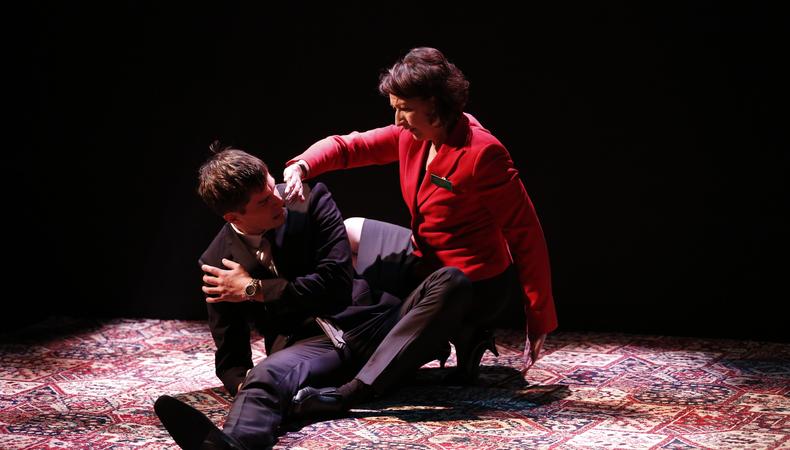 Packed with rich writing, full-blooded acting, taut direction, and even a bit of British politics, "Good With People" proves that a play needn't sprawl over three hours to provide a satisfying theatrical experience. Indeed, this 55-minute two-hander, presented by Scotland's acclaimed Traverse Theatre Company as part of Brits Off Broadway, makes a virtue of brevity, compressing its action into a rush of dialogue and imagery that strikes with the force of an avalanche.
David Harrower, whose play "Blackbird" lit up New York in 2007, uses the chance meeting of a man and woman in a small hotel to explore themes of guilt and forgiveness, the clash between tradition and modernity, and the grinding ache of loneliness. His densely textured, rapid-fire dialogue combined with George Perrin's precise direction transform what could have been a ships-passing-in-the-night anecdote into a depiction of two souls searching for release from the past and union in the present.
Helen, a middle-aged woman who runs a struggling hotel in Helensburgh, a small seaside Scottish town, finds her emotions stirred when a young man named Evan checks in. Evan tells her that he's returned to Helensburgh after working as nurse in Pakistan in order to attend his parents' remarriage. Conflicts arise between them, sparked by such things as Evan's long-ago participation in a gang that victimized Helen's son. Evan reveals that his injured right arm is the result of a beating inflicted by a gang of terrorists in Pakistan, and Helen confesses that she is so devastated by her son's decision to leave home that she can't return to the emptiness of her house and her cold marriage. With sexual tension pulsing between them, the two pass a night of confrontation, confession, and ultimately reconciliation.
The cast is superb. Blythe Duff, as Helen, is a seething mixture of anger and need who can shift from hard to vulnerable in a blink. Andrew Scott-Ramsay's Evan effortlessly blends the strength of an angry man and the sensitivity of a boy needing love.
Ben Stones' set, consisting solely of a chair, a few props, and the kind of carpet one might find in a hotel lobby, is ideally suited to this spare play. Tim Deiling's lights, which occasionally cast sharp expressionistic shadows on the walls, and Scott Twynholm's suggestive music conjure an atmosphere of mystery and timelessness.
The full-length variety of the one-act play is alive and well these days, but its briefer cousin is rarely seen in commercial venues. Fortunately, Brits Off Broadway has found the resources to bring us this outstanding example of the short form. Though it lacks the poetry and histrionics of such masterpieces as John Millington Synge's "Riders to the Sea" or Edward Albee's "The Zoo Story," "Good With People" nevertheless fashions an entire world on a rectangle of hotel carpet.
Presented by Traverse Theatre Company and Datum Point, in association with Paines Plough, as part of Brits Off Broadway at 59E59 Theaters, 59 E. 59th St., NYC. April 3–21. (212) 279-4200, www.ticketcentral.com, or www.59e59.org.
Critic's Score: A