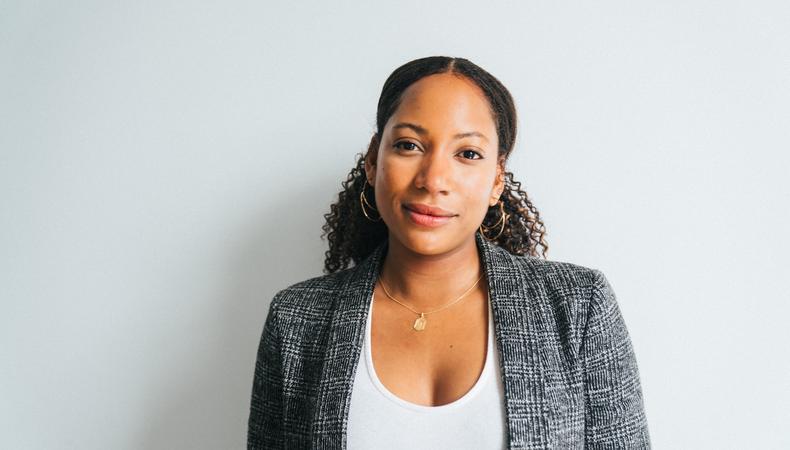 Natalie Paul stars on "The Sinner" as Heather Novack, a detective in training who, along with Detective Harry Ambrose (Bill Pullman), is thrown into a murder mystery involving a cult-like community in upstate New York led by Vera Walker (Carrie Coon).
READ: Jessica Biel on 'The Sinner,' Her Bombed 'Frozen' Audition + Why Her Career Needed a 'Kick in the Ass'
Heather's storyline gave Paul plenty to work with.
"Heather's got a lot going on. She's trying to do really well in this police department. She's trying to prove herself as a detective. She's the only woman of color; she's the only queer woman in town. She's literally a unicorn in this place! You watch the show and, like, Heather just popped out of nowhere."
Auditioning for "The Sinner" gave her an excuse to binge Season 1.
"I'm always trying to keep up with shows, [but] I feel like I'm never able to finish a season. So when the audition came along, I thought, Oh, that's a great opportunity to finish the show! And I loved it. I had no idea where it was going, and Jessica Biel killed it. It was just a really interesting idea—a great premise."
Find a friend to practice your audition with.
"I try to go over it with a friend [when preparing for an audition]. I was really lucky to train at the NYU Graduate Acting program, and if you get through that program, you have a great foundation for developing your craft. But auditioning is this whole other beast that you have to get acclimated to no matter who you are. It's just this weird, emotional quicksand of a room. Everybody has their own process, but for me, I find that working with a friend really helps, because I love direction. Sometimes when I see a scene, I go, 'This could go so many ways; I don't know what to do!' I have too many choices. Having a friend there to just steer me into any particular direction is helpful."
Getting her "Sinner" scripts week-to-week helped her play into the series' mystery.
"It was like Christmas every two weeks [when we got our scripts]. That actually takes care of a lot of it: You don't really know where it's going, and that helps in this case. We got an idea of where my character was heading, so that helps in terms of steering your character, but mostly I was in the dark—just like you guys are now."
A good scene partner never stops acting, even for another's close-up.
"For me, it's always great to work with someone who doesn't stop acting when the cameras turn around on you. I definitely try to do that myself—give for giving's sake and for my scene partner. Even if it's a really upsetting scene, you just have to be there for every single part of it and not be precious about any take. Just someone who is present and alive and willing to play and make some music together in some way—to create something totally new together. I try to do that myself."
Ready to get to work? Check out Backstage's TV audition listings!