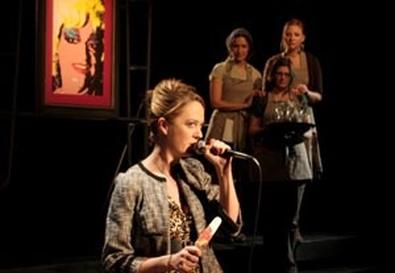 The semiapocalyptic story of playwright Lally Katz's "Goodbye New York, Goodbye Heart" centers on Caroline, an Australian girl who receives a wedding invitation via email from a friend who committed suicide three months earlier. It turns out that her friend has been living on in the digital city of Myspace New York, which, like Twitter Tokyo and Facebook Paris, is an identical simulacrum erected online and populated by other suicides. Never as depressing as it sounds, Katz's script puts an elegant if inscrutable digital spin on the spiritual travelogue—a kind of "Delete Pray Love."
Caroline hops a plane to the wedding—yes, there is commercial service to the Internet in this deeply weird tangle of a play—and falls desperately for the best man, Thornbury. Of course, like everything online, Myspace New York is fleeting. A looming "crash" threatens to erase Caroline's new world, where emotions can be downloaded from iTunes like music. But the post-suicidal Thornbury, played with manic charm by Ryan King, has no interest in leaving, forcing Caroline to become one of the "avalanche dwellers," a lower caste of living hangers-on who refuse to abandon those in the cyber suicide city.
It's hard to know exactly what Katz is up to with all this bizarre vernacular, especially as she refuses to say what circumstances brought it about, but her opaque tale does attempt some twee commentary on how we learn to deal with loss. Myspace New York might as well be the five stages of grief given digital habitation, and Caroline, who is highly amiable thanks to a nimble performance by Nicolle Bradford, essentially falls in love with the grieving process. As she remarks, none of the avalanche dwellers can "stop looking through the rubble at the dead."
Director Oliver Butler offers a vigorous staging, leaning on sound designer Asa Wember to capture the virtual city's vibe with vivid ambient noise. Scenic designer Valérie Thérèse Bart's latticelike representation of the Brooklyn Bridge is also quite striking.

Presented by the Production Company as part of Herestay at Here Arts Center, 145 Sixth Ave., NYC. December 1–21. Tue.–Sat., 8:30 p.m.; Sun., 4 p.m. (Additional performance Mon., Dec. 20, 8:30 p.m.) (212) 352-3101, (866) 811-4111, www.theatermania.com, or www.here.org