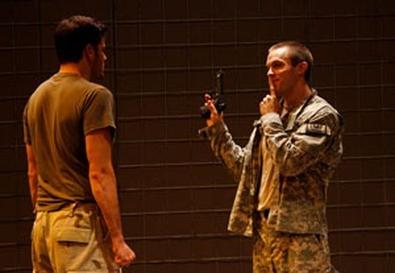 Playwrights throughout time have expounded about the immorality of war. Unfortunately, most self-proclaiming demigods in the fervor of political maneuvering do their best to suppress art and deem it superfluous to their quest for supremacy. So throughout history, artists opposed to aggression preach to the choir.
This third installment of Tom Burmester's "War Cycle" attempts to lay bare the horrors of sending our young into combat to die or have their minds twisted into pretzels. In the process, Burmester also bravely delves into the most tainted excuse for decimating some convenient enemy: doing so in the name of religion. "The chaplain says you can kill for your country," one soldier stationed in Afghanistan here tells another, "as long as you don't like it." George W. Bush evoked his own faith when he called this war a "crusade." Burmester exposes it as an abomination.
This play is not easy to sit through. These imprudent young soldiers, oozing testosterone from every sweaty pore in an attempt to hide their supreme fear and desperation, are loud, belligerent, and painfully misguided. From the first sight of PFC Gehrman (Andrew Crabtree) being interrogated about a possible transgression perpetrated by his squadron, there is a sickening, ominous cloud hanging over the action as it's recalled in flashback. Yet as discomforting as it is to spend more than two hours listening to these men out-shout one another, chest-bumping and boasting of sexual prowess as they gradually abandon all sense of decency in the heat of the deadly Korengal Valley, Burmester's writing and his staggeringly stark staging are mesmerizing. Even the dreaded blue-lit set changes, usually an unnecessary distraction, are accomplished as though whipped into the actors' hides by a borrowed Army drill sergeant.
Luckily for Burmester, he has one of the finest and most committed ensemble casts performing on any Los Angeles stage this year to further propel his disheartening, occasionally gruesome, and urgently important treatise. Add in excellent design and heart-stopping precision fight choreography by cast member Eric Anderson, and the message is clear, reiterating Ayn Rand's conviction that faith and force are the two entities that, when evoked in tandem, will eventually destroy mankind.
Presented by the Los Angeles Theatre Ensemble at the Powerhouse Theatre, 3116 Second St., Santa Monica. July 28–Aug. 27. Thu.–Sat., 8 p.m. www.latensemble.com.