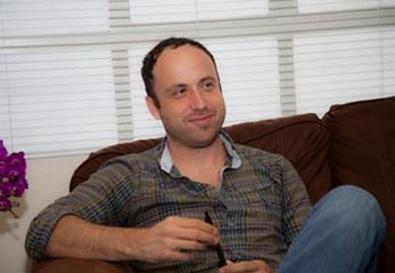 While attending Emerson College in Boston,
David Rapaport
interned for local casting director Kevin Fennessy. "I didn't know what casting was at the time," says Rapaport. "I just wanted to be in the entertainment industry and needed credit for school." He helped Fennessy cast extra and day-player roles in local commercials, industrials, and features like "The Perfect Storm," "Outside Providence," and "Me, Myself & Irene." "I got to meet a ton of people," he says.
During his last semester at Emerson, he moved to Los Angeles to intern full-time for Mali Finn ("Titanic," "Terminator 2: Judgment Day"). "She loved actors and the craft and supporting new talents—actors and directors," says Rapaport. "We sat on the floor every night and went through headshots, sharing thoughts and opinions on the auditions and performances of the day." Finn became his mentor, and he worked as her assistant and casting associate for almost six years. Rapaport, who is now a casting director for "90210" and "Gossip Girl," credits Finn, who passed away in 2007, with his success: "I learned everything from her."
Finding Real People and Beautiful People
My favorite method of finding new talent is going to the location where we're filming and casting real people, not actors. We don't have the time or the resources in television to do that as much as we do in features. These days, films usually only hire local casting directors to handle location casting, but I enjoy watching the local tapes and discovering new faces. I look everywhere for new talent: online, Funny or Die, YouTube, television, films, plays. On average, I see about 80 actors a day, so there are always new people coming in and out of my office. But I miss the search larger-budget films allow.
In television, every week I'm handed a new script with all different types of opportunities to discover new people. Sometimes I'm looking for acrobats, or singers, dancers, twins—you name it. The challenge of casting shows like "90210" and "Gossip Girl" is that the world we are creating requires everyone to be beautiful. Looks don't matter as much on other projects. These types of shows require a balance of beauty and talent. It's important to understand the world you are inhabiting, getting the tone of the piece, and understanding the director, writer, producer, studio, network, and showrunner's vision.
Get Yourself Out There
The best way to get on my radar is to get yourself out there. If you can't find an agent or can't book a show, write your own script, film it, and put it online. Once, two actors who couldn't get an appointment to see me downloaded sides on their own, taped their audition, and emailed it to me. I don't suggest everyone do that, because it would flood my inbox, but it was unique and caught my eye. I don't respond to gifts or Facebook messages. I respond to work.
I read a
great article in Back Stage
a few years ago about Jon Favreau. Jon said something to the effect that he wrote "Swingers" as a starring vehicle for himself because Hollywood wouldn't see him as a leading man. He cast the typical leading man, Vince Vaughn, in the supporting lead. After "Swingers," his career soared as both an actor and now as a director, of course.
I hear a lot of actors complaining about not having any opportunities. I always tell them: Make them yourself. There are a lot of talented, bored people in Los Angeles. Get together and make something like you did when you were little. A good actor friend of mine started a group for actors to get together once a week to vent their frustrations, talk about their experiences, and lend support and resources to their fellow actors. It's free. Just keep the creative juices flowing. And don't give up.
Top Audition Tips
Memorize your lines. The more familiar you are with the material, the more fun you can have, and the easier it will be to take direction and try new things. If you don't have the time to learn it, don't come in.
Staple your headshot to your résumé. Assume I will always want to see it. Have it ready to hand to me.
When you come in, I want you to succeed, and I want to give you all of my attention, so come in prepared. I have a lot on my plate, and I meet a ton of people each day, so a professional will come into my room prepared and ready to play.
Be nice to your fellow actors, to assistants and interns. The walls are thin, and we can hear everything.
During pre-reads, I usually read with people. When I have a director session, I usually have another actor in the room who is the reader. I'd prefer to give the actor auditioning every tool I can to support their performance. They are, after all, a reflection of me and my taste.
Know when to leave. There is this awkward moment at the end of each audition where we say "Thank you," and the actor sometimes just stays put. That is your cue to go. I know we all want to leave behind a good impression, but overstaying your welcome is not the way to achieve that.
David Rapaport will participate in the "TV Drama Casting" panel at Back Stage's trade show Actorfest LA on Sat., Nov. 5. For more information, visit www.actorfest.com.