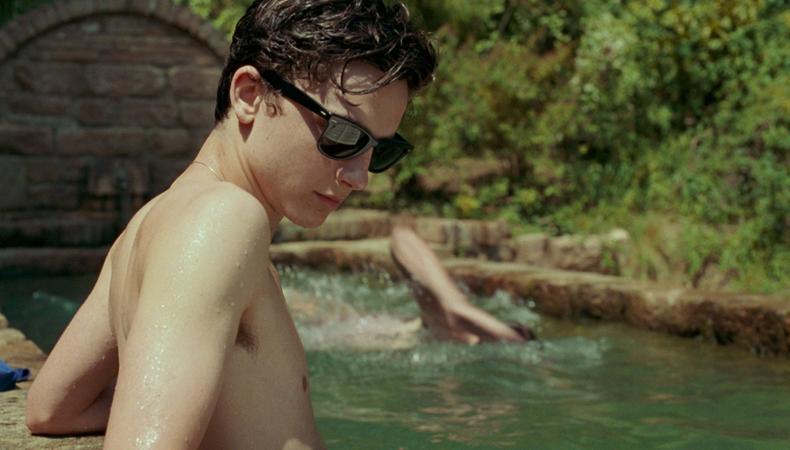 Last night, the Gotham Independent Film Awards, created by the Independent Filmmaker Project, boisterously ushered in the season—the Oscar season, that is—with a ceremony complete with rousing speeches and big acting wins for indie contenders Saoirse Ronan, James Franco, and Timothée Chalamet.
Ronan and Franco won Best Actress and Actor, respectively, the former for her work as a frustrated teen in "Lady Bird" and the latter for his take on bad movie auteur Tommy Wiseau in "The Disaster Artist" (both films are distributed by A24). Franco, who also directed his film, used his acceptance speech to explain how he came to realize the project was a universal story about the creative process. "I thought this movie was about making the best worst movie ever made but it's actually about every artist with a dream," he said, before ending on a Wiseau impression.
Ronan, meanwhile, raved about writer-director Greta Gerwig: "For anyone who's seen this film, she's poured her heart and soul into this and I'm so proud of her and I'm so proud that I got to be in this movie."
READ: Greta Gerwig Talks Directing 'Lady Bird' + Her Fear of Failure
Luca Guadagnino's "Call Me By Your Name," the Sony Pictures Classics gay romance that yielded Chalamet's Breakthrough Actor triumph, ended up with Best Feature, which last year went to eventual Academy Award winner "Moonlight." But before that final award was announced, it was looking like Jordan Peele's directorial debut "Get Out" (Universal Pictures) might completely dominate the night. The thriller tackling race and genre still came pretty close, garnering the Audience Award, Breakthrough Director, and Best Screenplay.
One of the other top awards was predetermined; actors from Dee Rees' Netflix historical epic "Mudbound"—including Jason Mitchell, Garrett Hedlund, and Mary J. Blige—arrived knowing they would leave with the Special Gotham Jury Award for Ensemble Performance.
READ: How 'Mudbound' Star Jason Mitchell Took Hollywood by Storm
Gotham Award nominees are devised by committees consisting of critics, journalists, programmers, and curators, while the winners are chosen by separate teams of industry professionals. The event, held at Cipriani Wall Street in Manhattan, is something akin to the East Coast version of the Independent Spirit Awards, toasting the indie success stories of the year with New York flair. That means the Independent Filmmaker Project hands out trophies like the Made in NY prize, which this year went to "Boardwalk Empire" and "The Night Of" star Michael K. Williams, and the city-centric atmosphere leads to moments like Chalamet thanking inspiring New York artists, including his fellow nominee Blige, Al Pacino, and rapper Cardi B.
"Hedwig and The Angry Inch" creator John Cameron Mitchell hosted the proceedings, kicking things off with a monologue and call to action. "If all news is fake, all stories are true," he said. "So you've got to make sure the stories are good."
A bevy of artist tributes kept the evening going until nearly midnight. Dan Rather saluted Al Gore, Tamara Jenkins introduced Sofia Coppola, David Byrne appeared for cinematographer Ed Lachman, and Ethan Hawke boisterously shared his affection for producer Jason Blum. Elizabeth Marvel also took to the podium to speak about her co-star in "The Meyerowitz Stories" Dustin Hoffman.
The most endearing tribute was saved for last, as Reese Witherspoon gushed over her "Big Little Lies" co-producer and co-star Nicole Kidman. "She gives of herself, she stands up for what she believes in, and she pushes the envelope with every single role she takes," Witherspoon said. "She's a magician, she's magic, and she's one of the greatest actresses I've ever known."
Kidman then took the stage without shoes—she had taken them off because her feet were sore—asking the audience giving her a standing ovation to sit down. Despite following a clip reel showing the breadth of her career, Kidman explained she feels like she's only beginning. "I always hope to get better and better because it's all about the people you work with and the opportunities you've been given," she said. Kidman then took to the green room, asking the photographers to crop her bare feet out of any images they capture.
For a full list of winners, visit Independent Filmmaker Project's official website. For more updates from the frontlines of the upcoming film awards races, stay tuned at backstage.com/awards-season.
Ready to star in an award-winning movie? Check out Backstage's film audition listings!