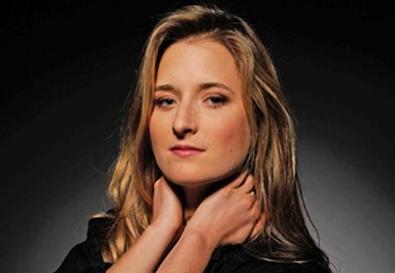 Yes, Grace Gummer looks a hell of a lot like her mother. That might not be such a big deal if she were an astrophysicist or a pediatrician. But Gummer, 23, is an actor, one whose first feature is now playing at the Tribeca Film Festival in New York. Her mother just happens to be one of the most important film actors of the last 40 years.
"The arts have always been in and around my life," Gummer says. "My dad is a sculptor. My brother is a talented musician."
What she gracefully avoids mentioning is that her mother is Meryl Streep—which makes "Meskada," a rural police drama in which Gummer has a meaty supporting role, something of a Tribeca curiosity. Though the part—a take-no-guff barmaid with romantic ties to a killer—is her first on the big screen, Gummer is no neophyte. She first drew notice in 2008 with her first appearance on the New York stage, in a downtown production of "The Sexual Neuroses of Our Parents." Gummer played the lead, a young girl who, taken off the heavy medication she'd been given for four years, awakes to find herself seriously wanting some sex. A former intern for Zac Posen and sometime aspiring clothing designer, Gummer was living in Rome at the time the production was being assembled.
"I got an email from a friend who was directing this play, and he asked me if I'd like to design the costumes for it," she says. "I read it, and immediately I said, 'I don't have any design ideas for this, but I want to be in it.' So I flew home, and I auditioned and I auditioned again and again, and I got it."
Most of the work on her still-short professional résumé has come from that sort of mix of happy accident and perseverance. She was offered the opportunity to audition for "Meskada" after writer-director Josh Sternfeld read a review of "Neuroses." For Gummer, whose nonpro experience consisted of some collaborative theater during her college days at Vassar ("I was Nina in 'The Seagull,' and then I was also making the costumes and hanging the lights and showing people to their seats"), making the film was a brand-new experience.
"My first day on 'Meskada,' I walked out of that bar and I looked straight into the camera," she says. "I just didn't know what I was doing. I remember doing a scene with [co-star Jonathan] Tucker. He was talking really quietly, and I was like, 'What?! I have to project my voice!' "
But Gummer is quickly becoming an old pro in front of the lens. Next year she'll appear in a small role in "Larry Crowne," a comedic drama directed by Tom Hanks, starring Hanks and Julia Roberts. She also just wrapped up shooting a full season of her first TV series, TeenNick's "Gigantic," a drama about Hollywood "it" kids, set to air later this year. Gummer plays the daughter of "an Angelina Jolie–Brad Pitt–type couple." Asked whether she was worried that people might draw links between her parentage and her character's, she admits the thought crossed her mind but is quick to point out that her TV lifestyle is far from what she experienced as a teen.
"It's something that's so foreign to me," she says. "I didn't really grow up in that world at all, so it was never really a part of my life. I spent my summers in Connecticut scooping ice cream and babysitting. I actually wanted to be an Olympic swimmer growing up. That was my passion."
Too many winters spent jumping into cold pools eventually cured Gummer of the swimming bug. For now, she's enjoying acting, onscreen and onstage, but she's not quite ready to call it a career.
"I'm 23, so I'm not done with my life," she says. "But acting, definitely, out of what I've done so far, makes me feel the most alive and is very invigorating and thrilling. So I figured I might as well try it for a while."