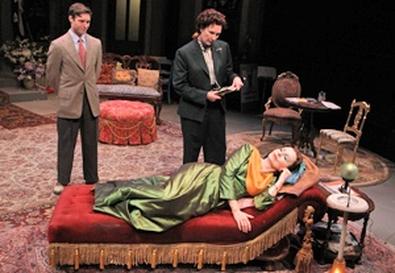 "The Grand Manner," inspired by a 1948 real-life backstage meeting between an 18-year-old A.R. Gurney and theater star Katharine Cornell after a Broadway performance of Shakespeare's "Antony and Cleopatra," finds the playwright in a gentle, ruminative mood. The four-character piece spins a passing encounter into a touching if slight fable about the theater's allure and the costs of maintaining it, the encroachment of the new generation on the old, and the dangers of hiding one's true self from the world. If none of that is particularly new, Gurney compensates with engaging characters and wise observances married with pure, old-fashioned charm.

Young Pete (also Gurney's self-chosen moniker in real life) has taken the long train journey from his New Hampshire prep school armed with a letter of introduction from his grandmother back in Buffalo. A native of that town, the 50-ish Cornell is famously sentimental about her birthplace, and the prospect of Pete's visit has perked her up during a bout of self-dissatisfaction. Insecure as an overage Cleopatra and uncomfortable as the unofficial First Lady of the American Theater, she simultaneously longs for Pete's honest opinion of her work while being vulnerable to it. Her general manager and longtime lover, Gertrude Macy, briskly runs interference for her, while her gay husband of longstanding, acerbic stage director Guthrie McClintic, tries to steer her in the new direction of live television.

Cornell knows she has become a victim of her own success, playing to comfortable middle-class audiences in "the grand manner," when once she was a daring young actor. The adoring Pete, who longs for a career in the theater against the wishes of his stuffy father, unwittingly confirms that opinion. In Gurney's wish-fulfillment fantasy, Cornell so longs for authenticity that she outs herself and her husband in front of the lad. The behavior is unbelievable, which makes Gurney's imagination of it all the more poignant. Life eventually traps us all, he seems to be saying. What's important is how we deal with it.

Under Mark Lamos' light-as-air direction, Kate Burton astutely captures Cornell's outward serenity masking deep insecurities. Simultaneously plummy and unaffected, she successfully shows us the quiet sadness of a woman who can no longer step out of a role she longs to quit. Bobby Steggert makes a fine foil for her as Pete, all boyish masculinity and sunny directness, even when trying to be tactful. Brenda Wehle's dry Macy cuts the sentiment like a twist of lemon while providing emotional heft through the bottomless affection apparent in her protective gazes at her lover. Boyd Gaines infuses a welcome energy with his late entrance as McClintic, firing off waspish remarks with alacrity. Gaines and Steggert make McClintic's veiled attempt to seduce Pete a real highlight.

John Arnone's handsome set is probably grander than the Martin Beck Theatre's green room ever was, but that's appropriate to Gurney's "if only it could have been" approach. Ann Hould-Ward's rich, authoritative costumes are easy on the eyes, as is Russell H. Champa's warm lighting.

Those whose determination to be perceived as youthful, hip, and cutting-edge dominates their taste may be immune to the pleasures (and perspectives) of "The Grand Manner," due not only to its traditional sensibility but also because Cornell's predicament may strike rather close to home. Others, though, will likely find a good deal to savor in this literate, civilized, and mature work.


Presented by Lincoln Center Theater at the Mitzi E. Newhouse Theater, 150 W. 65th St., NYC. June 27–Aug. 1. Tue.–Sat., 8 p.m.; Wed. and Sat., 2 p.m.; Sun., 3 p.m. (212) 239-6200, (800) 432-7250, or www.telecharge.com. Casting by Daniel Swee.