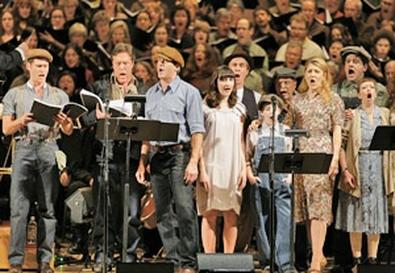 The worlds of opera, Broadway, and classical music came together at Carnegie Hall last night for a sublime concert rendering of "The Grapes of Wrath," the opera adaptation of John Steinbeck's classic novel. Originally commissioned by the Minnesota Opera, the two-act version performed consisted of excerpts from the full-length three-act edition unified by spoken narration drawn from Steinbeck's original. Due to the episodic nature of the presentation, the concert lacked a degree of continuity. The full impact of the story of the Joads as they arduously trek from their dustbowl blighted home in Oklahoma to the supposed promised land of California was less than that of John Ford's 1940 movie or the 1990 epic stage edition created by the Steppenwolf Theatre Company. However, the narration, strongly delivered by Jane Fonda; Eric Simonson's tight direction; and projection design by Wendall K. Harrington depicting blighted Depression lives went far to unify the set pieces, arias, and choral numbers.
Fortunately, the soulful performances of a cast of stars from musical theater and opera and Ted Sperling's insightful conducting did justice to Ricky Ian Gordon's tremendously moving, Copland-inspired score and Michael Korie's poetic, country-flavored libretto. Victoria Clark's graceful soprano is the perfect instrument to convey Ma Joad's rough wisdom and womanly strength. The highlights of the concert were her heartbreaking duets with Nathan Gunn, as Tom, Ma's rebellious son, and Andrew Wilkowske, as Noah, Tom's slow-witted brother. The sequence with Tom is the famous leave-taking scene, when he must run away after having killed a strikebreaker. Gunn and Clark intensely imparted the simple joys of rural life torn apart by economic misfortune. The expression of infinite loss on Clark's face as Gunn sang was devastating. The scene with Noah is like a tender little one-act play. Ma upbraids the mentally challenged Noah for being too slow to help his family in a time of crisis. He resolves to drown himself in order make one less mouth to feed. As he slowly succumbs, Noah recalls Ma softly singing him to sleep as a little boy. Wilkowske's rich tenor embodied the innocence of Noah's pure, uncomplicated nature.
Christine Ebersole gave the small role of the waitress Mae her unique stamp of corrosive wit and complex emoting. Her segment is a brief interlude in the novel, as the Joads pull into a truck-stop café and bargain for a loaf of bread. In the space of five minutes, Ebersole went from raucous admiration of truck drivers to disdain for Okies to grudging compassion, all with equal conviction.
Elizabeth Futral's coloratura may be more suited to Gilda and Violetta than the earthy Rose of Sharon, yet she melted the heart when she delivered the evening's final aria, a sweet cry of hope amid the wreckage. There was also powerful work from Stephen Powell as the desolate and raging Uncle John; Matthew Worth as Connie, Rose of Sharon's frustrated husband; and Steven Pasquale as Al, Tom's fiery younger brother.
Perhaps New York will one day taste the complete "Grapes of Wrath," with a merging of opera and musical theater talents on Broadway, at Lincoln Center Theater, or at the Met. For now, this concert will have to serve as a tantalizing buffet rather than a complete meal.
Presented by the Collegiate Chorale at Carnegie Hall, 881 Seventh Ave., NYC. Mon., March 22.