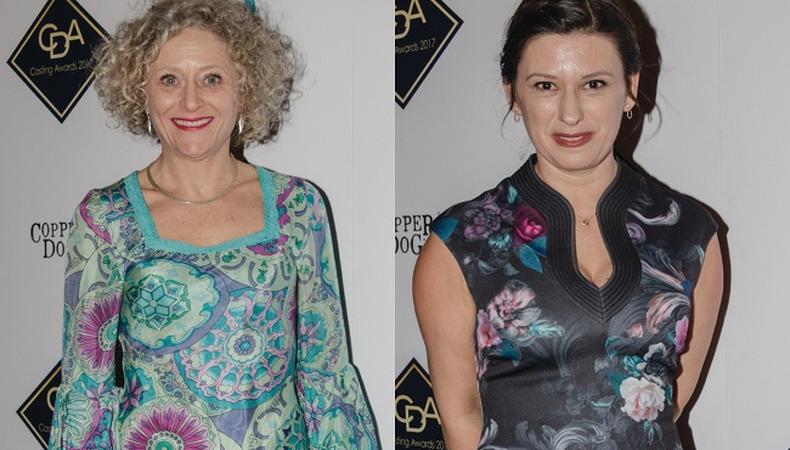 Casting directors Tree Petts and Shakyra Dowling fell into their behind-the-scenes professions after careers in acting. Now co-founders of the new organization the Casting Directors Association, Petts says she still "thanks the universe she found casting." Yet from their acting experience they bring a rare empathy: They get how casting feels from the other side of the table and how the process can inspire terror. "Actors have to remember that we want them to do well. We're not trying to trip anyone up." Dowling adds that if actors are doing well, "it reflects that we as casting directors are doing well. It's as simple as that."
Auditioning for Film vs. Commercials
In their casting careers, Petts has focused on commercials, while Dowling splits her time between the commercial world and British film. When Dowling noted that commercial castings can worry actors (unlike drama, there's rarely much material ahead of the audition), Petts nods in agreement, but says not to worry—it's not a game. It's the result of commercial castings coming in thick and fast. Unlike film, which Dowling mentions can take up to nine months, commercials have a turnaround of three to five days. "I'll get a brief with some ideas or references and a fee, then I put a list together from there" says Petts. "We have to provide a lot of choice, usually 15 to 20 actors. When you have such a broad selection of great people it can come down to arbitrary things like hair or eye color. Actors think it's their fault for missing out but it's really not."
READ: How to Get Cast in a Commercial
Film casting works differently. Dowling is given a script and the entire artistic budget, which she balances across the cast. If, for instance, leading roles are taken by expensive "names," she must cast the rest with the highest quality actors at a rate much closer to the Equity minimum. Both casting formats contain challenge and opportunity, but what really excites Petts and Dowling alike is finding brilliant unknown actors. "Self-taping has allowed us to do a lot more of that. Before, you could only invite as many actors in as could fit in the time slots. Now everyone has a camera we can see up to 200 self-tapes before we hone in." Petts adds that "this works especially well for younger actors who don't have agents or are just starting out." They tend to be good, too. "Young people are adept at recording themselves because it has become something they do every day."
Founding the CDA
One of the motivations behind establishing the Casting Directors Association was to celebrate and promote diversity. Alongside ensuring professional standards, it's allowed a network of CDs to discuss and act on the need for change onscreen and within the industry itself. It also offered them a chance to celebrate how far we've come. They held their first awards last year, including a category for diversity.
As well as the CDA's statement to "advocate and promote casting that accurately reflects our global society," Petts and Dowling are actively encouraging diversity in their own work. "If I get a film that has 32 characters, three of which are women— and perhaps those women are less important parts like mothers or girlfriends of main characters—I'll go back to the producer and suggest that other leading characters might be female. More often than not the response is 'what a great idea,' but you need to put those ideas in people's minds." Petts does this, too. If drama casting aims to reflect the world around us, why should advertising be constrained by stereotypes? For instance, car ads traditionally star "upwardly mobile" men and cleaning ads usually feature women. Petts soon realized that commercials are an opportunity to get into people's living rooms and consequently their heads. "If you make it normal to see people of all color, sexuality, and ability in advertising it can alter society's perceptions in a deep way."
Another motivation behind creating the CDA was to build a network. Petts reveals that "despite being in the industry a long time, I didn't really know any other casting directors. We all go to the same shows but we don't wear name tags or anything. Forming the CDA created a support and advice network." This "hive mind" benefits the wider industry; the network of CDs means that members can share information or great new talent and quickly resolve complex issues such as contract negotiations and fees.
Putting Your Best Foot Forward
"Don't look at me, look in the camera," advises Petts. "It feels wrong, you want to engage with the CD, but looking in the camera means you'll be looking directly out from the screen."
Both of them say "learn your lines," and Dowling adds that "if you have the whole script, read it. Actors now are so lucky to have everything online, so do your homework on a director. Watch whatever else they've made. Even if you don't use any of it in the audition, you'll feel more prepared."
Petts says, "For commercials, you need to deliver immediately. It's not going to be a character that different from you, so don't waste time asking about it." On the subject of asking questions, both agree that if you haven't got anything important to ask, don't do so just for the sake of it.
Petts throws in one final bit of advice: "You'll usually get two runs for a commercial. If you feel like you've messed up the second run, ask to do it again. Be confident. If we have time, then of course you can have another try! Better to ask than kick yourself as soon as you leave the room."
Check out Backstage's London audition listings!