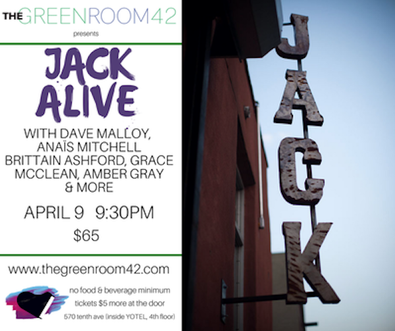 New York is the city that never sleeps, and with so many events and activities each week across all five boroughs, it can be hard to know what's actually worthwhile. Here are the events New York City actors should have on their radars this week.
"Great Comet" creator will sing something new.
Dave Malloy, best-known for writing "Natasha, Pierre & The Great Comet of 1812," will debut songs from his new "Moby Dick" musical, "Keep Jack Alive," on April 9. The two shows (one at 7 p.m., the other at 9:30 p.m.) at the Green Room 42 will feature Anaïs Mitchell, as well as "Comet" actors Brittain Ashford, Amber Gray, and Grace McLean. If that's not incentive enough, funds raised from the concert will go towards JACK, an organization that "fuels experiments in art and activism." (Tickets: $65)
Lincoln Center presents new arts festival for a new audience.
Beginning April 10, Lincoln Center will launch Big Umbrella Festival, a first-of-its-kind series of events dedicated to the creation and presentation of arts programs for young audiences on the autism spectrum and their families. Helmed by Major Arts Organization, the festival (ongoing through May 6) will feature performances by renowned artists from around the world in the realms of music, theater, dance, and beyond. (Ticket prices range depending on the event; many events are free)
Attend 24 Hour Plays—if you dare.
Once again, a number of brave theatrical souls will take part in The 24 Hour Plays: Off Broadway, the one night only event in which 24 actors will perform the work of six playwrights, all of which were created and learned in one day. This year's stellar cast of talent includes Beanie Feldstein, Cristin Milioti, Betty Gilpin, Lea Delaria, Richard Kind, and others, and will take place at the Roundabout's Laura Pels Theatre on April 9. All proceeds will benefit Roundabout Underground, an initiative designed to foster new works by emerging theater artists. (Tickets start at $99)
Add dimension to your podcast experience.
Back again for another installment, NYC Podfest will return April 6–8 and highlight some of the podcast world's best across pop culture, comedy, entertainment, and beyond. Allowing listeners to rip out their earbuds and take in a recording of their favorite podcasts live in the flesh, this year's lineup will include episodes of "Pod Saves the People," "Little Known Facts," and more. Locations will vary show-to-show. (Prices vary; many events are free)
Fresh Ground Pepper sprinkles arts vitality.
The Fresh Ground Pepper Festival, billed as a "new way to think about arts presentation," will kick off on April 10 at the New Ohio Theatre. Ongoing through April 21, the events will include everything from experimental art to work-in-progress showings. Additionally, doors will open every evening at 6 for a happy hour in which artists and audiences can mingle. (Prices range based on the event; many are suggested donation)
Ready to get cast? Check out Backstage's NYC audition listings!