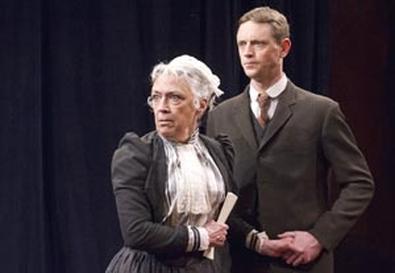 Metropolitan Playhouse is on a roll. Though its season devoted to American stereotypes initially stumbled with an uncertain production of "The Drunkard," firm footing was found with artistic director Alex Roe's fascinating take on "Uncle Tom's Cabin."
Now, director Michael Hardart gives us an equally fascinating rendition of William Vaughn Moody's "The Great Divide," hailed in its 1906 Broadway debut as the great American play. Concerned with the increasingly wide gulf between the religious and social values of the American East and West at the turn of the 20th century, the play is permeated with striking veins of feminism and sexual frankness, which Hardart highlights to potent effect. Thanks to strong work from a talented 10-person company, Moody's groundbreaking attempt at psychologically nuanced melodrama flies by in a taut two hours.
First produced in Chicago under the more salacious title of "The Sabine Woman," the play is based on a true story. Nineteen-year-old Ruth Jordan has come west with her older brother, Philip, and his wife, Polly, to build a life and business in the wide-open spaces of the Arizona territory. Emergency circumstances require Ruth to stay in the family cabin alone one evening, where she is menaced with rape by three drunken ruffians. Impulsively, she promises to marry one of them if he will protect her from the other two.
He takes her up on it, pays off one man and shoots the other, and soon she is Mrs. Stephen Ghent, the dutiful wife of a rich mine owner. Stephen falls in love with Ruth and straightens out his life for her, but she will have none of it and secretly works to save enough money to buy her freedom back.
When Philip and Polly catch up with Ruth four months after her sudden and mysterious disappearance, she refuses to reveal what really happened but nevertheless leaves Stephen to head back east with them, despite being newly pregnant. Her husband follows on the next train, determined to woo her back. And, indeed, it takes the stultifying social and familial context of the East to finally make Ruth see that her future is with Stephen, on the other side of the Great Divide.
Hardart is fortunate to have the splendid Lauren Sowa at the center of his production. Sowa's Ruth is a memorable combination of radiance, grit, and masochistic self-punishment, the last derived from Ruth's religious conviction that she can purge herself of sin only through suffering. Sowa also maintains a simmering sexual tension with Timothy Weinert, as Stephen, who makes as dashing a leading man as you could hope for.
Weinert, whose chiseled, contemporary good looks hurt him a bit at the outset, when his character needs more debauched scruffiness, highlights Stephen's intensity and insecurity while making his love for Ruth achingly palpable. Elizabeth Inghram is a scene-stealing delight as the saucy and pragmatic Polly, while Tony Zazella successfully meets the challenge of playing a dull character by emphasizing Philip's rigidity and barely suppressed rage, a combination that keeps us fearing an explosion. The invaluable Wendy Merritt shows up in Act 3 as Ruth's mother, with Merritt effortlessly embodying the constricting and religiously hidebound East in an authoritative turn that's a perfect blend of detailed naturalism and melodramatic flourish.
Hardart's keen direction mostly downplays such flourishes, choosing to mine the text for behavioral truth, an understandable approach that helps a contemporary audience see what was innovative in Moody's writing. "The Great Divide" is the fourth production I've attended at Metropolitan Playhouse, where I'm learning viscerally what I once believed intellectually: American playwriting does not begin with Eugene O'Neill.
Presented by and at Metropolitan Playhouse, 220 E. Fourth St., NYC. March 11–April 3. Wed.–Sat., 8 p.m.; Sun., 3 p.m. (Additional performance Sat., April 2, 3 p.m.) (212) 995-5302 or www.metropolitanplayhouse.org.