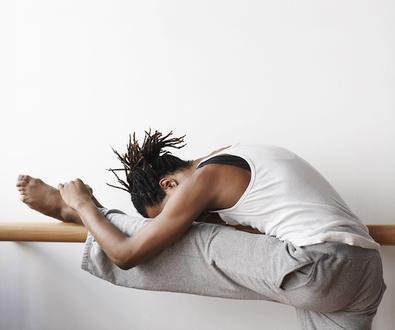 Who doesn't love those getting-in-shape endorphins? Effective exercise builds strength, stamina, and confidence on (and off) the stage or set; while physical conditioning may be part of the job for many actors, a fitness routine does not need to feel like a chore. Are you looking for a way to boost your workouts? Here are six fun ways for actors to get (and stay) in shape.

Yoga
Though far more than a fitness technique, yoga's physical and spiritual components are both—and perhaps equally—invaluable to performers. The ancient practice is a staple course at many drama conservatories and acting studios, and brings all the pros of effective exercise along with improved breathing technique, strong and flexible limbs, mental awareness, and discipline. Studied in many forms all over the world (and for thousands of years,) there is no one way to practice yoga. Seek a style that works for you, and enjoy the life-long benefits.
Pilates
This revolutionary fitness practice is popular for a reason. Joseph Pilates developed his movement method in the early 20th century as a way of building strength and stamina, improving posture, and toning the core. As outlined by Pilates' predecessors, the technique involves six principles: control, concentration, centering, breathing, flow, and precision. Sound like acting much? Hyper-fit performers hit the reformer at studios all over the world for (very) increased flexibility and lean muscle mass—strength sans bulk.
Stage Combat/Stunt Training
Looking for a way to combine acting and exercise? Cut right to the chase with stage combat and stunt training, and enjoy great workouts while adding skills to your résumé. Most stage combat studios offer multiple levels in addition to multiple styles; look for ongoing classes like Jared Kirby's NYC courses for stage and screen, featuring a wide range of weapons training in addition to hand-to-hand combat, falls, and more, or seek out a weekend boot camp like those at the L.A. Stunts Training Center in Atlanta.
(Fitness) Dance Classes
Upbeat cardio-dance classes are a great option for actors looking to have fun and blow off steam. Two left feet? Not to worry, classes like New York's Broadway Bodies caters to all levels, combining aerobic workouts with fun choreography and show tunes—even encouraging students to sing along. L.A. actors can "Dance first. Think later" at one of LA DanceFit's popular calorie-killing dance parties, or get moving with Benjamin Allen's Groov3, a hip-hop dance class series featuring popular music and regular DJs. Get started by finding a class in your area, or grab a boom box and start one yourself.
Barre Workouts
Made popular by a technique known as Bar Method, ballet-based fitness classes simultaneously tone, refine, and elongate muscles. Devotees love the flexibility and lean muscles the exercises create, and physical therapists recommend the method for low-impact joint strengthening. Ballet-trained actors and newbies alike can benefit from the technique's core-strengthening focus at one of Bar Method's nationwide class locations, or join like-minded fitness fans at a similar studio like Barre3 ("where ballet meets yoga and pilates") or Physique 57.
Circus Arts Classes
More and more Broadway-level shows seek actors who sing, dance, act, and do back flips with finesse; performers can get in shape and increase their booking odds with fun (and challenging) acrobatics classes. Circus arts studios like New York's Circus Warehouse offer high-level courses on subjects such as flying trapeze and tight wire for the pros, as well as functional circus strength and conditioning. In Los Angeles, Kinetic Theory inspires "people of all ages and all walks of life" with its circus classes and professional training programs; its many offerings include aerial arts sessions and partner acrobatics.
Inspired by this post? Check out our audition listings!