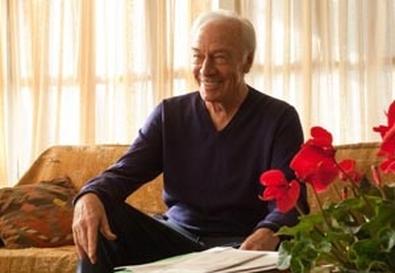 Critics Predict This Year's Nominees for Best Film Acting
Film critics have a good batting average in predicting who will be tapped for the SAG Awards, which are often a guidepost to the Oscars.
Viola Davis on Crafting the Heart of 'The Help'
Playing a maid was not part of Viola Davis' master plan when she graduated from Juilliard: "I had dreams of playing Hedda Gabler or Nora in 'A Doll's House' or Lady Macbeth," she says.
Alexander Payne on His 'Descendants' Star George Clooney
Payne spoke with Back Stage about his leading man, who delivers one of his best performances in an already stellar career.
Judy Greer Goes From Best Friend to Wife And Mother in 'The Descendants'
A renowned scene stealer in films such as "27 Dresses" and "13 Going on 30," Greer frequently makes the most out of roles that could fade into the background.
How Michelle Williams Found the Heart of Marilyn Monroe
Michelle Williams never dreamed she'd play Marilyn Monroe. Nor did she think anyone would ever ask her to play the screen icon. But director Simon Curtis did.
Leonardo DiCaprio on His Most Challenging Role
Leonardo DiCaprio continues his tradition of playing real-life characters with his turn in Clint Eastwood's "J. Edgar," a biopic about controversial FBI head J. Edgar Hoover.
Why Armie Hammer Almost Turned Clint Eastwood Down
Fresh off playing the Winklevoss twins in "The Social Network," Armie Hammer gives an outstanding supporting performance in Clint Eastwood's "J. Edgar."
Bérénice Bejo's Colorful Performance Lights up 'The Artist'
Much like her character, Peppy Miller, Bejo is quickly becoming a star. Having already made her mark in French films, this Argentinean-born actor may soon be a household name.
Glenn Close Crafts Her Jewel-In-The-Crown Role
In 1982, she played Albert in a theatricalization by Simone Benmussa. The character haunted Close, who continued developing ideas for the film version of the story.
Theron and Oswalt Make a Perfect Imperfect Pair in 'Young Adult'
The easy patter between the two actors demonstrates that the chemistry they share in "Young Adult" isn't limited to the screen.
Christopher Plummer Starts Anew With 'Beginners'
In the film "Beginners," Christopher Plummer delivers a subtle and honest performance as Hal, opposite Ewan McGregor as Hal's son Oliver.
Gary Oldman is the Perfect Secret Agent in 'Tinker Tailor Soldier Spy'
Oldman is such a chameleon onscreen, one isn't sure what to expect upon meeting him in person. He has perfected so many accents, you can't even be sure what he'll sound like in real life.
'Warrior' Star Nick Nolte Scores a Knockout in a Role Close to Home
The role was written with Nolte in mind by director Gavin O'Connor, who lives in the same Malibu neighborhood as the actor. So it's probably not a coincidence that Paddy and Nolte share struggles.
Michael Fassbender Bares All in Movies That Take a Frank Look at Sex
Michael Fassbender insists on having a sense of humor about sex. The actor is currently delivering acclaimed performances in two films in which coitus is a central topic.
Tilda Swinton Takes on a Dark Family Scenario
When Swinton learned Ramsay was planning a film adaptation of Lionel Shriver's novel "We Need to Talk About Kevin," Swinton was determined to help get the film made.
Michael Shannon Delivers a Powerhouse Turn in 'Take Shelter'
It's virtually impossible to discuss any performance by Michael Shannon without the word "intense" popping up.
Demián Bichir Shares Personal Ties to 'A Better Life'
In this year's film "A Better Life," Demián Bichir plays Carlos, an illegal immigrant trying his utmost to keep his American and Americanized son afloat and out of trouble.
Newly Minted Star Jessica Chastain Breaks Through
"How is this my life?" Chastain asks with a laugh when talking about the last few months. "Professionally, it will never be this good."
Alan Rickman Shapes One of Film's Most Memorable Characters
There's an interesting piece of Professor Snape in Alan Rickman. Both hold fast to their loyalties, to say the least.
Ralph Fiennes Stars In and Directs 'Coriolanus'
When he was a child, Ralph Fiennes was given the gift of Shakespeare. His mother loved recordings of the Bard and other spoken-word pieces and would play them for her young son.
Woody Harrelson Plays a Bad Cop Very Well
With "Rampart" in theaters, Harrelson is thrilled by the praise for his portrayal and glad he gave it a second chance.
Quotes From Standout Actors in 2011
"It was definitely the meatiest part I've ever had to play. I've never really had to prepare a character so intensely and chart this emotional journey."—Octavia Spencer, on "The Help"