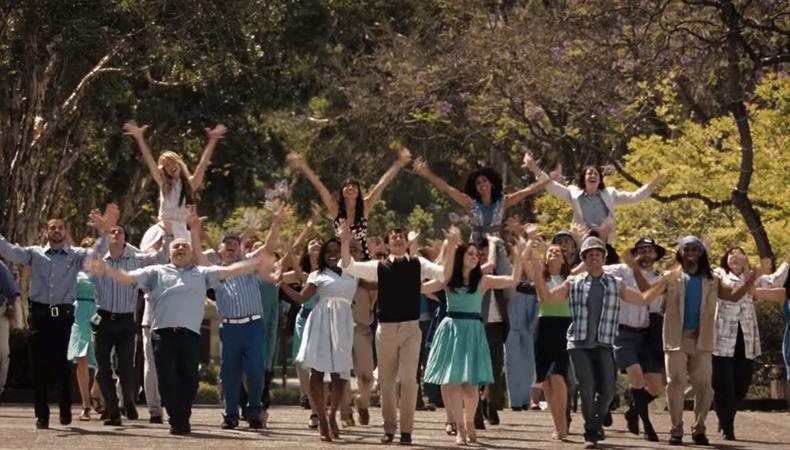 Random dance breaks are charming surprises when snuck into non-musical movies, and when actors are given the chance to show off their moves, it's always entertaining! Below are seven memorable and spontaenous dance moments in feature films.
"500 Days of Summer" – "You Make My Dreams Come True" by Hall and Oates
A joyous ensemble, an animated blue bird, and an appearance by Han Solo: this scene truly has it all. Joseph Gordon-Levitt's musical talent is no secret: he's partaken in many a lip sync battle and was even rumored to star in a film remake of "Guys and Dolls." This scene gave him the perfect opportunity to showcase his broad skillset, and it looks like he had a blast while doing it!
"Risky Business" – "Old Time Rock 'n' Roll" by Bob Seger
This iconic dance break has been recreated time and time again since "Risky Business" hit theaters in 1983, but nothing compares to the original scantily clad showstopper. The scene alone exemplifies a weekend without parents in a perhaps too-relatable way. Who hasn't gotten lost in their own grand musical number while home alone?
"Little Miss Sunshine" – "Super Freak" by Rick James
What starts as gasp-inducing choreography quickly turns into a heartwarming family moment. The unforgettable climax of "Little Miss Sunshine" features Olive (played by the Oscar-nominated Abigail Breslin) giving a full-out, fearless performance, complete with a rapid costume change. It only gets better when her family stands up to cheer her on, ultimately rushing the stage in a frenzied show of support.
"The Breakfast Club" – "We Are Not Alone" by Karla DeVito
It's the 80's, and Molly Ringwald is just breaking out. She's been cast in a quirky coming-of-age tale called "The Breakfast Club," and according to the script, a mini dance solo is required of her. This prospect makes her a little uneasy, as she claims she's not much of a dancer. In an interview with Time last year, she recalled, "I was like 'Ahhh God, I don't know about this.' So [director John Hughes] was like, 'What if we make everyone dance? Would that be better?' I said, 'Yeah, let's do that.' " And that's the legendary scene we know and love today.
"13 Going On 30" – "Thriller" by Michael Jackson
Jennifer Garner gets the party started in "13 Going On 30" by bringing her character's youthful spirit and some spooky choreography all the way to the dance floor! The highlights of this scene, however, are Mark Ruffalo's awkwardness and Judy Greer's unwavering snark. Scene-stealers and awesome dancers alike!
"27 Dresses" – "Bennie and the Jets" by Elton John
Whether he's transforming into a goofy prince or singing about the nicest kids in town, the multi-talented James Marsden can really turn in a theatrical performance, even on screen. In this snippet from "27 Dresses," he and Katherine Heigl hop onto a bar to belt out an Elton John classic. Watch Marsden bust out the robot arms and break into his falsetto here!
"Ferris Bueller's Day Off" – "Twist and Shout" by The Beatles
No one was more shocked than Cameron Frye when Ferris Bueller appeared atop a parade float while everyone else believed he was sick at home. Matthew Broderick, who has since appeared in various Broadway musicals, lip syncs his heart out in this timeless performance. What a way to play hooky!
Inspired by this post? Check out our audition listings!
Want dance advice? Watch this video: