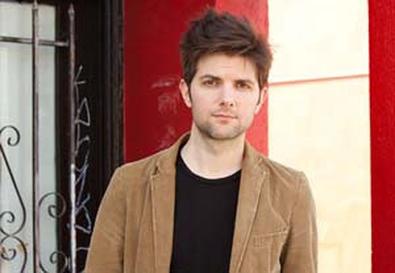 From the moment he first saw "Raiders of the Lost Ark," Adam Scott knew he wanted to be an actor. "I watched Harrison Ford onscreen and said, 'That looks like fun. Not only is he running from boulders; he's so funny," the now-37-year-old Scott recalls. "Basically, all I still want to do is run from boulders." Until his career as an action hero takes off, Scott will have to be satisfied with his status as the next big thing. After holding his own as Will Ferrell's Dane Cook–loving sibling in "Step Brothers," Scott stole scenes as a sleazy agent on "Eastbound and Down" and romanced Amy Adams in "Leap Year." He recently joined the cast of the NBC comedy "Parks and Recreation" as a potential love interest for Amy Poehler and will be seen "riding a Jet Ski and carrying a shotgun on my back" (but no boulders) in August's "Piranha 3-D." On the dramatic side, Scott recently earned a Spirit Award nomination for his searing portrayal of a man burned by love in "The Vicious Kind," now on DVD. And beginning April 23, he'll return to the role of Henry Pollard, a washed-up actor reduced to horrible catering jobs in the second season of the Starz original series "Party Down." Created by four of Scott's friends, including actor Paul Rudd, the offbeat comedy has earned cult status, particularly among sympathetic actors. But Scott is quick to point out its broader appeal: "I don't think it's industry-specific humor. I think that humiliation is a universal truth."
Early in his career, Scott said he was often cast as "the nebbishy, nerdy loser" because he was so nervous in audition rooms. He later learned to fake poise before a casting director—and started landing what he calls "overconfident asshole parts." While he may be most recognizable for his sarcastic, caustic roles, in real life Scott is anything but. "He's a humble guy and self-effacing to a fault," Rudd notes. "He's also one of the funniest people I know, yet this great dramatic actor." Rudd can foresee a time when Scott ascends to the top of the A-list of sought-after actors, positing, "His star has certainly been rising the last couple years, and if there's any sense to the world, it's just a matter of time."
Committing 'Crimes'
Scott grew up in the small town of Santa Cruz, Calif., roughly an hour's drive south of San Francisco, where he hesitated to speak of his dream because "if I went around saying I wanted to be a movie star, I'd sound like an asshole." In high school, he played Joe Keller in a production of "All My Sons," complete with a bald cap that kept slipping off during performances. He used his Keller monologue to audition for the American Academy of Dramatic Arts, then located in Pasadena, Calif. "It was nerve-racking and I wasn't good," he admits. "I had the old-man voice and everything. But I got in."
Though he knew no one in L.A., he moved to the area at age 18 and thrived at school. "I was always this nerd talking about movies, and I couldn't believe I found a core group of like-minded people who wanted to talk about acting and movies all day and night," he recalls. He studied a variety of acting techniques at school, depending on who the teacher was, but ultimately had to find his own method. "When it's working for me, I'm basically doing what I used to do in my bedroom as a little kid: pretending," he says. "Getting to that zone is a challenge, and it can involve trying to unlearn a lot of what was screwed into my head. A lot of it was great, but you have to be able to get out of the student headspace and leave it behind—because nobody wants to see you working onscreen."
The school was also very competitive, cutting three-fourths of the class for the second year. "That was brutal," Scott recalls. "It wasn't so difficult to get in; the difficult thing was continuing." He made it through the two-year program, then "was anxious to get to Hollywood and get started with my illustrious extra career."
In actuality, Scott endured only a few months of background work before landing a part in the MTV show "Dead at 21." He got the job with the help of a manager to whom he was paying a monthly fee—something Scott doesn't regret. "If you have no connections, you take what you can get," he notes. "Maybe it wasn't totally ethical, but what else was I going to do, sit around and have integrity in my apartment?" Still, he admits she might not have been the best manager: "I had to audition for her, and during the middle of my monologue, she took a phone call. Still, I couldn't be picky. Barring something that makes you feel uncomfortable, I think you should do anything you can to find work."
To that end, Scott says he logged a lot of time in plays and on student films to build up his résumé. One of those plays was a 1993 production of "Bloody Poetry," about the relationship between Lord Byron and Percy Bysshe Shelley. Though Scott and Rudd had attended AADA at different times and had met in passing through mutual friends before, it was when Scott played a right-hand man to Rudd's Shelley that the two actors became good friends. "Even then, he was so good playing the role of the observer, better than anyone," Rudd recalls. "He shows what he's thinking in silences. On the surface, the observer could be considered a passive role, but it actually requires a very deft hand. And Adam has it in spades."
Still, it would be almost eight years before Scott got what he considers his biggest break. During that time, he logged guest spots on such shows as "Murder One" and "Party of Five"—sporadic work that had him living paycheck to paycheck. He considers himself lucky that he never had to take a survival job, though he notes many of his acting jobs could be considered survival jobs. "One line on a Tom Selleck sitcom does not a career make," Scott notes. "I had one line, and I was cut out. But I had a very supportive grandmother and parents who helped me out. And I went from guest spot to guest spot, indie movie that goes nowhere to indie movie that goes nowhere, for seven and a half years."
In 2000, Scott had finished an acclaimed run in dual roles in the play "Everett Beekin" at South Coast Repertory, for which he was profiled in Back Stage. Yet, as far as screen work was concerned, he was struggling. "I was trying to get an audition for 'Walker, Texas Ranger' and they wouldn't see me," he says of the infamously cheesy Chuck Norris show. "And I was crestfallen, because I really needed money. And to be told you're not good enough to be seen by 'Walker, Texas Ranger' is a tough blow." Instead, Scott was sent in for a last-minute audition for the Morgan Freeman–Ashley Judd thriller "High Crimes." Actor Todd Louiso had dropped out of the role of Jim Caviezel's attorney to direct "Love Liza," and the film needed a replacement. Scott got the part. "Out of nowhere, I'm the fourth lead in this giant studio movie," he says, still sounding incredulous. "It was a big, big deal and the real beginning to my career."
Dramatic roles followed, including a turn as Howard Hughes' press secretary in "The Aviator" and the indies "First Snow" and "Art School Confidential." But Scott hadn't become complacent. "It was still a struggle; it was just a struggle at another level," he says. "Now you're just struggling for more parts like that. It's another few years before you get to the next notch, and sometimes you go down a notch or two. It's always like that; I'm sure even Brad Pitt has complaints about his career—problems that no one wants to hear."
In summer 2006, some of Scott's friends—including Rudd and producer Shauna Robertson—were working on Judd Apatow's new film, "Knocked Up." Rudd was unable to make the table read for the film, and Robertson suggested Scott come in and do his part. "I thought it was going to be us sitting in a circle at someone's house," Scott recalls. "And I go and it's this big deal with cameras and an audience filled with people like Harold Ramis and Jake Kasdan—all these amazing people." Scott did such a good job filling in for Rudd, he was offered a small part in the film as a male nurse. "At the time, it didn't seem like a big deal at all," Scott notes. "I was just hanging out with my friends. Then it turns out to be this iconic movie. Thinking back on it now, really seeing that magic happening before it was this world-dominating brand, it was really special."
Though his role is minor, Scott calls it the most difficult job he's ever had—because he had to try not to laugh during actor Ken Jeong's improvisations—and if you watch the deleted scenes on the DVD, you will see Scott failed miserably most of the time. Rudd, for one, loves the performance and says it perfectly encapsulates Scott's humor. "I love when the scene starts, the camera is on his back, and just the way he turns into the shot as if it's the reveal of a major cameo performance—like you're expecting Russell Crowe," Rudd says. "He does that stuff knowing it's making him and a couple friends laugh. And it ends up being hilarious."
After that, Scott's career took an unexpected comedic turn. After an intense audition process, he landed the part of the smarmy know-it-all with the rock-hard abs in "Step Brothers" and held his own opposite Ferrell and John C. Reilly. "Those guys are brilliant improvisers with a well-honed dynamic, and I was just trying not to be terrible," says Scott. "The great thing I learned on that film is that nothing is precious. Try everything. And if it's bad, don't use it."
'Party' Monster
Three years ago, a group of Scott's friends—Rudd, John Enborn, Dan Etheridge, and Rob Thomas—got together to create and write a show about artists struggling to make it in Hollywood who survived by working for a catering company. "We had this idea of people with failed dreams and aspirations gathering in a common place, like 'Taxi' did," Rudd recalls. At the center of these characters is Henry Pollard, an actor who made a splash spouting a catch phrase in a popular series of TV commercials before going broke. "We had to ask Adam because we couldn't think of anybody better," Rudd says. "I think we were all kind of surprised he said yes."
A homemade pilot was shot in Thomas' backyard; more than a year later, the cable network Starz picked up the show. "The pilot was okay, not great," Scott admits. "I don't think we really knew what the show was yet. But by Episode 3, we were all in love with each other and wanted to do it forever." The cast of "Party Down" is a who's who of the next generation of comedy: In addition to Scott, the cast includes Lizzy Caplan, currently onscreen in "Hot Tub Time Machine"; "The State" alum Ken Marino; Apatow regular Martin Starr; and Ryan Hansen of "Veronica Mars." Jane Lynch, who was a regular in the first season before striking gold with the Fox hit "Glee," will return for an episode; but, in her place, Megan Mullally of "Will & Grace" has joined the cast as an ambitious stage mother.
Because "Party Down" has a loose style, with overlapping dialogue and handheld cameras, many people assume the program is improvised, but Scott assures it's tightly scripted. The show also has a low budget, and episodes are shot on a fast schedule, but Scott says this DIY attitude has created a close-knit atmosphere. "It's ended up being everyone's favorite job," he says. "We all took a leap of faith together, and it's become something really special."
Scott is arguably a better actor than Henry. He says he's not his best at auditions and recently botched one for a horror-thriller. "One of the scenes they wanted me to audition with, I had to perform an exorcism," Scott recalls. "I mean, come on. Are you just asking people to be shitty? It's just standing there screaming, pretending there are spirits around you." The worst part was the reaction of the people in the room when he finished his audition. "The director was silent, and the writer was not responsive to my charms," reveals Scott. "He waited a moment when I finished, then finally said, 'Well, that's one way of doing it.' "
The actor maintains that if he had been asked to audition for "The Vicious Kind," he would not have gotten the part. Instead, he met with writer-director Lee Toland Krieger to discuss the role of Caleb Sinclaire, an isolated construction worker who becomes obsessed with his younger brother's girlfriend (played by Brittany Snow). The film opens on an unforgiving shot of Caleb alone at a diner, crying silently until he spots his brother and quickly shifts into macho mode. Another squirm-inducing scene requires him to assault Snow in a grocery store, physically and verbally. According to Krieger, Scott was the first actor to come in and say he found the script funny. "Right away, I knew he got it," reveals Krieger. "Aside from the fact he's an amazing actor and I was lucky to have him, he was the only one who understood the humor to be found in these situations." Scott says it was a good indicator for how the shoot would go. "When I read the script, I thought it could go either way: It would either be dark and depressing or it could be funny," the actor says. "So I checked with him, and when he said he saw the comedy, I immediately knew it would work out between us. It's kind of like going on a date because you're going to spend a lot of intense time together, and if you don't get along it's going to be horrible. But we were of a like mind immediately."
The film ended up earning Spirit Award nominations for Krieger's script and for Scott's performance, although Scott went in knowing he would lose to awards juggernaut Jeff Bridges in "Crazy Heart." It was Scott's second time at the awards, having snuck into the Hollywood Palladium in 1994. "I put on a green smock and carried a tray of coffees right past security with a couple friends. We sat in the balcony and watched the whole show," Scott reveals. "And Jeff Bridges won that year, too, for 'American Heart.' And I'm sure, being a pretentious 20-year-old, at some point I looked down and said, 'Someday, man….' "
Park Ranger
Scott will also be seen in the last two episodes of the second season of "Parks and Recreation" before joining the cast full-time in the fall. The offer to sign on as a state auditor came from Michael Schur, the show's creator and executive producer, who's a fan of "Party Down." Says Scott, "It kind of came out of nowhere, and I was so flattered." He says his friends on "Party Down" fully supported his choice, though the decision was a little bittersweet for him. But if "Party Down" is picked up for a third season, he plans on participating as much as his schedule allows. "I know the show can carry on very strongly without me," he notes. "I was by far the least talented in that cast, anyway. And I'll be able to do some episodes here and there."
Scott is also considering other film projects, and he will have to choose among them soon. "I've learned, over the years, to go after the parts where I feel I can add something," he says of his selection process. "If I look at it and feel there is someone who can do it better, I won't do it. Whether it's 'Party Down' or 'Piranha 3-D,' I'm going to bring something to it to make it special." He's also aware that he currently finds himself in the enviable position of being able to choose his projects. "It's surreal to be able to say no to things. I couldn't get arrested for so long," he notes. "This is the first time where I'm actually thinking I have to figure this out. At the same time, I'm glad it took me 15 years to get to this spot, because if this happened to me 10, 15 years ago, I would have been an idiot about it and obnoxious in some way and screwed it all up."


Outtakes
- Other films include "Torque," "Star Trek: First Contact," and "Monster-in-Law"
- Says "Piranha 3-D" will be the bloodiest movie in history: "Literally, it will have more blood than you've ever seen in a movie. They had a tanker truck of blood on the side of the lake with a hose going down and coming up where we were shooting."
- Was a regular on the HBO series "Tell Me You Love Me," which featured graphic sexual situations: "I was hesitant to do it, but the material won out. I hadn't seen anything like it before and still haven't. I'm kind of glad it's over, because it was intense, but I'm forever proud of it."
Working for the Dream
As the characters on "Party Down" cater to survive while pursuing their true dream—acting, writing, owning a restaurant chain—we asked the people involved with the show what was the worst survival job they ever had to take while pursuing acting, and what made it particularly bad?
Lizzy Caplan, who plays standup comedian Casey Klein:
"I only really worked as a waitress, which I liked. I was lucky enough to not to have to do that for very long. I could make something up. Dog washer? That sounds pretty awful. I was actually a busboy, not even a waitress, and I loved it. You get to eat the entire time you're there. It's kind of interesting, because there were a lot of regulars at the restaurant where I worked, and a lot of them were in the business, and now I meet them in a totally different context. It's a nice full-circle feeling."
Ryan Hansen, who plays the handsome but clueless actor Kyle Bradway:
"Bagging groceries. Worst part about it is that I was bagging groceries."
Ken Marino, who plays aspiring entrepreneur Ron Donald:
"When I was living in NYC in the mid-'80s, I used to bust ghosts. What made it the worst? Ernie Hudson."
Paul Rudd, creator-producer-writer:
"I worked as a DJ and emcee at bar mitzvahs; working as a DJ got fairly rough at times. I also used to glaze hams at a ham store, kind of a Honeybaked mom-and-pop-type shop. DJing and emceeing bar mitzvah receptions and glazing hams, I'm really carrying the top and bottom of the Jewish scale there."
Martin Starr, who plays struggling writer Roman DeBeers:
"Worst job I had was stapling newsletters together for my mom's business. Yes, I was only 8. Yeah, it was against child labor laws. Yeppers, I was drunk when this quote was taken. Fuckin' no, I'm not an alcoholic! Quit judging me. You're not God."