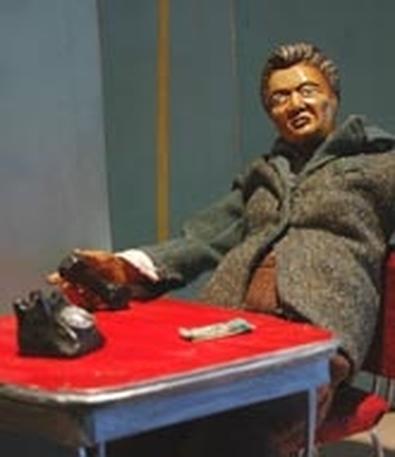 Puppet performances often attract peculiar audiences, and toy theatre — a form of puppet storytelling that traditionally involves miniature paper cutouts — seems especially prone to gatherings of eccentric connoisseurs of Luddite art. The aura of rarefied accomplishment and countercultural corniness was certainly high during the opening weekend of Great Small Works' Eighth International Toy Theater Festival. With six programs scheduled over 10 days, it's an aesthetic experience that spans a multiplicity of ideas — from the tedious to the astonishing — and is responsible for reviving this antiquated art form.
Many of the presenters attempted to update their techniques or presentation to appear more relevant to a contemporary audience. The presentation of Definitely Maybe, based on the novel by Boris and Arkady Strugatsky, was a collaboration between Great Small Works and the Center for Advanced Visual Studies at MIT. The score included all the whizzes, burps, and chirps of an analog synthesizer. The Story of Radha and Krishna hewed close to tradition. This ancient Hindu tale of how the two deities met was interpreted by Ravi Gopalan Nair and Parvathy Baul with miniature wood carvings, with Baul wearing ankle bells and singing in Sanskrit. It was an entrancing experience, but the English interpretation offered at interstitial moments was disruptive to the otherwise uncompromising presentation of this foreign aesthetic.
Le Petite Macabre was equally (delightfully) incomprehensible, but, couched in a pastiche of avant-garde styles, it made for easier entertainment. The ensemble — including creator Caitlin Lainoff and composer Daniel Corral — are all associated with the California Institute of the Arts. The whiff of art school was heavy as they blew on kazoos during this loose version of Gyรถrgy Ligeti's contemporary opera Le Grand Macabre, which included characters Piet the Pot and a devil type speaking gibberish. Projected supertitles explained his rantings. An elegant moment involving a flexible telescope that resembled an elephant's trunk underscored the production's ironic playfulness.
Despite the amusing aspects of these fun objects, the event came across as a disconnected celebration of fetishized objects rather than the expression of an artistic community.
Presented by and at St. Ann's Warehouse,
38 Water St., Brooklyn, NY.C.
May 23-31. Schedule varies.
(718) 254-8779 or (212) 352-3101 or (866) 811-4111 or www.theatermania.com or www.stannswarehouse.org.