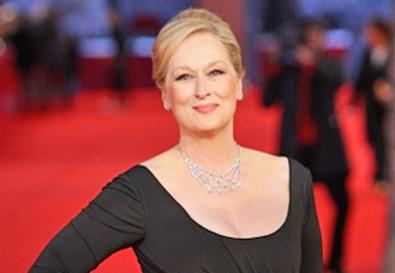 First, she channeled Julia Child in "Julie & Julia." Later this month, she'll play a divorcée torn between Steve Martin and Alec Baldwin in "It's Complicated." Back Stage recently spoke with actors fortunate enough to have shared scenes with Streep.
"It's hard not to speak in clichés when talking about Meryl Streep and her career of incredible performances," says Jane Lynch, Streep's co-star in "Julie & Julia." Lynch, who portrays Dorothy, Julia Child's sister, falls back on sports analogies when she talks about acting with the star: "The bar is raised with Meryl Streep, and you hope to rise to the occasion, just like playing tennis with someone better than you can make your game better."
Like many performers, Lynch cites intimidation as a first response to the idea of sharing a scene with the star. "I met her briefly on the set of 'Lemony Snicket's [A Series of Unfortunate Events],' a few years before 'Julie & Julia,' " Lynch recalls. "Still, I was a bit of a nervous wreck before meeting her on the set of 'Julie & Julia.' Her casual, sweet, welcoming of me put me at ease. Why so nervous? I would say that I was scared to death she'd be able to detect any false notes in my acting. I didn't want her to think I was contrived. But she was warm and wonderful, funny and sweet."
Perhaps it's the breadth, the infinite variety of Streep's performances over the decades, that makes her seem iconic and unapproachable—whereas her individual performances disarm audiences and colleagues with their directness and clarity. Those who have acted opposite Streep note a matter-of-fact quality in her acting, which nevertheless remains intensely focused and precise.
Allison Janney, who acted with Streep in the 1997 TV movie "First Do No Harm" and then in the 2002 theatrical release "The Hours," describes Streep as "an icon to all actors and even nonactors—an actor's actor but also the people's actor." Janney, who played Streep's character's lover in "The Hours," recalls a scene that called for Streep to deliver an emotional close-up reaction shot: "She had to turn around and look at this dish that Ed Harris' character used to love to eat—it was his signature thing. And she [needed to] turn around and burst into tears. And I was off-camera going, 'Do you want me to hold the dish or something?' I just tried to help her—give her something she could look at, instead of standing there with all the crew. And she said, 'Nah, I don't need anything.' And she just stood there and turned around and did it—every time. It was like, 'How did you do that?' I don't know how she does what she does. But she trusts herself. And that's the most important thing as an actor: to trust that you will have what you need in the moment."
Janney found Streep to be "relaxed and fun and very girlish" and "someone who doesn't believe her own hype." Janney recalls one particular act of selflessness from Streep on the set of "The Hours": "She knew from a certain angle they were photographing me that I was going to look very jowly. And so, in our kiss scene, she grabbed my face and gave me a facelift with her hands. I got a facelift from Meryl Streep! She said, 'You'll thank me later.' "
Some actors suggest that Streep may—consciously or not—find ways to make her offscreen relationship with them mirror the relationship between the characters being portrayed. In 1998's "One True Thing," Streep portrayed a woman battling cancer, while Tom Everett Scott played her son. "The movie was shot in sequence so that she could incrementally deteriorate from the cancer," Scott remembers. "We rehearsed a bit before filming started, and from the beginning she was open and warm and friendly to me. Our personalities seemed to click much like the characters' would. She never seemed to be in or out of character."
Throughout the film, Scott's character repeatedly goes away to school and returns home for holiday visits. "In one scene," Scott continues, "I come home and I haven't seen my mom in a while, and the cancer has progressed a lot. I didn't get a chance to see Meryl in her makeup, looking ill, until she was rolled out in her wheelchair during rehearsal. The way she looked took me by surprise. I was so thrown off, I completely forgot my line and missed my cue. I tried to use that feeling for the rest of the day."
In the New York Shakespeare Festival's 2001 production of "The Seagull" in Central Park, Stephen Spinella played Medvedenko, the timid schoolteacher, to Streep's imperious Arkadina, a diva of the Russian stage. Initially, Spinella found himself as shy and awkward around Streep as Medvedenko is around Arkadina. Though Streep went out of her way to be friendly to Spinella, during rehearsals she also kept him on his toes. "We
had decided that Medvedenko was going to light her
cigarette in the first scene," he says. "I remember that first time I lit her cigarette, she reached out and was so delighted, and she looked at me and caressed my face. She was effusively thankful. I thought, 'Oh, well, that's a very interesting choice, hmm.' And we did it again, and I lit her cigarette, and she inhaled and blew the smoke out in my face. She tried everything."
For a fight scene with Philip Seymour Hoffman in that production, Streep helped keep the action spontaneous throughout the run by modulating her actions from performance to performance. "Some nights she would slap him and some nights she wouldn't," says Spinella. "And some nights she would go to slap him and she wouldn't. And then she would just turn around and slap him. It was always to keep it as some sort of surprise, both for her and for Philip."
Asked what quality of Streep's acting most impressed him, Spinella responds without hesitation: "Her presence. She inhabits the character completely, so there is a full human being present." He recalls a metaphor that his acting teacher Olympia Dukakis once gave him: the actor as a multifaceted jewel. When playing a particular character, certain facets of an actor's own being are highlighted, while others remain present though in shadow. "Most actors," contends Spinella, "forget the second half of that. They 'do' those qualities and they forget all the rest of themselves, the rest of their humanity—and they aren't completely present. Meryl doesn't do that. Whenever she's on film or on stage, she brings everything. It's all there."
Outtakes
- Holds a record 15 Oscar nominations, winning for 1979's "Kramer vs. Kramer" and 1982's "Sophie's Choice."
- Married since 1978 to Don Gummer, with hom she has four children, including daughter Mamie Gummer, who played a young version of Streep's character in 2007's "Evening"
- Attended Yale School of Drama; was classmates with Sigourney Weaver