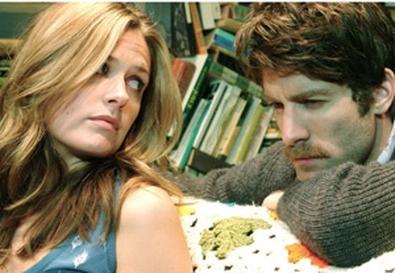 Raising several thorny questions, Karl Gajdusek's quirky black comedy feels more diffuse than cryptic. The playwright touches upon myriad contemporary topics—Internet scams, avarice, baby-snatching, family dysfunction—without convincing us he had a coherent theme in mind, aside from a cynical view of contemporary mankind. Director James Roday, a solid ensemble cast, and a terrific design team lavish TLC on this endeavor, providing moments of sly humor and a stylish sheen. Unfortunately, the sum of their collaborative effort isn't as good as the disheveled parts.
The plot threads revolve around a get-rich scheme cooked up by snarky opportunist Keira (Maggie Lawson), who pulls her wannabe-inventor brother, Louis (Brad Raider), along for the nefarious ride. As torrents of nonstop rain (deftly conveyed by sound designer John Zalewski's first-rate effects) deluge an unspecified urban city, the action shifts between the dingy apartment where high-strung Louis and his dyke-ish security-guard wife, Janet (Amanda Detmer), reside and the classier digs inhabited by an idealistic middle aged-doctor Paul (Kurt Fuller, alternating with Peter Mackenzie) and his Bosnian trophy wife, Tatiana (Ivana Milicevic). Assuming a fake identity, Keira attempts to dupe Paul out of a huge sum, capitalizing on fake Nazi badges supposedly used by Hitler's regime, while Tatiana tries to take an abandoned baby from a hospital, posing as the real mother. Lurking in the background, and doubling as set changers, are a raincoat-attired duo—"Momma" (Gemma Levinson) and "Daddy" (Kyle Hamilton)—whose intended functions in the narrative remain unclear.
Lawson is convincingly despicable as the screwed-up slacker not to be trusted by anyone, including her misguided brother, whom she routinely manipulates. Raider's portrayal of her edgy sibling is amusing and crisply nuanced. In the broadest characterization, Detmer's wisecracking butch enforcer pulls off several zingers. Milicevic is deliciously devious as the Eastern European seductress, and the impressive Fuller anchors the proceedings as the character closest to a moral center in this fractured fable.
Kurt Boetcher's wonderfully detailed scenic design, Mike Durst's lighting, and Gali Noy's costumes are smartly conceived.

Presented by Red Dog Squadron at the El Centro Theatre, 804 El Centro Ave., Hollywood. Jan. 8–29. Sat.–Sun., 8 p.m. www.reddogsquadron.com.