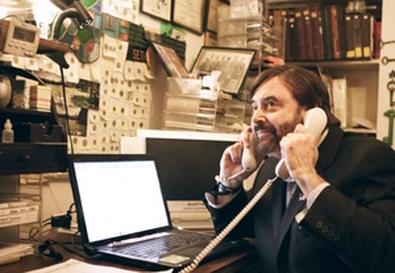 Seth Greenky, of Green Key Management LLC, says with pride that he's a one-man operation. "I'm the one you'll get if you call me at 2 o'clock in the morning because you've had a fight with your boyfriend," he says. "And if you get the answering machine, I'll call you back quickly."

Based in New York, Greenky has 16 artists (eight on each coast) on his roster who represent a range of experience, from newbies to award winners. The common denominator is his belief in them and the fact that they are not in competition with each other for the same roles.

"Each has a special niche," he says. "We have a number of attractive women, 25 to 35, but one may be tall, another short, one blonde, another ethnic, one ... athletic, another [who] speaks Russian. What I need right now are males, 18-to-30, character actors, and especially handsome leading men. But when I look at a man's headshot, I need my female friends to help me out. I can estimate talent, but my gal pals have a better perception as to who projects that special chemistry."

Greenky reviews all submissions, emphasizing the subjectivity of his response. He says he may contact 1 percent of the actors who have submitted headshots and résumés. Ninety-five percent of these materials are discarded, while another 4 percent are placed in a pile to be looked at later. On occasion the latter are forgotten in the shuffle. Just recently, he was clearing out such a file and came across a headshot of the now-hot Jane Levy ("Suburgatory" and "Shameless"), who had self-submitted more than a year before.

"I looked at her face and thought she was interesting, but her résumé only had acting school credits," he says. "She was young and had few credits. Maybe that's why I put her in the 'to contact later' pile. Who's to say if we would have signed or if the same opportunities would have been presented?" But he was pleased to see a young actor achieve success and sent her a belated congratulatory email.

Balancing Sensitivity With Honesty

Brought up on Long Island, Greenky launched his career as a touring rock musician, a gig he maintained on and off for several years (during and after college) while working behind the scenes as a record producer and a manager. But when the music business was taken over by conglomerates, it became virtually impossible to promote lesser-known talent, he says.

Greenky switched gears and has repped film and television actors for the last two decades. Like many managers, Greenky has also moved into production, developing projects that are inspired by or designed for his clients.

Cara Castronuova is a case in point. Greenky was responsible for her becoming one of the trainers on "The Biggest Loser," but she's also interested in segueing into action films. Greenky has written an action flick and sitcom outline based on her athletic persona while helping her navigate the audition process and arranging meetings with network casting directors. He says that as much as she wants a legitimate acting career, she's willing to put it on hold to do another reality show, and he's fine with that ambition.

On occasion, however, an actor's goals are not realistic. Greenky's challenge then is to balance sensitivity with honesty. "I advise my clients on the basis of their desires and abilities," he says. "If they're not there yet, I will tell them to keep trying, and if they can develop that new skill, I will help them. But if they're not ready, I say I cannot send them to casting directors now because it will only result in the client not being taken seriously in the future."