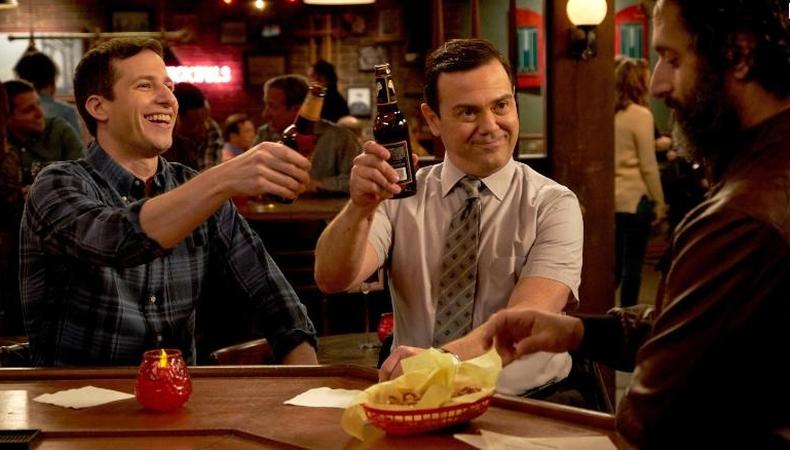 Greenlit means a project is officially a go, so all you have to do is follow these leads to stay up to date. You never know where you'll find an opportunity to land an audition!
"Brooklyn Nine-Nine"
In today's TV landscape, a cancelation does not mean a show is done for good. Following news last week that Fox had canceled the popular police sitcom and the immediate #SaveB99 and #RenewB99 campaigns from fans, NBC has swooped in and saved the day, picking up the show for its sixth season. This is a bit of a redemption for NBC Entertainment Chairman Bob Greenblatt, who sold "Brooklyn Nine-Nine" to Fox in the first place. The sixth season will consist of 13 episodes, and a new home may mean a new casting director, but the likeliest scenario is that Juel Bestrop will continue on the job, especially since she has already worked with NBC on "Community." Regardless, keep your eyes open for opportunities for the newly-revived "Brooklyn Nine-Nine," and note the comedy shoots in Los Angeles.
"Bernstein"
In the year of what would be Leonard Bernstein's 100th birthday, everybody wants a piece of the legend. This is why we have not one but two Bernstein biopics in the works. Following the news that Jake Gyllenhaal will be starring in "The American," it was announced last week that Bradley Cooper will also direct and star in "Bernstein," written by Josh Singer, co-writer of the Oscar-winning "Spotlight." This one has been in the works for a while, going back at least 10 years to secure the rights from the Bernstein estate, and with enough history for Martin Scorsese to have once been interested in directing (he is now only a producer on the project). Also producing is Steven Spielberg under his Amblin Entertainment banner, and with Spielberg already working on the film remake of "West Side Story," it's possible Cindy Tolan could do double duty on casting.
"The Castle on Sunset"
Aaron Sorkin will be back to work on Broadway's upcoming "To Kill a Mockingbird" adaptation soon, now that everything is settled with Harper Lee's estate, and John Krasinski is busy watching "A Quiet Place" continue its box office victory lap, but both men had a moment to revive a project they've been thinking about for a while. According to Krasinski, their long-awaited Chateau Marmont project "The Castle on Sunset," which was planned as a mini-series at HBO all the way back in 2011, is now back on the table. With an upcoming biography of the same name by Shawn Levy coming out about the famed Hollywood hotel, the writer and director duo have decided to give it another shot and the project is now back in development at HBO. While Krasinski may or may not be directing the sequel to "A Quiet Place," he could take the helm for an episode or more on the upcoming series. As for casting, should Sorkin get to pick, he may return to his HBO-familiar "The Newsroom" CDs Nancy Perkins and Francine Maisler.
"AJ and the Queen"
Fans of "RuPaul's Drag Race" will be happy to learn that RuPaul has teamed up with "2 Broke Girls" co-creator and former "Sex and the City" showrunner Michael Patrick King and is heading over to Netflix for a new comedy series called "AJ and the Queen." RuPaul will play Ruby Red, a larger-than-life drag queen traveling across America from club to club with her stowaway, the scrappy and recently-orphaned AJ. No casting director has been assigned yet to the project, but King has worked with Telsey + Company on both "Sex and the City" films and on "2 Broke Girls," Julie Ashton was in charge of casting duties so he could team with either of them for the new gig.
"Yellowjackets"
Teen drama meets thriller in Showtime's newest pickup, "Yellowjackets." The series will follow a girls' high school soccer team who become "the (un)lucky survivors of a plane crash deep in the Ontario wilderness [and chronicles] their descent from a friendly, cooperative team to warring, cannibalistic clans." The series will be written by "Narcos" writers-producers Ashley Lyle and Bart Nickerson. This will be a great project to keep your eyes on, especially if you're a younger actor looking to break into a major series. Best to keep your eyes on the doors of "Narcos" CDs Carla Hool and Carmen Cuba in case Lyle and Nickerson want to go with who they know.
"Some Like It Hot"
Tony-winning duo Marc Shaiman and Scott Wittman are bringing a musical version of "Some Like It Hot" back to Broadway in 2020 for the latest film-to-stage adaptation to be in the works. The classic film starred Jack Lemmon, Tony Curtis, and Marilyn Monroe, but there is no word if they will go their own way on casting or not. The book will be by "The Inheritance" playwright Matthew Lopez and directed and choreographed by Casey Nicholaw ("Aladdin," "Book of Mormon," "Mean Girls"). Nicholaw has worked with Tara Rubin and Telsey + Company on previous shows so those could be options when it comes time to populate this one.
Looking to get cast? Apply to casting calls on Backstage.